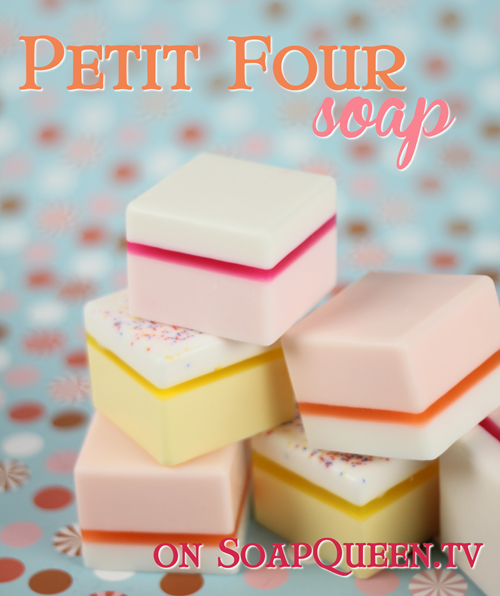 This is the second video I made with Jeanee Duval of Dirty Laundry (if you missed the first one see it  here). In this video, I show her how to make some cute little Melt & Pour soaps that I designed just for her. As you can see from the outtakes at the end we had a great time making this video! Jeanee is a blast to work with and so talented! Check out her stylish blog and cute Etsy shop to see for yourself. She is also the author of a wonderful e-book on how to sell your handmade goods called How to be a Craft Show Genius. And best of all, she designed a custom box template for this video that fits the cube soaps perfectly; you can find it here.
Note: The Rainbow Sprinkles have been discontinued. This kit now comes with Red Jojoba Beads.
\

Get everything you need to make the Petit Four Soap in this video.
To make this project you will need:
For the Orange Petit Four soap we used:
For the Pink Petit Four soap we used:
Click here for the adorable (and free!) downloadable box template for the cube soaps.