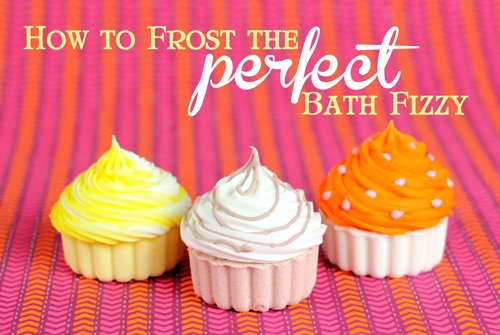 I have a special guest on Soap Queen TV  – Jeanee Duval of Dirty Laundry! She came all the way to Bellingham (15 hours of flying time – wowzers!) to show us her technique for making perfect the Bath Fizzy Cupcake. I had such a great time Jeanee, and her craftsmanship is amazing. We show 3 different versions – to dress up your cupcakes.
Adding up how long it takes Jeanee to make her perfect bath fizzy cupcakes.
1 day – bath bombs setting up in the mold
3 days – bath bombs drying out before frosting
15 minutes – in the freezer after frosting
1 day – after frosting before adding 'embellishments'
2-3 days after adding drizzle (or polka dots) before packaging
That means it can take as long as 8 days from start to finish of the Perfect Bath Fizzy Cupcake. If you're shipping your Bath Fizzy Cupcakes, you'll want to take the extra time to make sure they're beefy enough to make it to their destination intact so plan ahead.

  Get everything you need to make the recipes in this video including all three variations (remember you can remove any of the items from your shopping cart before you checkout) :
Bath Bomb cupcake base recipe:
Main Frosting Recipe:
Drizzle Frosting Recipe:
Yellow Stripe Cupcake:
Pink Polka Dot Cupcake: