2013 is here and is it just me, but does 2012 seem very long ago now? I had fun looking back on some of Bramble Berry's achievements of 2012 in this post. Onward and upwards in 2013; we've already posted a few tutorials (click here and here), a brand new Soap Queen TV episode, and we've already seen some incredible bath and body products shared with us on our Facebook page.  Speaking of Facebook, our Facebook Photo of the Week! Drum roll please…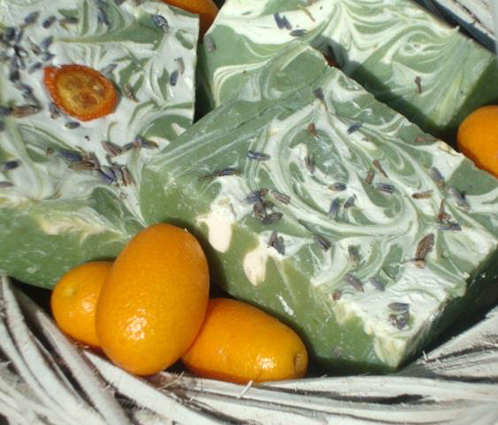 This week's photo comes to us from Jasmine Hales.  We first met Jasmine when she posted a comment on the Hot Process Series: Crock Pot Camo tutorial. She told us that she had just started soaping with goat's milk (her family raises goats) and that she is 15 years old. I was totally stunned, and knew I wanted to know more about her. Since then, Jasmine has become part of Bramble Berry's Facebook community and I've really enjoyed seeing her interact with other soapers and post her gorgeous soapy pictures. Jasmine told us that this soap is a Cucumber Puree Soap made with coconut milk and scented with Bramble Berry's Sleigh Ride Fragrance Oil. Thanks for being part of our Facebook page and keep your eyes on the lookout for a fun little package being sent your way!
 Would you like your photo or project to be featured in a blog post? Come join us for soap talk, contests and lots of crafting inspiration at Bramble Berry's Facebook page. Share a photo with us of your latest project and your handmade soap might be next weeks feature!
You still have a chance for your soapy recipe to get featured on the Teach Soap website (and a chance to get a $10 Bramble Berry Gift Certificate)! Send us an e-mail with a full tutorial, including pictures at [email protected].