Who could have predicted that the same condiment squeeze bottles that hold mustard and ketchup could actually turn out to be indispensable soapmaking tools? We got our 12 oz. Squeeze Bottles in at the beginning of November, and have been soaping up a storm with them.
Squeeze bottles are a vital part of many soapy designs because the narrow tip allows you to lay down precise lines. These lines are the foundation for many intricate swirls, such as the Peacock Swirl, Frog Foot Swirl and Butterfly Swirl. As with our silicone tools and molds, we recommend hand washing these bottles for best results. They can be difficult to clean, so we recommend filling them with warm water and letting them sit immediately after use. Then, screw the top on and shake vigorously to loosen up the soap inside. Use a scrubby bottle brush to get rid of any stubborn soapy remains.
We recommend using these bottles for cold process soaping only. Melt and pour soap hardens much more quickly, and you could get stuck with a gloopy mess trapped inside your bottle.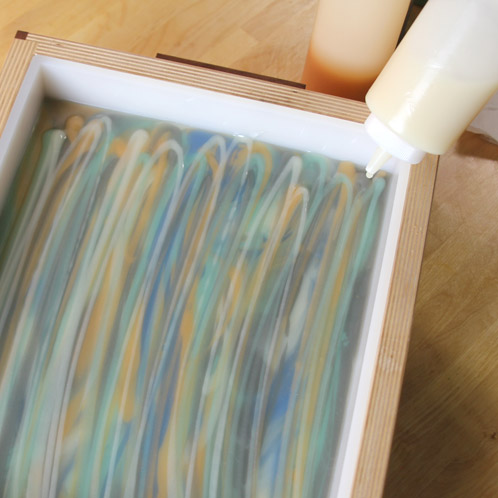 We used squeeze bottles to lay down the first part of our Frog Foot Swirl.
The uses for the Squeeze Bottle don't stop at making excellent, precise lines. You can also take advantage of their nimbleness and precision to "draw" designs directly onto your soap! For the Holly Berry Cold Process design below, we used the bottles to hand draw holly leaves on the surface of the soap for a truly festive touch.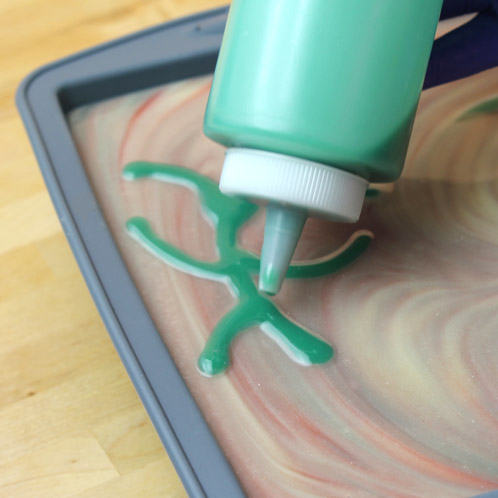 Using the Squeeze Bottles to draw designs on the Holly Berry Cold Process soap.
One of our favorite techniques is the Squirty Swirls design, and it's easily achieved with the Squeeze Bottles. This technique is surprisingly simple, and results in a beautiful design every time. You can learn more about the Squirty Swirls recipe in the Soap Crafting Book, or you can also check out this fun Rainbow Squirty Swirls recipe that we posted earlier this week. Simply fill your bottles with colored soap and squirt layer upon layer into the mold to achieve this super cool design!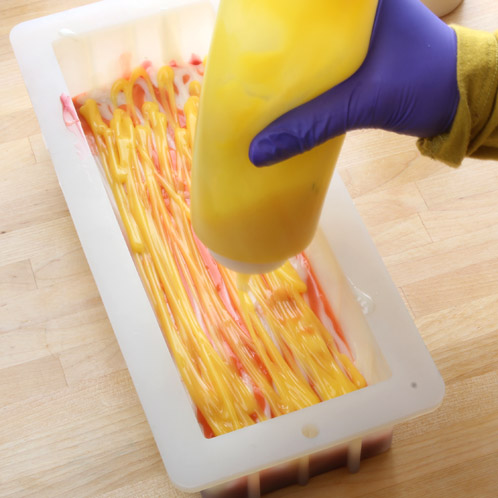 Using the bottles to create the Squirty Swirls design.
Below is just a snapshot of a few more designs that have been created in part using the Squeeze Bottles. The design options are unlimited.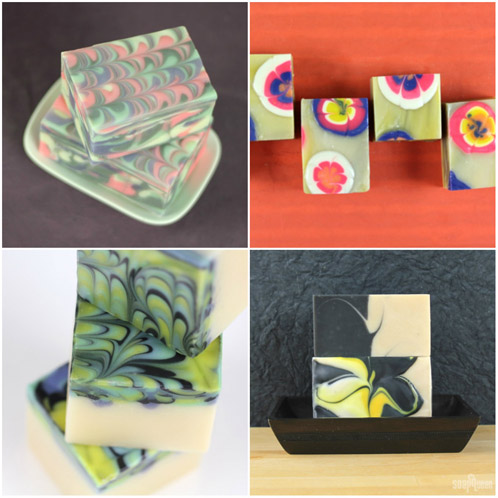 Top: Butterfly Swirl, Hawaiian Shirt
Bottom: Peacock Swirl, Mantra Swirl
Have you used Squeeze Bottles in your soapy designs? What is your favorite pattern to make?