Soap Challenge: Mantra Swirl
Difficulty:

Advanced

Time:

1 hour

Yields:

6 - 8 bars
We love a good challenge — especially if it's a soapy challenge! The Great Cakes Soapworks Soap Challenge is a great way to experiment with new techniques and learn from other soapers, and we had such a great time participating in the Elemental Swirl and Leopard Spots challenges that we didn't hesitate to enter the Mantra Swirl challenge. For this technique we chose a bold color scheme and a luxurious blend of oils — the Cocoa Butter, Hemp Seed and Argan Oils make this a truly pampering bar of soap.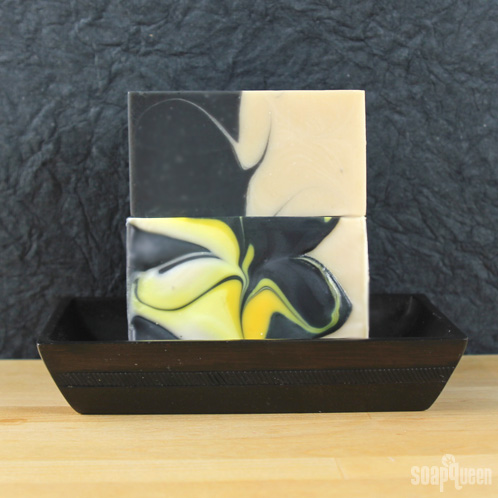 What You'll Need:
2.7 oz. Argan Oil
2.75 oz. Deodorized Cocoa Butter
8.25 oz. Coconut Oil
5.5 oz. Hemp Seed Oil
16.5 oz. Olive Oil
11 oz. Palm Oil
8.25 oz. Rice Bran Oil
7.5 oz. Sodium Hydroxide
18.1 oz. distilled water
3.5 oz. Cucumber Oak Fragrance Oil
5 lb. Wood Mold with Sliding Bottom and Silicone Liner
Condiment bottles

Click here to add everything you need for this project to your Bramble Berry shopping cart! And remember, you can always remove anything you don't need.
If you've never made Cold Process soap before, stop here! I highly recommend checking out our FREE four part SoapQueen.tv series on Cold Process Soapmaking, especially the episode on lye safety. And if you'd rather do some reading, Bramble Berry carries a wide range of books on the topic, including my newest book, Soap Crafting. You can also checkout the digital downloads for that instant gratification factor.
COLOR PREP: Disperse 1 teaspoon of Black Oxide colorant into 1 tablespoon of Sunflower or Sweet Almond Oil (or any other liquid oil), 1 teaspoon Fizzy Lemonade Colorant into 1 tablespoon liquid oil and 2 teaspoons of Titanium Dioxide into 2 tablespoons of liquid oil. Use a mini mixer to get clumps worked out smoothly.
Then, add one color to three separate condiment bottles. We added 3/4 teaspoon dispersed Titanium Dioxide to one, 1 teaspoon dispersed Fizzy Lemonade to another and 1/2 teaspoon Black Oxide to the last. Set the bottles aside.
MOLD PREP: Using cardboard, cut one divider that fits snugly down the center (lengthwise) of the mold. Cardboard brackets on either end can help with stability.
SAFETY FIRST: Suit up for safe handling practices! That means goggles, gloves and long sleeves. Make sure kids, pets, and other distractions and tripping hazards are out of the house or don't have access to your soaping space. Always soap in a well-ventilated area.
ONE: Slowly and carefully add the lye to the water and gently stir until the lye has fully dissolved and the liquid is clear. Set aside to cool.
TWO: Combine the Argan, Cocoa Butter, Coconut, Hemp Seed, Olive, Rice Bran and Palm Oils (remember to fully melt then mix your entire container of Palm Oil before portioning). Once the lye water and the oils have cooled to 130 degrees or below (and are ideally within 10 degrees of each other), add the lye water to the oils and stick blend until thin trace. If you'd like a harder bar of soap that lasts longer in the shower and releases faster from the mold, you can add Sodium Lactate to the cooled lye water. Use 1 teaspoon of Sodium Lactate per pound of oils in the recipe.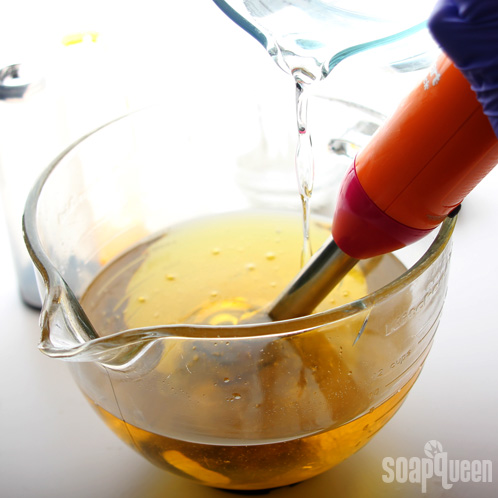 THREE: Grab your condiment bottles and fill them about 1/4 of the way full with batter. Screw on the tops, plug the hole with your finger, and shake vigorously to mix the colorant and batter. Release your finger with the tip pointing away from your face.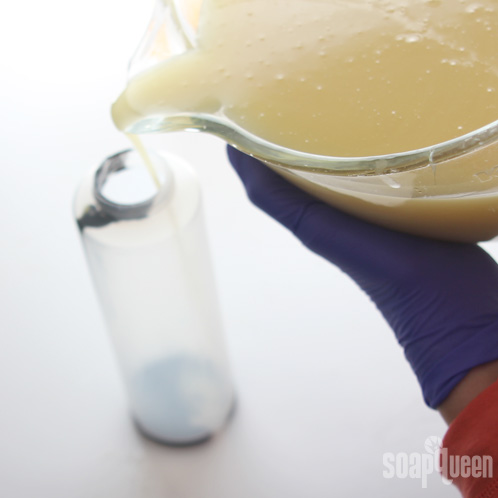 FOUR: Once you've filled all three condiment bottles, split the remaining batter in half. Each container should hold about 4 cups of batter.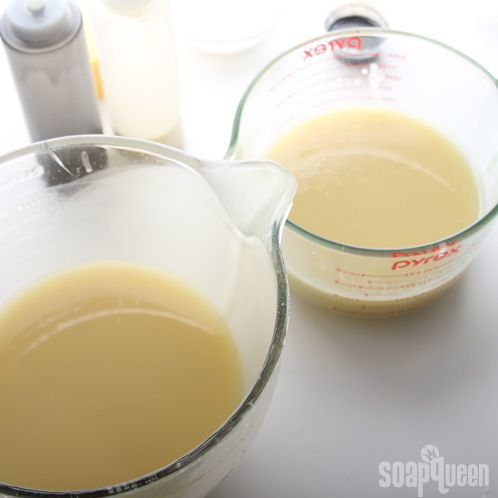 FIVE: To one container, add 1/2 teaspoon of dispersed Black Oxide. To the other container, add 3 teapsoons dispersed Titanium Dioxide. Mix in the colorant with a whisk or spatula so as not to accelerate trace.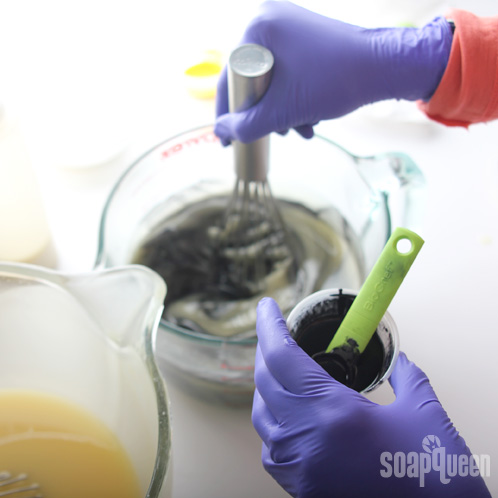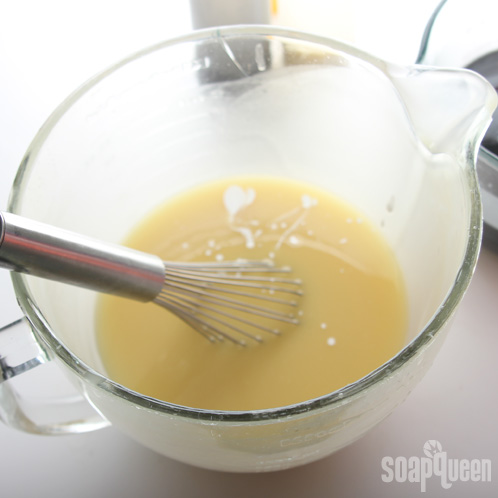 SIX: After the colorant has been incorporated, split the fragrance between the two containers. Eyeballing it is okay! Mix in the fragrance oil with a whisk or spatula.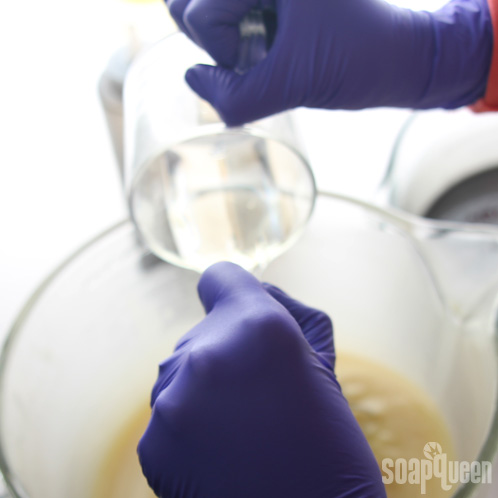 SEVEN: For this part you may need to grab a friend. Make sure your center piece of cardboard is stable, and then get someone to help you simultaneously pour the black and white soap on either side. Tamp the mold on the table several times once all the soap has been poured, and then slowly lift the cardboard straight up and out of the mold.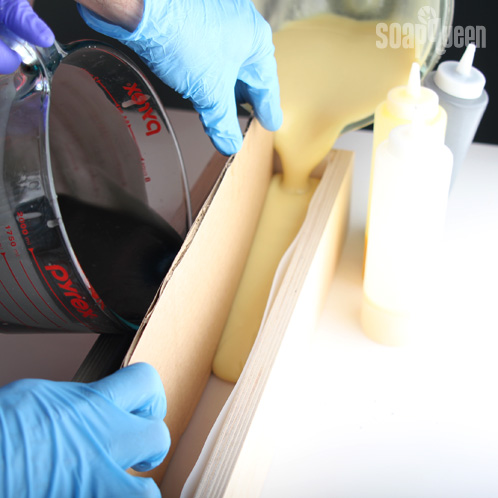 EIGHT: Now use the squirt bottles to make vertical stripes down the length of the mold. We started with a yellow stripe down the center with black and white stripes on the opposing sides (remember, the base of this soap is a black and white split — pour the opposite color over the top for a cool checkered effect!).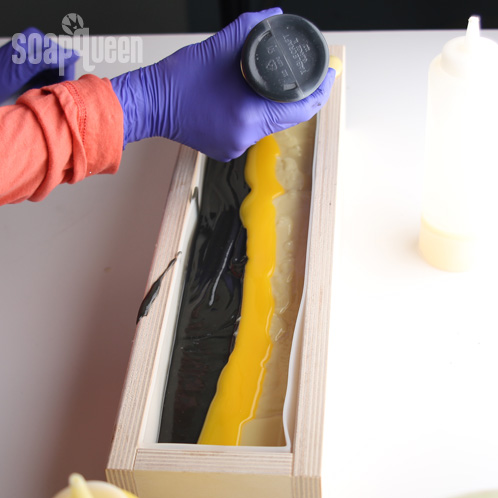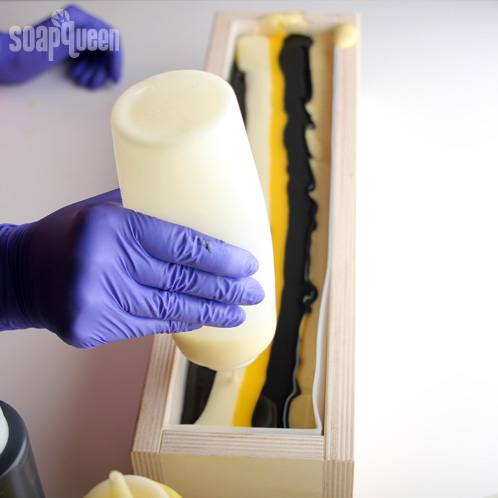 NINE: Using a chopstick or dowel inserted all the way into the soap, swirl the soap in a figure 8 pattern. The tops and bottoms of the "8″s should touch the sides of the soap mold. Here's a quick illustration of the swirl without soap: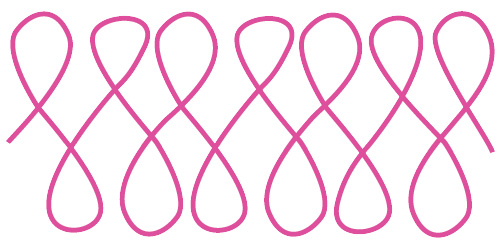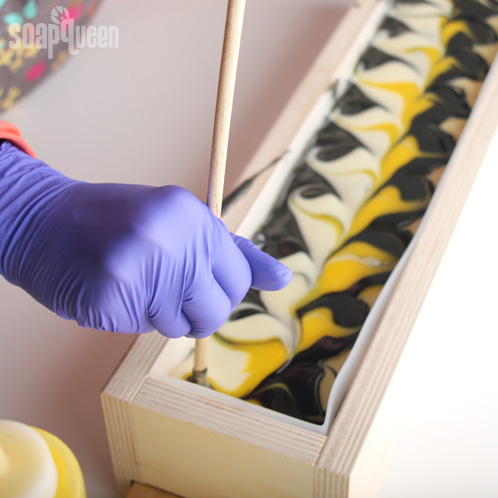 TEN: Allow the soap to sit in the mold for 24-48 hours. For this soap, try cutting a few bars horizontally to emphasize the beautiful swirl on top. Cure for 4-6 weeks and enjoy!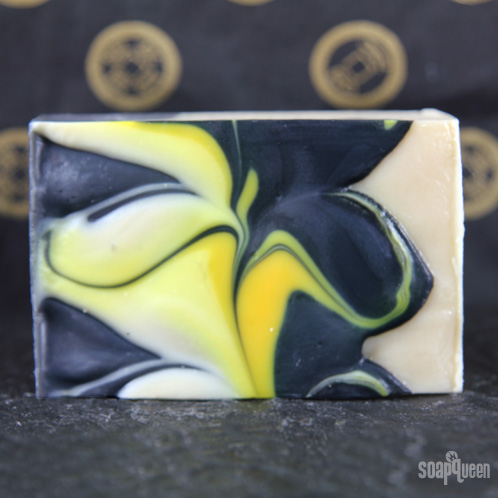 Bonus video: Check out an awesome Vine video of the revealing of this soap below:
13 Responses to "Soap Challenge: Mantra Swirl"
Leave a Comment
(Your email address will not be published)