Yields:
Twenty-four 5 oz. bars
If you didn't get to take a tropical vacation this summer, making this Hawaiian shirt-themed soap might be the next best thing. Big, bright flowers of color give this soap a special pop, and it's scented with our brand new Shave and a Haircut Fragrance Oil, which was a favorite of our 2013 S.O.A.P. Panel. The powdered coconut milk in this recipe gives the finished soap a thick, conditioning lather, and the milk won't discolor in the final product. Surf's up!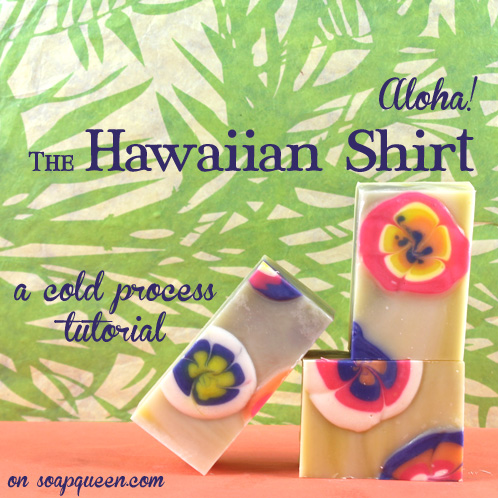 What You'll Need:
16 oz. Coconut Oil
16 oz. Olive Oil
16 oz. Palm Oil
16 oz. Canola Oil
12 oz. Sweet Almond Oil
4 oz. Hemp seed Oil
10.9 oz. Sodium Hydroxide
26.4 oz. distilled water
4.9 oz. Shave and a Haircut Fragrance Oil
18 Bar Unfinished Birchwood Mold with Silicone Liner
1 oz. Coconut Milk Powder

Click here to add everything you need for this project to your Bramble Berry shopping cart! And remember, you can always remove anything you don't need. If you want to use one of Bramble Berry's Quick Mix oils instead of doing a recipe from scratch, I'd go with the Swirl Mix.
If you've never made Cold Process soap before, stop here! I highly recommend checking out our FREE four part SoapQueen.tv series on Cold Process Soapmaking, especially the episode on lye safety. And if you'd rather do some reading, Bramble Berry carries a wide range of books on the topic, including my newest book, Soap Crafting. You can also checkout the digital downloads for that instant gratification factor.
COLOR PREP: Disperse 1 teaspoon of each pigment into 1 tablespoon of Sunflower or Sweet Almond Oil. Be careful to saturate all the colorant under the oil before mixing or you'll end up with a messy poof of color. Use a mini mixer to disperse clumps of colorant.
ADDITIVE PREP: Mix 1 oz. Powdered Coconut Milk in 2 oz. of distilled water. Saturate the powder with water before using a  mini mixer to blend the two together.
SAFETY FIRST: Suit up for safe handling practices! That means goggles, gloves and long sleeves. Make sure kids, pets, and other distractions and tripping hazards are out of the house or don't have access to your soaping space. Always soap in a well-ventilated area.
ONE: Slowly and carefully add the lye to the water, and stir until clear. Set aside to cool. If you'd like a harder bar of soap that releases more quickly from the mold, you can add Sodium Lactate to the cooled lye water. Use 1 teaspoon of Sodium Lactate per pound of oils in the recipe.
TWO: Melt and combine the Coconut, Palm, Olive, Canola, Hempseed and Sweet Almond oils in a large glass container. Once the lye water and the oils have cooled to 130 degrees or below (and are ideally within 10 degrees of each other), add the lye water to the oils and stick blend until thin trace.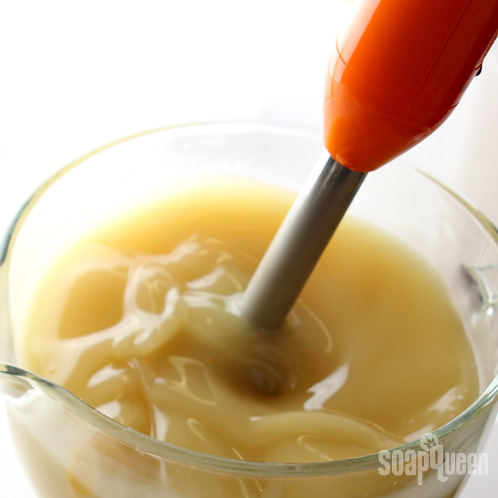 THREE: Using a whisk or spatula, mix in the powdered coconut milk.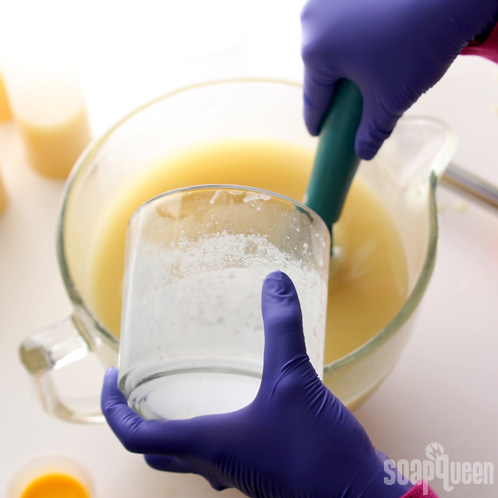 FOUR: Fill five 12 oz. condiment bottles halfway full (about 6 oz.) with soap batter.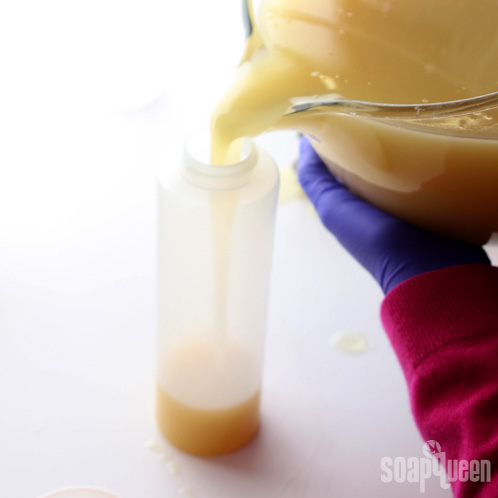 FIVE: In the remaining batter, whisk in the entire container of fragrance oil.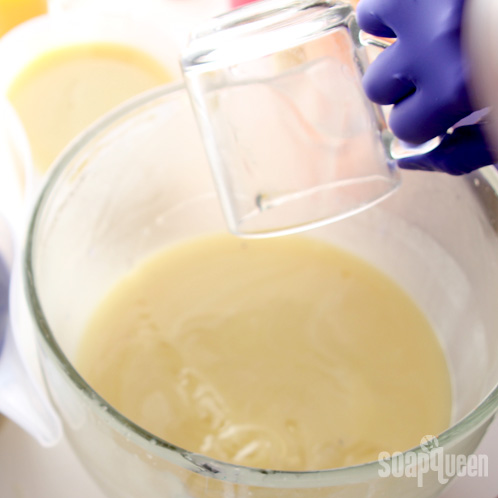 SIX: Split the large batch of soap batter again, this time into two separate containers. Fill each container with approximately 2.5 cups of soap batter, and add 1/2 teaspoon of Ultraviolet Blue to one, 1 teaspoon of Fizzy Lemonade to another and 1 teaspoon of Titanium Dioxide to the third.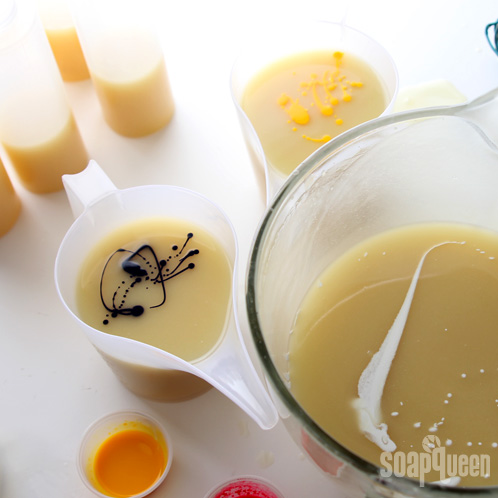 SEVEN: Add one color per condiment bottle. We added 1 teaspoon of Fired Up Fuchsia, Tangerine Wow and Titanium Dioxide to three separate bottles. Add 1/2 teaspoon Ultraviolet Blue to the fourth bottle and 1.5 teaspoons Fizzy Lemonade to the last bottle. Cover the tip of the bottle and shake vigorously to disperse the colorants. Release your finger with the tip pointing away from your face. A little bit of soap always comes out the top and that's the last thing you want on your skin.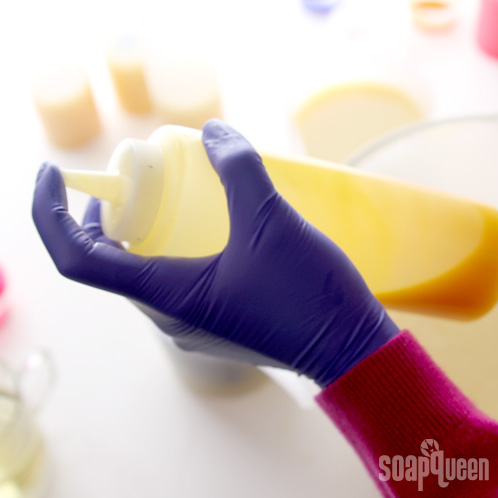 EIGHT: To create the in-the-pot swirl in the base of the soap, start by pouring the yellow colored soap into the white soap in 4 places: 12:00 o'clock, 4:00 o'clock, 8:00 o'clock, and center. Pour from a high point so the soap penetrates the entire depth of the soap in the pot, which will create a swirl throughout the mixture. Use the same technique when pouring the blue soap. To complete the swirl, use a spatula, chopstick or dowel and swirl the soap by running the tool through the entry points once. It is important to swirl only once because you do not want the colors to completely blend together.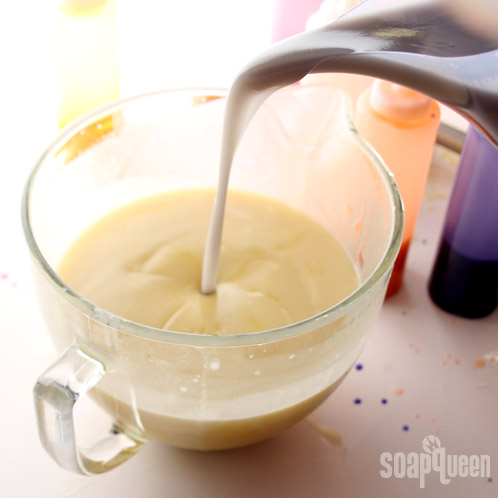 NINE:  Pour the freshly swirled soap into the silicone mold. Tamp the mold on the table after you are finished pouring to ensure even coverage and disperse bubbles, but be careful to not over-agitate the swirl.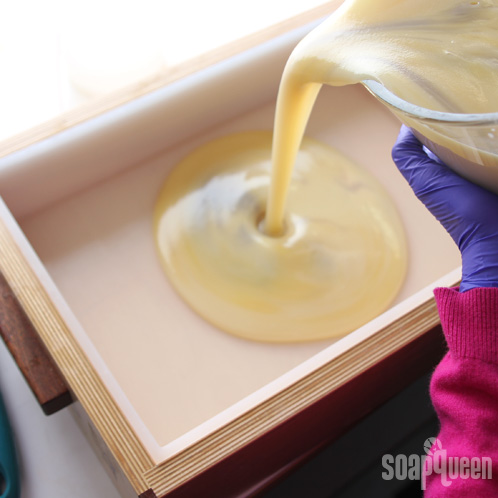 TEN: Add color by squirting golf ball-sized pools of color on the top of the soap. Layer up to four colors on top of each other to create a "flower" look.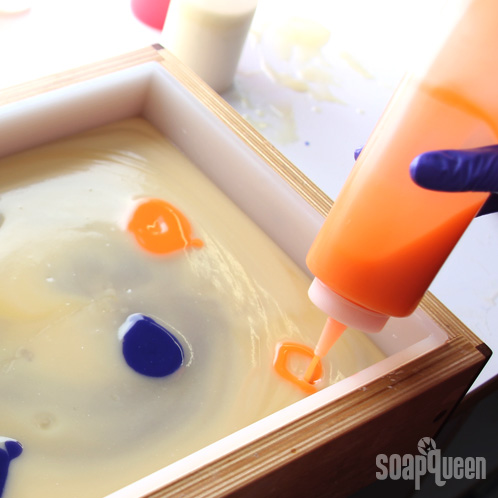 ELEVEN: With a chopstick or dowel, start at the outer edge of the color pools and drag the tool into the center. Do this 4 to 5 around the pools to create the "petals". Be sure to wipe your tool off between drags. Repeat with all the pools of color in the mold.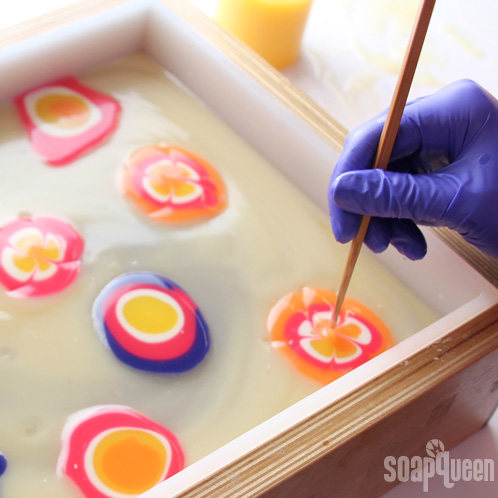 TWELVE:  Spray the entire top with 91 or 99% Isopropyl Alcohol to reduce soda ash. Cover and insulate for 24 hours and unmold after 3-4 days, and allow to cure for 4-6 weeks and enjoy.
Tip: Highlight the design by cutting the bars horizontally around the flowers. You may not end up with equal-sized bars, but you will have an awesome design!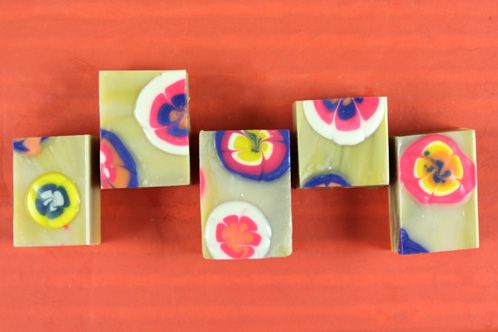 Bonus video: Want to watch us cut this soap? Check out the Instagram video!