I'm no stranger to making multiple batches of soap and perfecting recipes and techniques. It's just part of soaping! However, the Peacock Swirl technique set a new record for me — we tried this recipe at least 6 times, resulting in more than 40 pounds of soap! Some of our batches didn't quite make it, some of them allowed us to experiment with exciting new color palettes and some of them, after many attempts and several hours, actually turned out quite beautifully. This was all in the name of perfecting these awesome swirl tools, which makes creating the beautiful technique a breeze.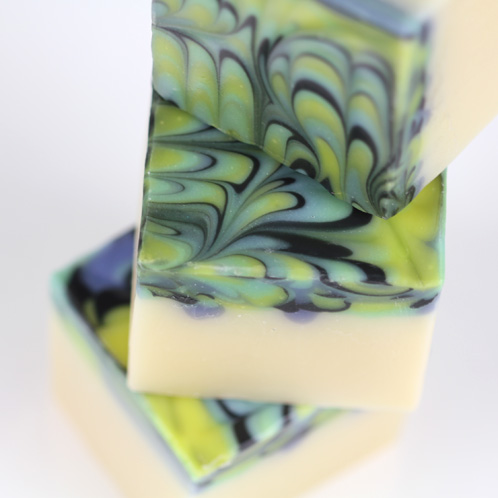 What You'll Need:
20 oz. Coconut Oil
28 oz. Olive Oil
24 oz. Palm Oil
8 oz. Rice Bran Oil
11.2 Sodium Hydroxide
26.4 oz. distilled water
18-Bar Unfinished Birchwood Mold with Silicone Liner
Fragrance Blend of:
3.2 oz. Kumquat and 2 oz. Ginger Ale

Click here to add everything you need for this project to your Bramble Berry shopping cart!
Don't want to make the oil blend from scratch? Consider purchasing our Swirl Quick Mix for this recipe. You'll save time weighing and blending the oils while still getting the same great swirly result!
If you've never made Cold Process soap before, stop here! I highly recommend checking out our FREE four part SoapQueen.tv series on Cold Process Soapmaking, especially the episode on lye safety. And if you'd rather do some reading, Bramble Berry carries a wide range of books on the topic, including my newest book, Soap Crafting. You can also checkout the digital downloads for that instant gratification factor.
SAFETY FIRST: Suit up for safe handling practices! That means goggles, gloves and long sleeves. Make sure kids, pets, and other distractions and tripping hazards are out of the house or don't have access to your soaping space. Always soap in a well-ventilated area.
COLOR PREP: Disperse 1 teaspoon of each pigment into 1 tablespoon of liquid oil (we like Sweet Almond or Sunflower). Prepping your colors in the beginning will allow you to work quickly and give you more time to work with your soap. Use the mini mixer to get all those clumps worked out smoothly.

FRAGRANCE PREP: In a glass container, combine the Kumquat and Ginger Ale Fragrance Oils. Give the mixture a good stir, and then set it aside.
TOOLS: This is the debut tutorial for two brand new soaping tools: the Comb Swirl Tool and the Easy Swirl Tool. You'll use them in steps seven and eight to create the beautiful Peacock Swirl in just two motions. If you decide to order the new tools, please note that they will arrive fully assembled and ready for use in our 18 Bar Birchwood Mold. If you'd like to use them in a smaller mold, or rearrange the screws to create a different pattern, you can easily disassemble the whole tool and configure it to your specifications. Each tool is lovingly handcrafted in our Bellingham, Wash. warehouse, and just like all handmade items variations between products are normal.
ONE: Slowly and carefully add the lye to the water, and stir until clear. Set aside to cool. If you'd like a harder bar of soap that lasts longer in the shower, you can add Sodium Lactate to the cooled lye water. Use 1 teaspoon of Sodium Lactate per pound of oils in the recipe.
TWO: Melt and combine the Coconut, Olive, Palm and Rice Bran oils in a large glass container. Once the lye water and the oils have cooled to 130 degrees or below (and are ideally within 10 degrees of each other), add the lye water to the oils and stick blend until thin trace.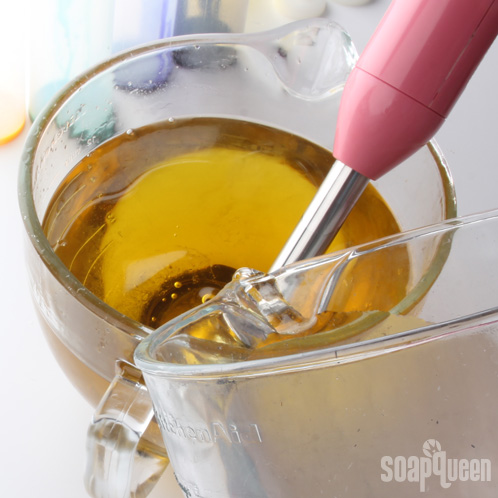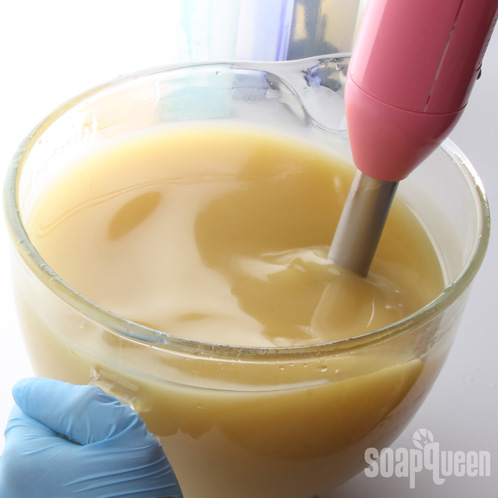 THREE: Once the batter has reached a thin trace, use a spatula or whisk to incorporate the fragrance blend.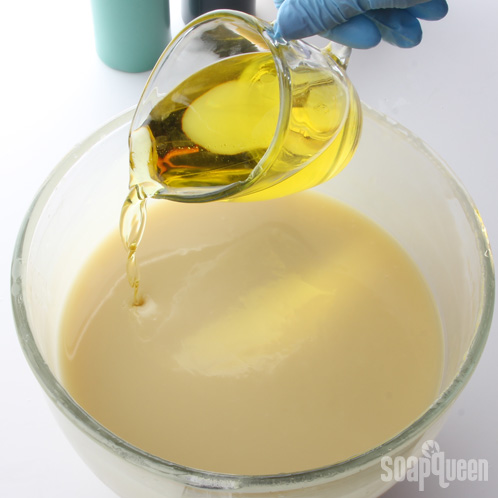 FOUR: Fill four condiment bottles roughly two-thirds of the way full. Mix one colorant per bottle in the following measurements: 1 teaspoon disperse Fizzy Lemonade with 1/2 teaspoon Titanium Dioxide; 1 teaspsoon dispersed Aqua Peal with 1 teaspoon Titanium Dioxide; 1 teaspoon Ultramarine Blue with 1/2 teaspoon Titanium Dioxide; and 1 teaspoon Black Oxide. Securely fasten the cap, plug the opening with your finger and shake vigorously, releasing the tip away from your face.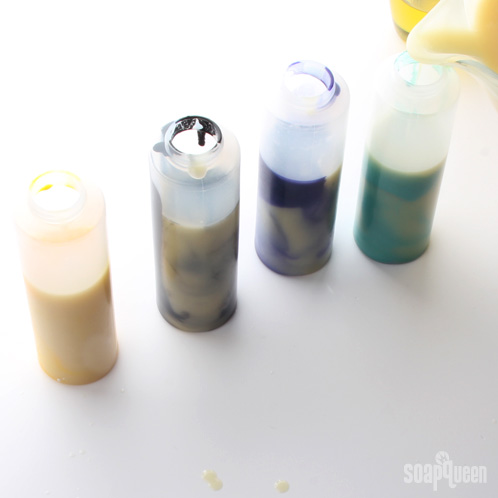 FIVE: Pour the remaining batter into the mold. Tamp the mold several times on the table to ensure even coverage and disperse bubbles.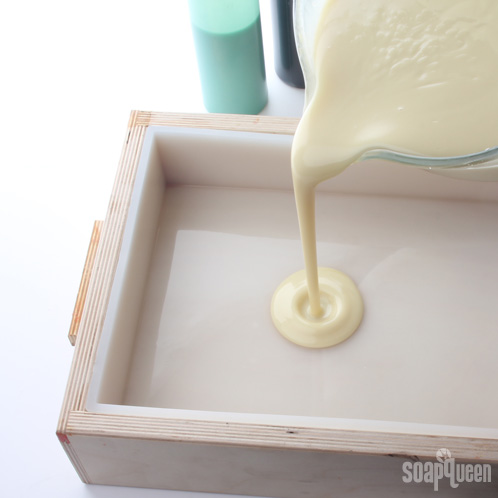 SIX: Now take your squirt bottles and pour thin, horizontal lines across the length of the mold until you reach the bottom. Repeat this process with the other colors, methodically layering one on top of the other in the same order and pattern. Do this until you've emptied all the colored squirt bottles.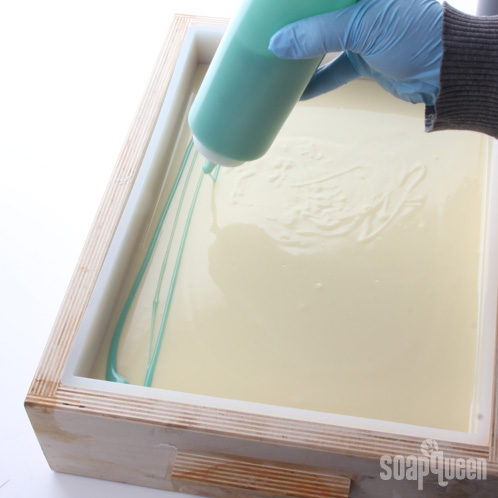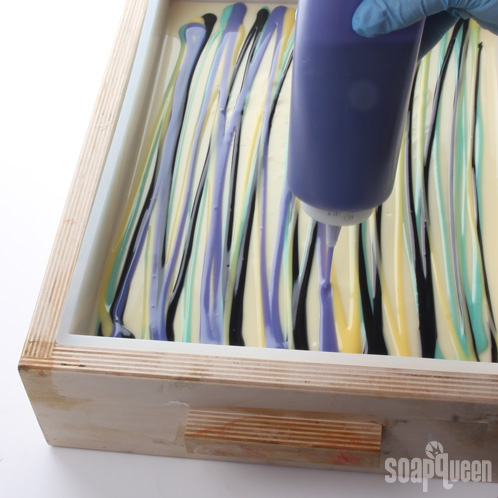 SEVEN: Once you've layered all the colors, insert the Comb Swirl Tool at the top of the soap and slowly drag it downward. When you reach the end, pull it straight up and out of the soap so as not to ruin the pattern.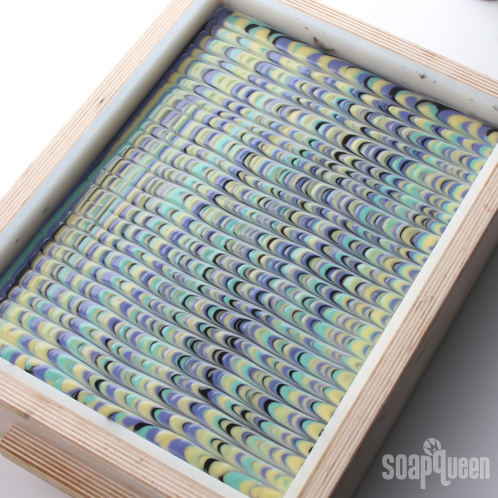 EIGHT: Now insert the Easy Swirl Tool into the soap. Be sure to drag it in the same direction you drug the Comb Swirl Tool. Gently move the tool from side to side, working your way down to the end of the mold. Take care to move the tool in a smooth, fluid motion. Ideally you should end up with rounded S curves that run down the length of the mold.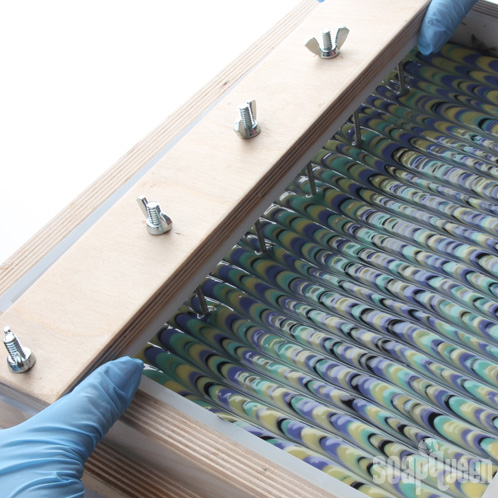 Spray the entire top with 91 or 99% Isopropyl Alcohol to reduce soda ash. Cover and insulate for 24 hours and unmold after 3-4 days, and allow to cure for 4-6 weeks. Enjoy your beautifully swirled Peacock Soap!