Rebatching is a technique perfect for the novice as well as the advanced soapmaker. If you use essential oils to scent your soap, you can make 100% natural soap without having to work with lye.
Beginning soapmakers can purchase ready made rebatch base and make handmade soap without touching lye. It's an easy introduction to choosing fragrances and colors. Many advanced soapmakers like to rebatch because they can make one large plain batch of cold process soap and then rebatch it into a wide range of colors and scents. The rebatching technique is also called French milled, hand milled, double milled or triple milled. It's all the same process of heating up grated cold process soap and customizing it with your favorite colorants and fragrances.
This tutorial uses the Bramble Berry rebatch kit to show how easy it is to make rustic, handmade bar of soap.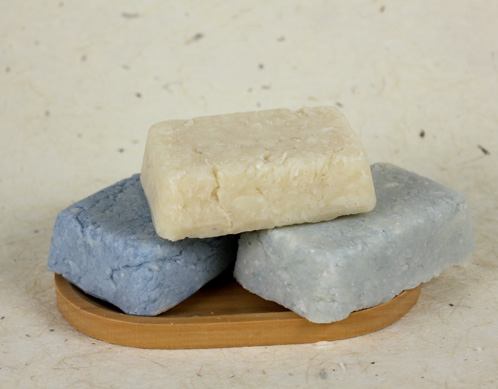 Rebatch Kit includes:

 1 lb Basic Grated Rebatch Base
1 lb Luxury Grated Rebatch Base
 Heather and Hyacinth Fragrance Oil
1/2 oz Liquid Blue Colorant
Easy to follow instructions
Tools from home:
 Double Boiler
Spoon
Plastic wrap
Get everything you need in the click of a button!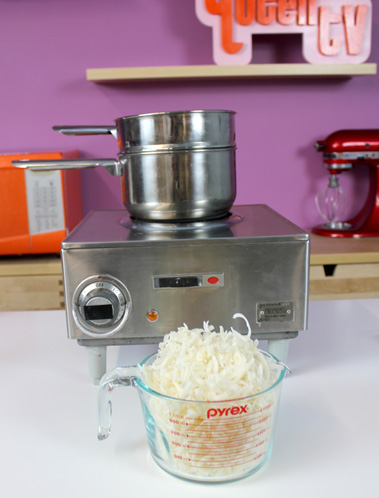 Make your first 4 rebatch soaps with this recipe!
12 oz Luxury Rebatch (that's how much our double boiler holds)
2 Tablespoons Distilled Water
9 ml of Heather and Hyacinth
ONE: Put 12 ounces of the Luxury Rebatch in the double boiler on medium heat. Luxury Rebatch is made with Shea Butter, Cocoa Butter, Mango Butter and Apricot Kernel oil for a skin loving and super luxurious bar of soap!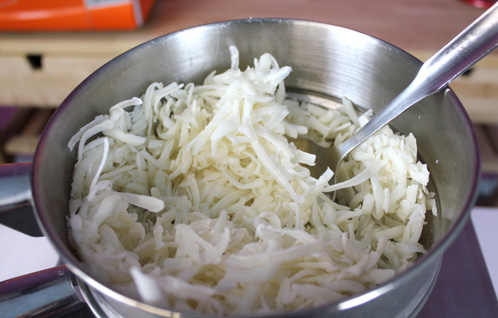 TWO: Add 2 Tablespoons of distilled water and 9 ml of Heather and Hyacinth fragrance oil to the rebatch base and stir the soap over medium heat.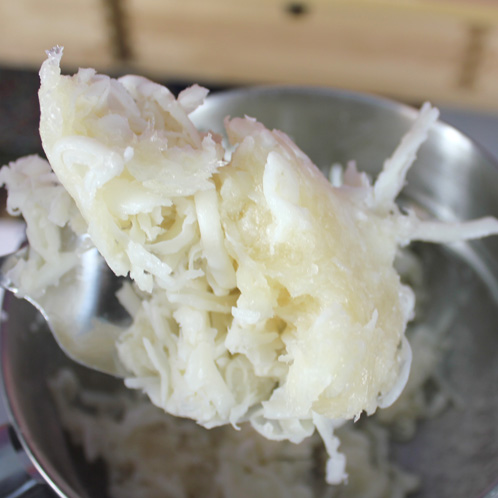 THREE: Keep stirring as the soap melts (still on medium heat). You'll start to notice the soap looking very similar to mashed potatoes. If that's the case you're right on track! If it seems a little dryer than mashed potatoes, try adding a little more water to the base and stir.
Note: Rebatch can be used as soon as it hardens. But remember, the more liquid you add to your rebatch, the longer it will take to dry.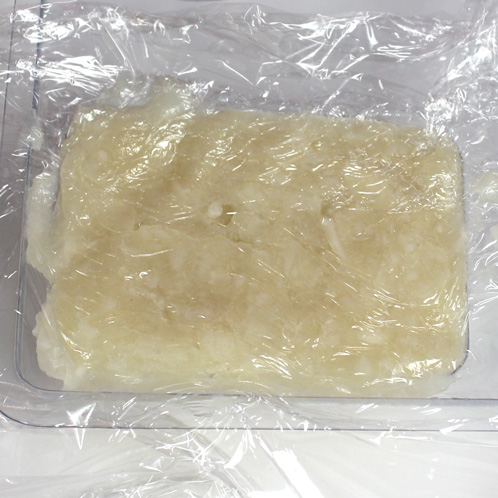 FOUR:  After the fragrance and water is fully incorporated into the soap, and you have your "mashed potato" consistency, glop the soap into the mold and cover it with plastic wrap to smooth out the back of the soap.
FIVE (optional): Add a colorant! The blue soap (pictured below) has 8 drops of Liquid Blue colorant in 8 ounces of Luxury Rebatch Base. Mix it in well and remember that what you see is what you get with the colorant (WYSIWYG).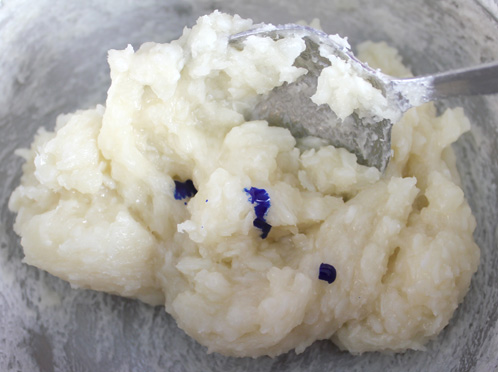 Color Tip: Experiment with different colorant usage rates to vary your blue hue. Add more colorant for a darker blue and less colorant for a lighter grey/blue. Mix the colorant and soap together well in the double boiler over medium heat.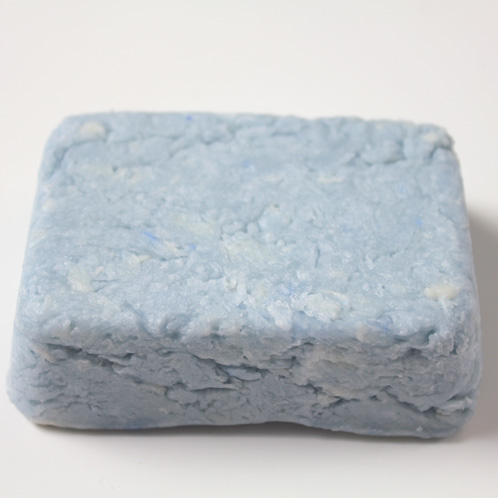 The rustic texture (rustic = not totally smooth) is a normal look of rebatch soap. If you add more liquid, the soap will be more smooth but will also take longer to harden. It's a trade-off. Once you get the basics down, check out more rebatch tutorials like Green Tea Rebatch, Lilac Salt Rebatch, Annatto Infused Rebatch, Lavender Rebatch and Plastic Baggie Method Rebatch.