Hand-Milled Rose/Lilac Salt Bar for Mother's Day
I woke up this morning and realized that Mother's Day is Sunday and I hadn't made any soap for the occasion!  Yikes!  I needed to come up with something.  So here is what I made…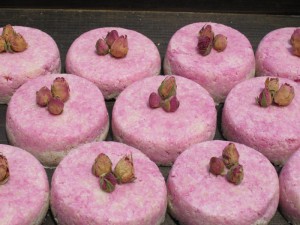 Ingredients for Hand-Milled Rose/Lilac Salt Bar
28 oz shredded soap  (rebatch)
2 cups salt (or your favorite scrubby ingredient)
1 tablespoon Walnut Shells
2 ml Fuchsia LabColor
.5 ml Canary LabColor
.5 oz Lilac Fragrance Oil
.5 oz Baby Rose Fragrance Oil
Individual cavity molds.  I really liked using a silicone muffin pan.
Shred 28 oz of soap.  I happened to have an uncolored/unscented soap perfect for this hand-milled project.  See if you have any soap where the fragrance has faded away…those would be perfect also.  To shred the soap you can use a cheese shredder…or my favorite tool…a Salad Shooter!  I don't think I would do rebatch or hand-milled soap without a Salad Shooter.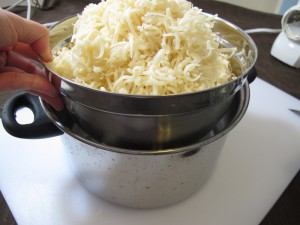 I like to heat my shreds in a double boiler type of setup.  Check out Anne-Marie's tutorial on rebatch.  While that is heating up, let's prepare our additives.
We're going to do layerd bars.  In one container measure out 1 cup of salt, 2 ml Fuchsia LabColor, .5 ml Canary LabColor and .5 oz Baby Rose fragrance oil.  In another container measure out 1 cup salt, 1 tablespoon Walnut Shells and .5 Lilac fragrance oil.  Mix them both up!  I love using floral fragrances with hand-milled or rebatch soap.  You don't run the risk of acceleration like you do when making CP.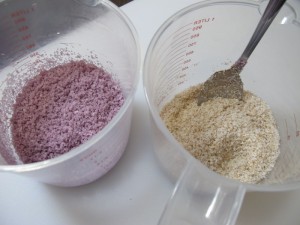 The soap shreds are ready when they are translucent in color.  Since these shreds are about 4 weeks old I did sprinkle them with a bit of water to add some moisture.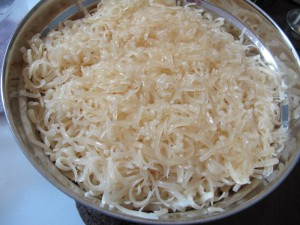 Now for the fun part!  Do you have kids?  This would be fun for them to help with.  Dump the soap shreds onto a cutting board and mix and squish like play-dough!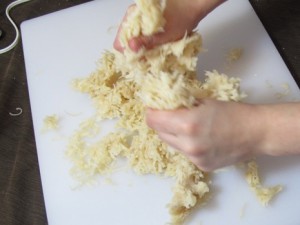 Divide the mixture in half and set one half to the side.  Just eye ball it!  Dump the pink/rose scented salt onto one divided half and mix…mix…mix until all of the salt is incorporated.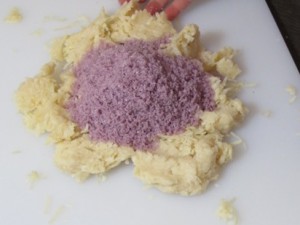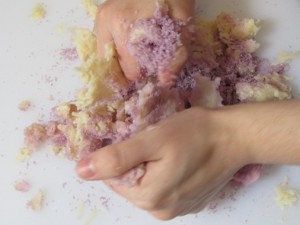 Once you have it all mixed, divide it up into your molds.  Just eye ball it.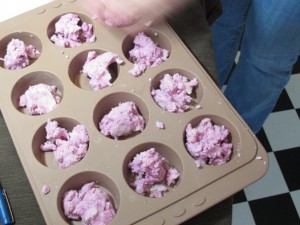 Use a cup to press this layer down.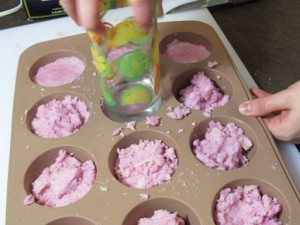 Do the exact same thing for the next layer.  You might have to heat up the soap shreds a bit if they cooled down.  I had mine in a glass container and microwaved for two rounds of 15 seconds.  Careful not to overheat!
Dump it onto your cutting board and mix in the lilac scented, walnut shell, salt mixture.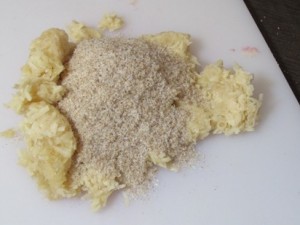 Once you get it nice and mixed…divide it up into your mold.  Once again use a cup to press everything down.  Press hard!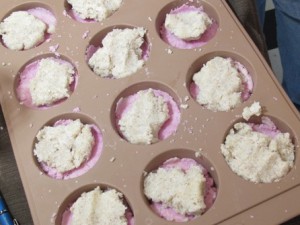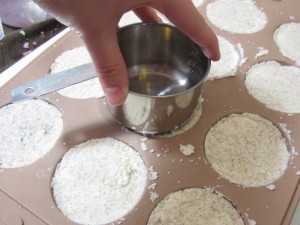 I put these in the freezer for about 30 minutes and they were ready to unmold.  I had some Pink Moroccan Rosebuds that I thought would look perfect on top.  So I stuck about 3 into the middle of each soap.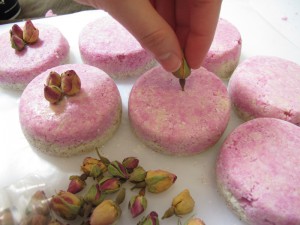 These were already rock hard after a couple of hours but give them a couple of days to really harden.
Whew!  Now I have the perfect Mother's Day soap to give out on Sunday.
Amanda, www.lovinsoap.com