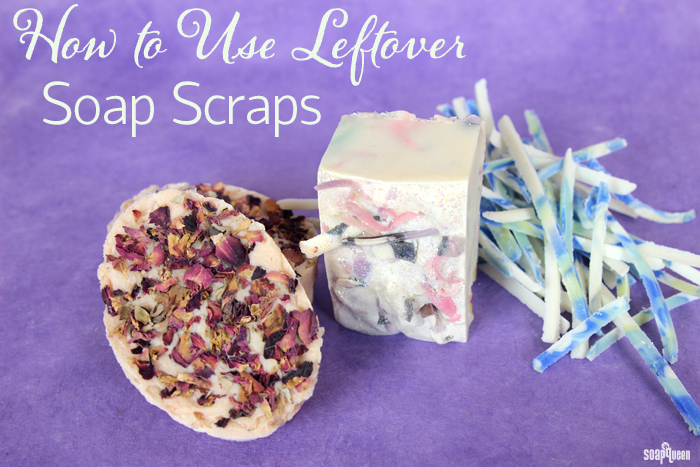 If you have a couple soaps under your belt, you have probably encountered soap scraps. Whether it's an end piece of soap that wasn't quite perfect, or scraps from a soap beveller/shaver, they tend to build up over time. If you're like me, you can't stand to see even the tiniest bit of soap go to waste. Luckily, there are plenty of things you can do with leftover soap.
Rebatching is not only a great way to fix imperfect batches, but a great way to use scraps. Rebatch soap involves melting the soap with a bit of liquid, like distilled water or tea. It has a beautiful rustic look and you don't have to handle lye. Check out the Soap Queen TV episode on How to Make Rebatch Soap for instructions. The video uses a double boiler for the rebatch, but you can also use a plastic baggie in a pot of boiling water. Click through the Rebatch Soap – Plastic Baggie Technique post to learn more. Please note that the older the soap scraps are, the more liquid you need to get them to 'melt' down (and by 'melt', I mean sort of gloppy congeal).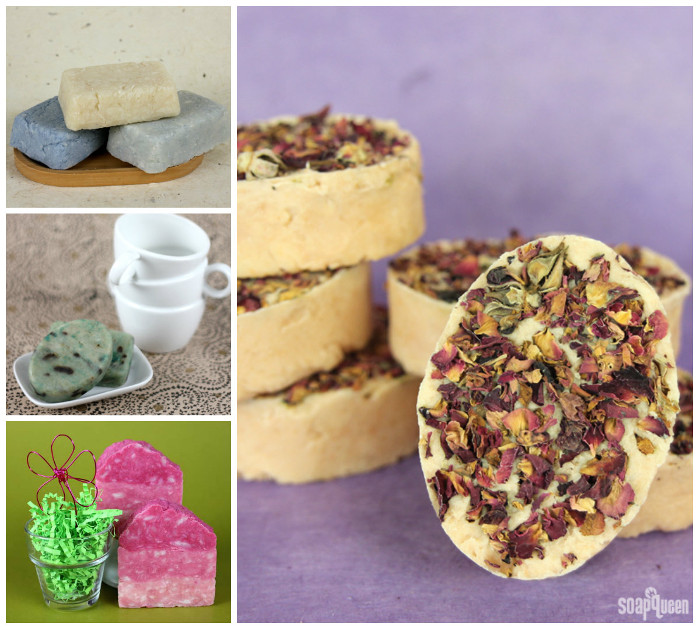 Top left, clockwise: Rebatch Soap Kit, Pink Clay and Primrose Hand-Milled Soap, Ombre Rebatch Layers, Green Tea Rebatch (Teabatch?)
Laundry soap is another way to use soap scraps. Using shredded soap with baking soda and washing soda helps keep your clothes clean and fresh. As a bonus, it's also a great use for lye heavy soap. Find out more in the Three DIY Laundry Soap Recipes post. We get a lot of questions about "How can I reuse old hotel soap?" or "I run a bed and breakfast and I hate to see all those soap scraps going to waste! What can I do with them?" We never recommend re-using old, used soap that random people you don't know, used to make into "new" soap. However, for those very very very determined soap-reuser-folks, laundry soap is be the best option for you to give those soap scraps new life.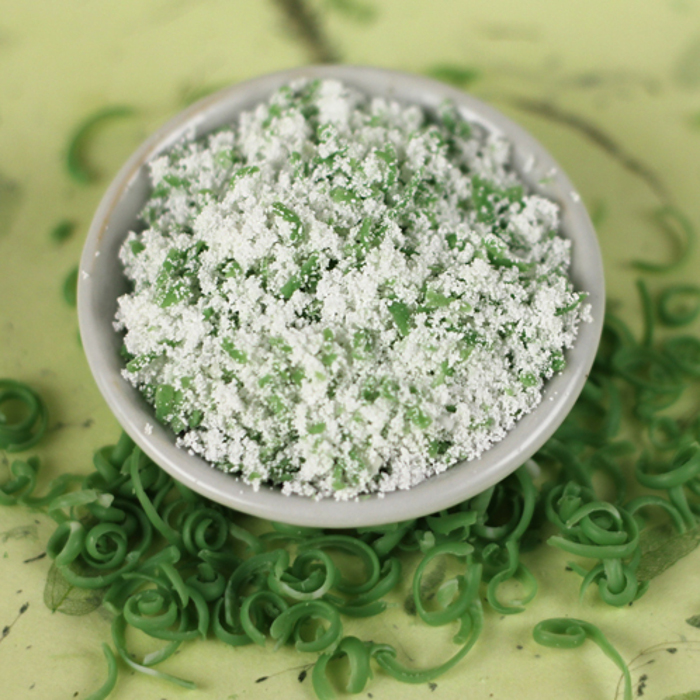 Soap scraps can add an interesting look to your soap recipes. The Cherry Blossom Glitter Cold Process Tutorial uses soap scraps, a swirly design and glitter for a fun look. It's a great base recipe for any time you have a pile of scraps. You can also add scraps to the top of your soap. In the Coconut Cream Pie Cold Process Tutorial, melt and pour scraps are used to mimic toasted coconut.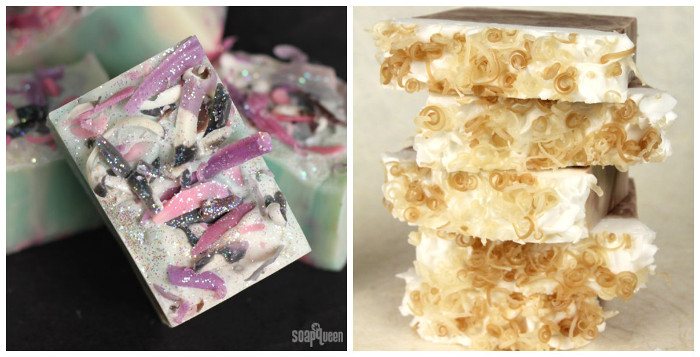 Left to right: Cherry Blossom Glitter Cold Process Tutorial, Coconut Cream Pie Cold Process Tutorial
Have leftover melt and pour? It can go in your cold process recipes too. In the Shimmering Sea Glass Cold Process Tutorial, leftover melt and pour is dusted with Aqua Pearl Mica and Luster Black Mica and embedded in the soap. The translucent melt and pour is enhanced by Iridescent Glitter. Keep in mind, the melt and pour pieces will lose moisture over time and start to shrink. You can prevent that by using LCP (Like Cold Process) melt and pour bases, which have a lower glycerin content.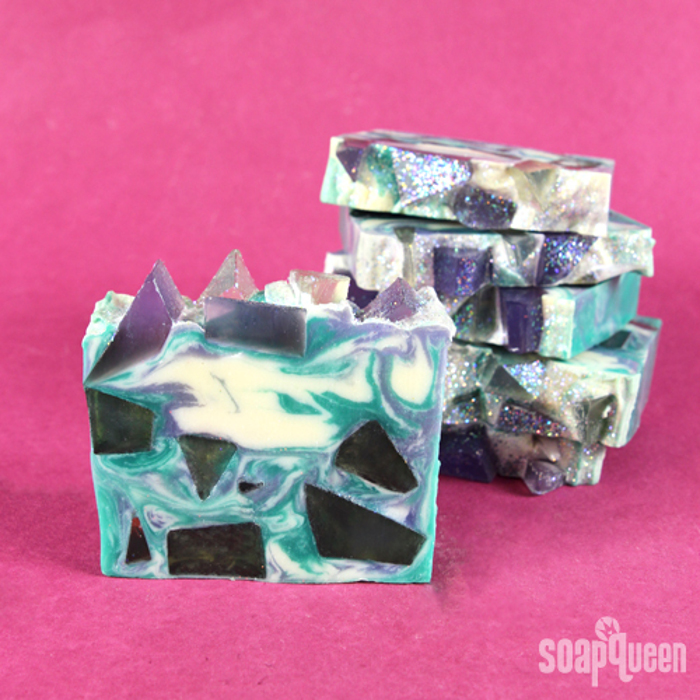 The asymmetrical chunks in the soap create an abstract look. The same concept is used in the Black Cherry Bounces Back post. A mis-manufactured fragrance oil caused the soap to separate and left pools of oil. In the spirit of turning lemons into lemonade, we used the Hot Process Hero method to save the soap. It was then topped with soap chunks for a totally unique bar of soap.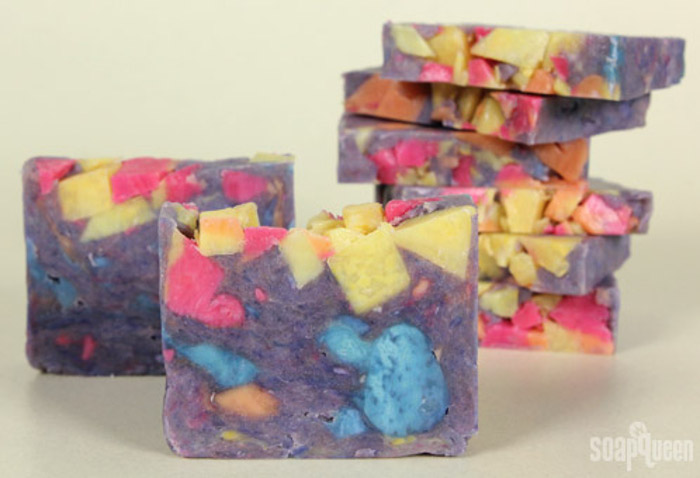 We recently asked soapers on the Bramble Berry Facebook page what to do with leftover soap scraps. You savvy soapers had so many creative ideas! You can see all the answers here, and check out some of our favorites below:
Put them in an organza bag and use them as travel soaps. You can also throw them in your drawers to add a fresh scent.
Put them in a small bag and sell them for 50 cents. They can fit easily in your purse or glove box.
Place the leftover scraps in a sack and hang it from your bathtub faucet for a luxurious bubble bath.
Combine the shredded soap with additional fragrance oil in a bag and hang them in your rear view mirror for a DIY car freshener.
Cut end pieces of soap in cubes and mix them together in sample bags. Sell them for $1 as a soap sampler pack.
Mix the scraps with salt for a lathering and exfoliating scrub.
Use the shredded soap as packaging in place of raffia or packing peanuts.
What's your favorite way to use leftover soap scraps?