This pretty and unique soap is inspired by impressionist paintings. It utilizes a unique "swirl" technique created with…of all things…squirt bottles! Don't forget to bring a little bit of patience along. Squirting the soap can take up to 10 minutes, but it is SO worth it. Get ready to fall in love.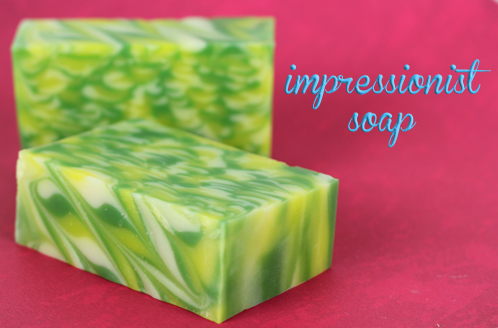 Recipe:
10 oz. Canola Oil
2 oz. Castor Oil
11 oz. Coconut Oil
11 oz. Palm Oil
8 oz. Sunflower Seed Oil
6 oz. Sodium Hydroxide (lye)
14 oz Distilled Water
2.7 oz. Sage and Lemongrass Cybilla Fragrance Oil
1/2 teaspoon Green Chrome Oxide
1/2 teaspoon Titanium Dioxide
1 teaspoon Fizzy Lemonade Colorant
2 tablespoons Sunflower Oil
3 Squeeze Bottles
Silicone Loaf Mold
Mini-Mixer
Get everything you need for this project at the click of a button!

Do you want to see this soap in person? Are you a more tactile learner? This soap is in our Etsy shop if you'd like to hold it in your hot little hands.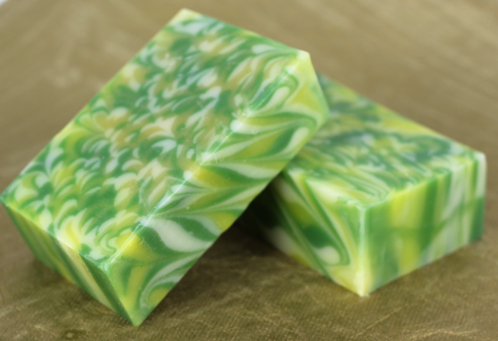 If you have never made cold process soap before, I strongly suggest getting a couple of basic recipes under your belt before starting on this advanced recipe. Check out Soap Queen TV on Cold Process if you want to get started with cold process. It's a series of FREE videos that will take you through the basics! Be sure to watch the episode on Lye Safety. Safety is the most important part of any soap recipe! If you're a book worm, Bramble Berry also has some helpful reading on the cold process technique. There's a downloadable book on making CP soap right here.
Before starting this recipe, gear up in gloves, safety goggles (regular eye glasses don't count!) and long sleeves. Make sure kids and pets are in another part of the house so there are no distractions or tripping hazards.
Color Prep: Prior to starting the soap making process, pre-mix your colorants in oil. 1/2 teaspoon (tsp) Green Chrome Oxide in 1/2 tablespoon (Tbl) Sunflower Oil, 1/2 tsp Titanium Dioxide in 1/2 Tbl Sunflower Oil, and 1 tsp Fizzy Lemonade in 1 Tbl Sunflower Oil. Blend each color with the mini-mixer, but make sure to saturate the powder in the oil before you turn on the mixer or you'll get a messy cloud of pigment. Take the tip of your mini-mixer and push the powder under the surface level of the oil. Mix the colorant thoroughly for even color results.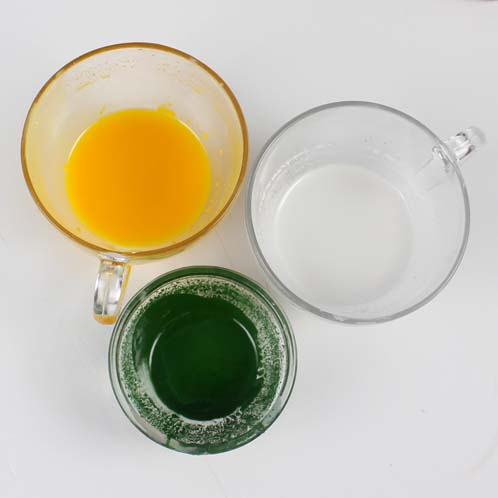 ONE: In a well ventilated area, slowly and carefully add the lye to the water. Stir until the water is clear and set aside to cool.
TWO: Melt and combine Coconut and Palm oils. Add the Canola, Castor and Sunflower oils. When both the lye water and oils are below 120 degrees (and ideally within 10 degrees of each other), carefully add the lye water to the oils. Insert stick blender into mixture and "burp" it to release any excess air trapped under the blade. Stick blend the soap until a light trace is reached.
THREE: Split the soap three ways between three containers (you can just eyeball it – totally fine!). Add 1 tsp of the dispersed Green Chrome Oxide and .9 oz of Sage and Lemongrass fragrance oil to one batch, 2 tsp of the dispersed Titanium Dioxide and .9 oz of Sage and Lemongrass to the second batch, and 5 tsp of dispersed Fizzy Lemonade colorant and .9 oz of Sage and Lemongrass to the third. Mix all three batches well using a whisk so not to accelerate trace.
Tip: If you mix from lightest color to darkest color, you can use the same whisk; makes for less dishes to clean!
FOUR: Pour the soap into the condiment bottles; each color will fit into one bottle. Once the bottles are filled and capped, be sure to shake them intermittently by placing a gloved finger over the tip to ensure that the soap doesn't separate.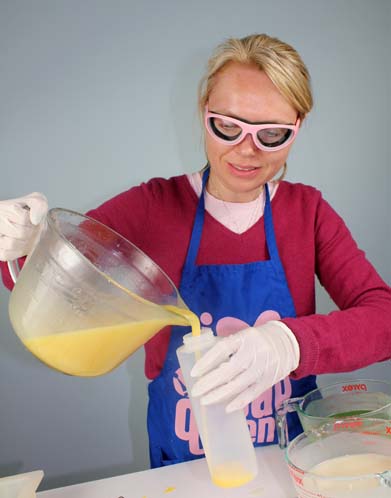 FIVE: Choose a starting color (it doesn't matter too much which one) and squirt soap inside the silicone loaf mold in a horizontal (long way) striping fashion. Keep the tip of the squirt bottle low and close to the mold, and make 3-4 passes back and forth then switch to another color. Continue this way, alternating colors, until the mold is full. Be sure to turn the mold every so often so that one side isn't heavier than the other.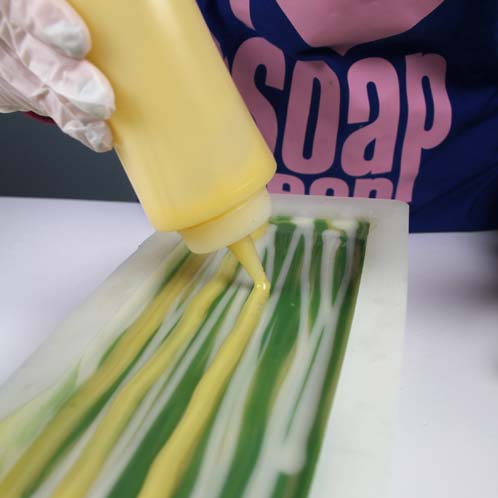 SIX: Tamp the mold on the table to eliminate any air bubbles.
SEVEN: Add a fun finish to the top of the soap by adding a liner swirl to the top layer! Drag a chopstick or skewer through just the tippy-top layer (so you don't affect the look of the rest of the soap). Don't let your chopstick go more than about 1/4″ deep in the soap.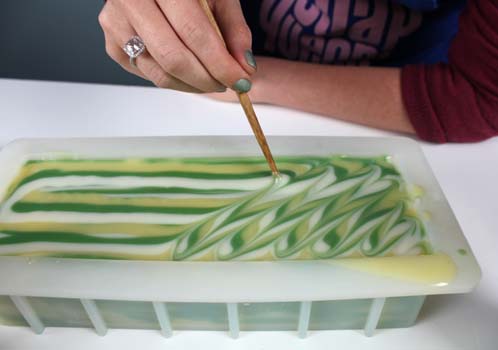 EIGHT: Spray entire surface with 91% alcohol to help prevent soda ash.
NINE: Cover and insulate for 24 hours. Unmold within 3-4 days.
TEN: Allow soap to cure and dry for 4-6 weeks before using.
If you'd like to see this soap in person and really examine it close-up, the soap is in our Etsy shop here.