Zahida of Handmade in Florida creates stunning cold process soap featuring signature swirls and gorgeous colors. With numerous soap challenge wins under her belt, Zahida has popularized several soaping techniques including the "Butterfly Swirl." Her passion for creating and eye for design shines through in her blog and YouTube videos.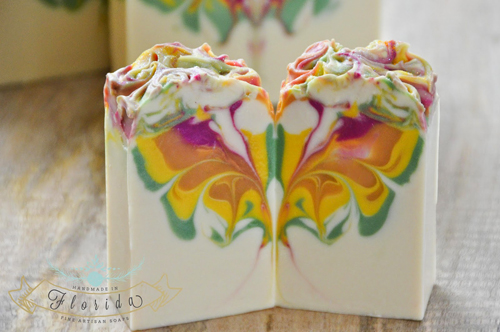 Before diving into soap, Zahida worked in corporate management and was an active member of the aviation industry, serving on several boards including the Pass Bureau Association. Zahida took a break from the corporate world after the birth of her son, and began soaping shortly after. Read on to learn more about Zahida, her business, and what inspires her to create such gorgeous soap!
How long have you been soaping for and how did you get started?
Like many soapers, I made my first batch out of necessity seven years ago. I had just given birth to my son and as an uber-cautious-first-time-mom, my hands were cracked and painful due to so much washing. I had gone through countless "gentle" soaps and lotions and nothing helped…infact, it got worse. My husband and I decided to try making our own lavender soap. Fortunately, it turned out great and helped my skin tremendously! I soon whipped up some hand cream and have been hooked on handmade body care since!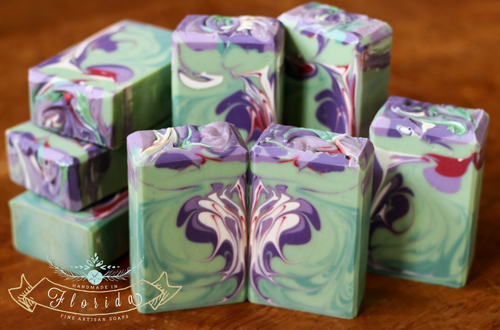 Sweet Fig Cold Process Soap
What sort of advice would you give to those soapers just starting their businesses?
Believe in your product and in yourself! You can do this! Yes, it's always a bit scary when you're putting yourself out there, but you'll never know unless you try!
What is your favorite type of product to make?
Cold process soap, hands down! I love everything about making cp soap (with the exception of cleanup and waiting). I love playing with the oils and butters, fragrances and colors…each batch of soap is an adventure.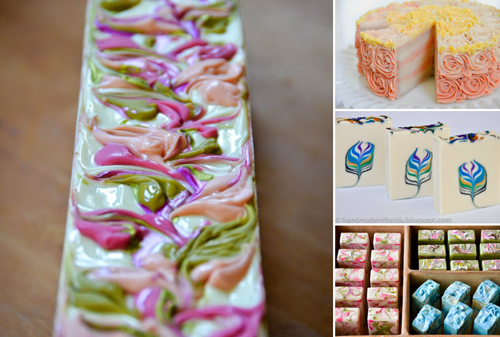 What inspires you to create?
People, places, colors, scents, nature, art…pretty much everything!
How did you come up with the name for your business?
It's kind of funny…I was looking for a name that would allow for creative freedom and I live in Florida…thus, "Handmade in Florida". It's about as generic as it gets!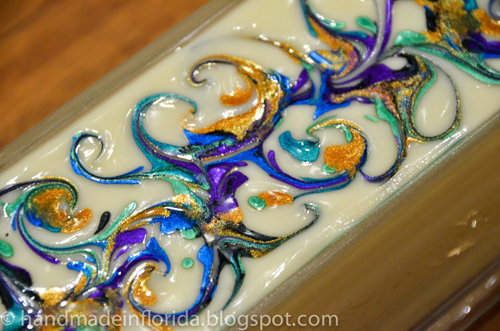 Secret Feather Swirl Cold Process Soap
What is your favorite Bramble Berry product and why?
I love everything from Bramble Berry! If I had to pick just one thing that I could not live without, it would have to be your heat resistant plastic pouches! I love using them to masterbatch my oils, they are so convenient!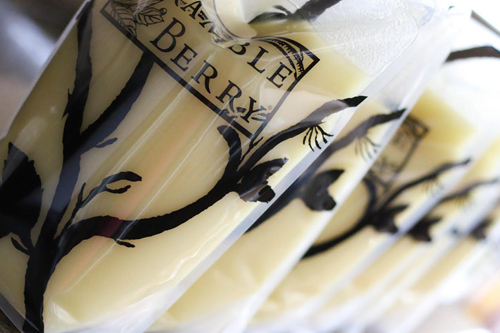 Tell us something unusual or unique about yourself!
I started my first business at the age of 14. It was in the early 90's when handpainted t-shirts were "the thing" lol. I painted every day after school and soon had several wholesale accounts that kept me busy until college! At one point, my mom, dad and sisters were even helping to paint t-shirts!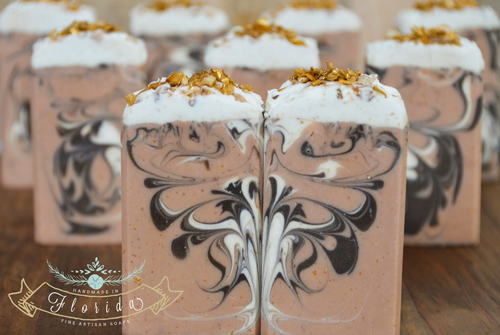 Pumpkin Spiced Chai Cold Process Soap
What are some of your other hobbies and interests?
In addition to soap making, I enjoy watercolor painting, photography, sewing and baking.
What is your number one soaping tip? (Could pertain to oils, trace, molds, colorants, fragrance…anything!)
I like soaping cool (room temp)….I find that it gives me the most time to play with my soap 🙂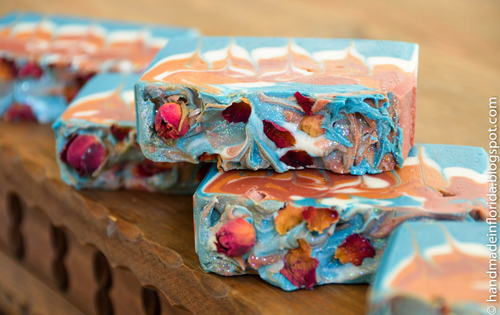 Romeo and Juliet Cold Process Soap
Have you ever experienced a horrible soapy fail? How did you work through it, and what did you learn?
Oh my goodness, my very first soap was an adventure! My husband and I were suited up to the max and the soap making session was so stressful that I didn't think I'd ever make soap again! Luckily, I loved the soap and just had to make it again (without the hazmat gear)! Unless I'm working with some crazy expensive and/or rare ingredient, I just go with the flow…if it turns out, great! If not, lesson learned!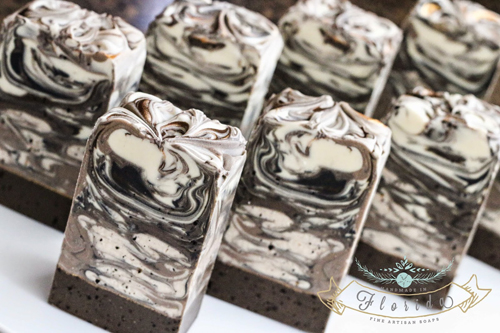 In the Pot Swirl Coffee Soap
What do you love most about creating bath and body products?
I love that I can create a variety of ultra luxurious and skin loving products that would typically be out of my price range…if even available!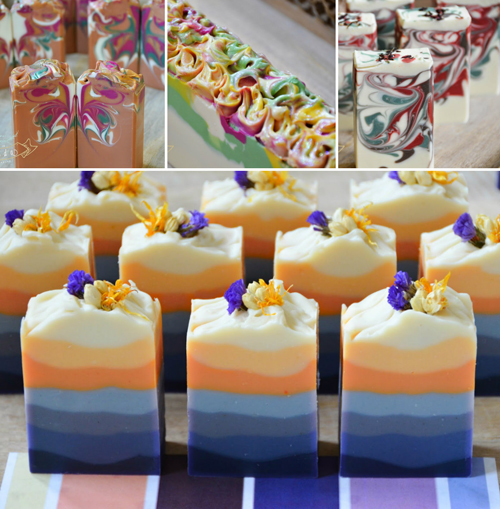 Find Handmade in Florida
On the Web
Blog
Facebook
YouTube