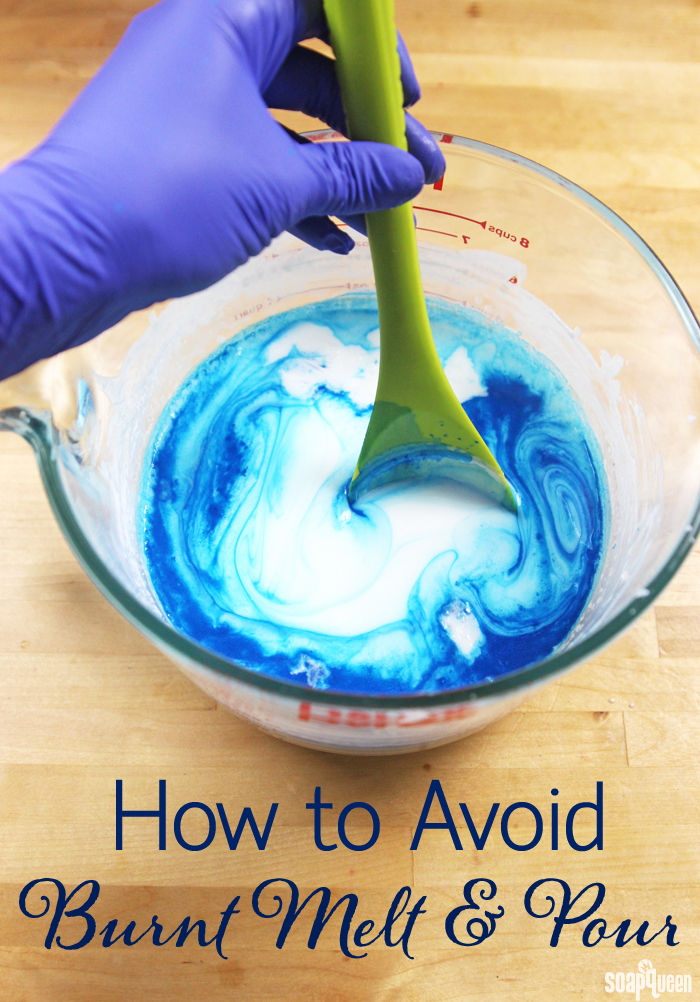 Melt and pour soap making is great for beginners. It does not require working with lye, and is easy to customize with color, fragrances and molds. While usually considered an "easy" project, melt and pour can be a little finicky when it comes to temperature. If melt and pour gets too hot, the base will burn and becomes difficult to work with. The key to avoiding burnt melt and pour? Patience!
Bramble Berry melt and pour bases begin to melt at around 120 ° F. The bases begin to burn when they become hotter than about 140-150 ° F. Melt and pour soap should never boil. If it begins to boil, you know it has been burned. When working with melt and pour I recommend always having a temperature gun nearby!
Melt and pour soap can be melted in the microwave or in a double boiler. If using the microwave, be sure to use short bursts of heat. Remember, you can also microwave the soap for longer…but once the soap is burned, there is no going back! Melting melt and pour soap in a Crock Pot or saucepan is not recommended, as the direct heat can easily burn the base. If you get a Crock Pot or turkey roaster that has multiple heat settings (low, medium, high) and melt the soap slowly and carefully, that can work. The multiple heat settings are key!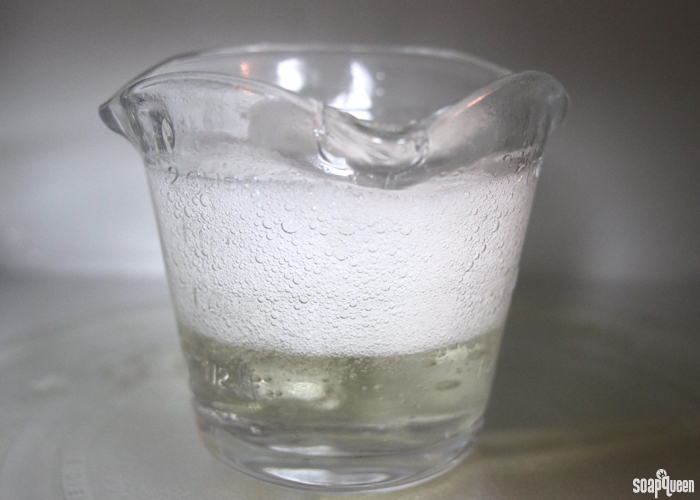 If your melt and pour begins to boil…you know it's burned!
Burned melt and pour may smell unpleasant, and may become cloudy. In extreme burn cases, the soap can become yellow or brown-ish in color. Burned soap often develops a thick, gloppy texture once cooled slightly. This thick texture makes pouring smooth layers difficult, and creating small details becomes next to impossible. Unfortunately, once your soap has been burned and has turned into a gloppy texture, there is no way to achieve the fluid texture of not-burned soap. Burned soap is still safe to use…it just does not smell or look very pleasant. The best thing to do with gloppy, burned soap is heat it to a liquid texture, and pour into a heat safe container or mold.
In the photos below, the soap reached temperatures of over 200 ° F. You may notice the color has a slight yellow tint in the photo on the left. It did not smell very good, and there was a lot of steam coming off the soap. While unpleasant to smell, the soap was still liquid and workable. On the right, the soap has cooled to about 150 ° F. At this temperature, unburned melt and pour would be fluid. But, because this soap was burned so badly, the soap has become a thick, jello-like consistency even at 140 ° F.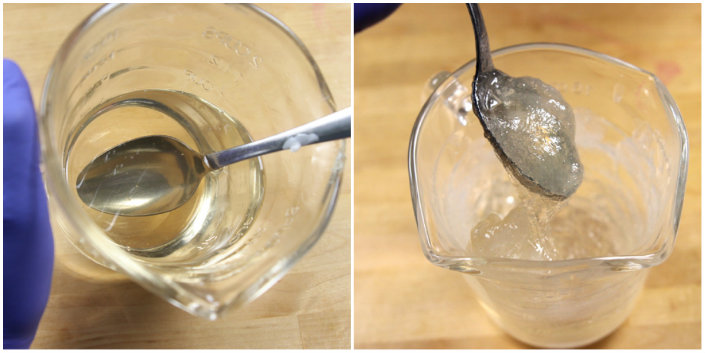 On the left, the burned soap has taken on a slightly yellow color. On the right, the burned soap has cooled slightly but has taken on a gloppy, unworkable texture.
The first step to avoid burning your melt and pour is to cut the bases into small uniform pieces. When the pieces are different sizes, they melt at different rates. This can lead to a bowl of hot and liquid melt and pour with large un-melted chunks.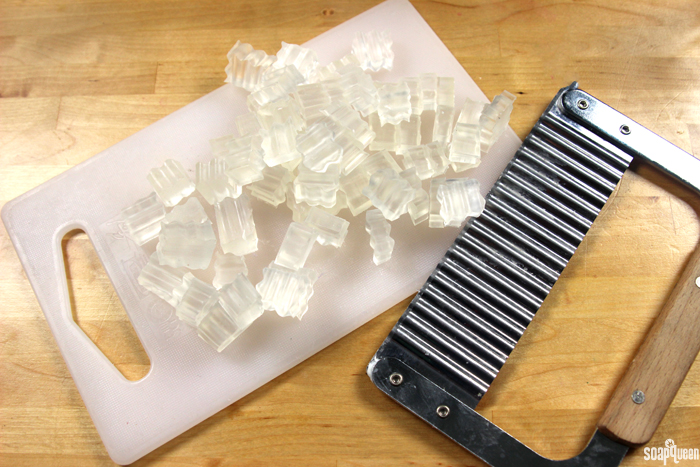 Cutting the melt and pour into small, uniform pieces helps the soap melt quickly and evenly. 
If your container of liquid melt and pour contains chunks, be careful not to over-microwave and burn the melted soap. Remove the bowl from the microwave and stir for 30-60 seconds to allow the hot liquid soap to melt the chunks. Place the container back into the microwave and use small bursts of heat. Continue to stir between each burst until all the chunks are melted. Below, you can see a bowl of melted soap that still has large chunks. But, it is already at 132.2 ° F…more microwaving could cause the soap to burn. Time to stir, stir, stir and melt in 10 second bursts between each stir. If the chunks of melt and pour are really large, remove them from the mixture and melt separately.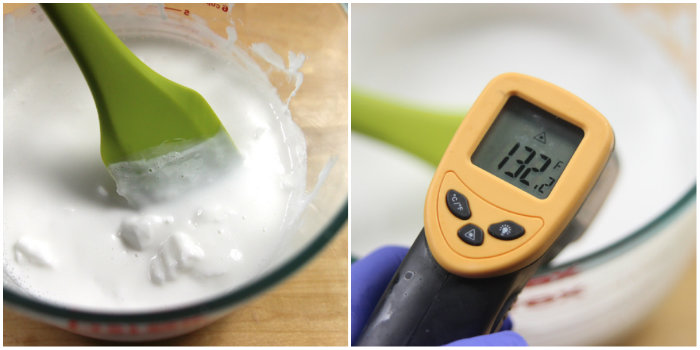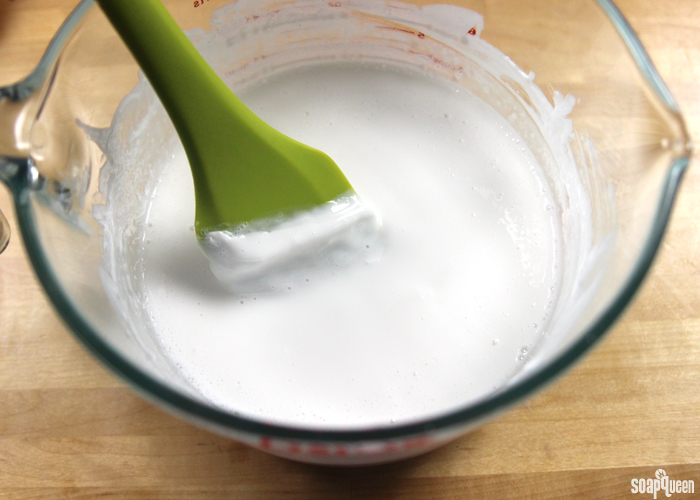 If melting large amounts of melt and pour (multiple pounds), a double boiler may be your best option. In the Soap Lab, we use industrial size warmers for melting large amounts of soap. When melting smaller amounts of soap, be extremely careful. Melting less than 5 ounces of soap is tricky; it's very easy to burn small amounts of melt and pour soap. If you are melting less than 5 ounces in the microwave, use 5-7 second bursts and stir in between each burst. Melting closer to 1-2 ounces? Use 3-5 second bursts. Remember, it's always easier to microwave the soap for longer!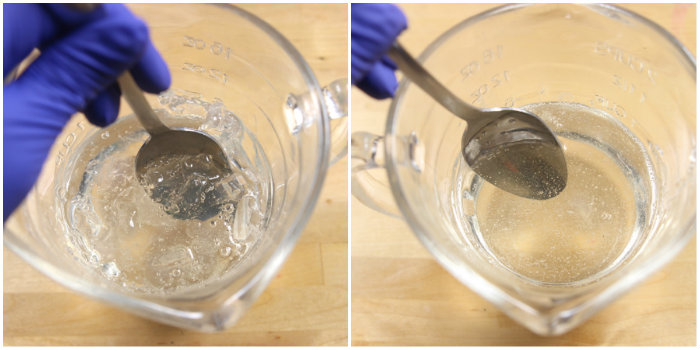 It's so easy to burn small amounts of melt and pour. Be sure to use extremely short bursts, and stir in between each burst. 
The key to melt and pour that's fluid but not burned is patience. It's so tempting to stick a container of melt and pour in the microwave for a minute or two and walk away…but don't do it! Melt and pour requires short bursts in the microwave with stirring in between. Your patience will be rewarded with melt and pour that is thoroughly melted, and easy to work with.
How do you melt your melt and pour pieces? If you have any tips, I'm all ears! Do you prefer the microwave, or a double boiler?