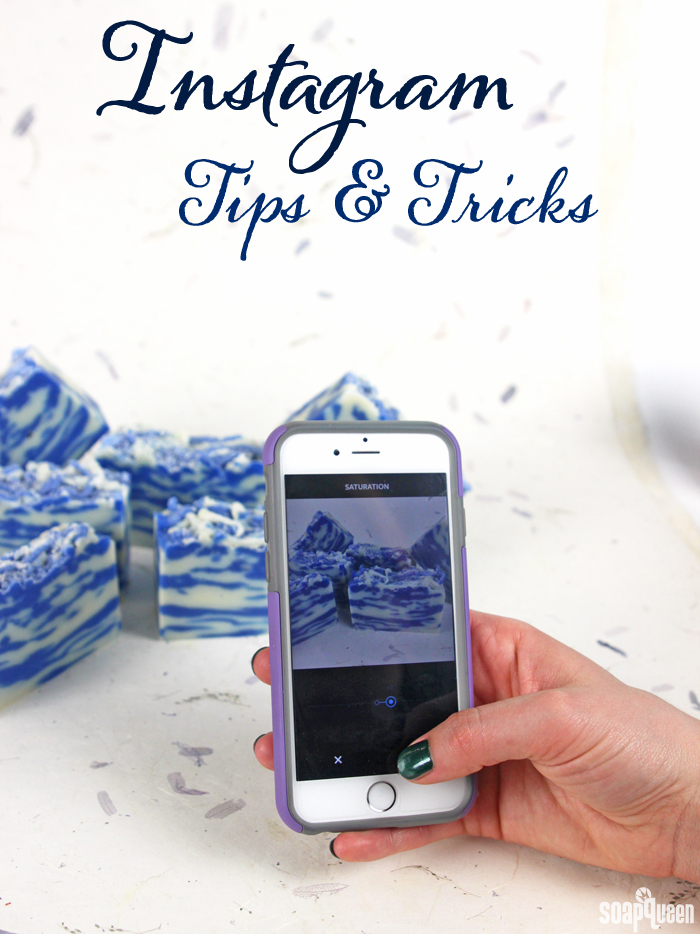 Instagram has become extremely popular in the past several years. In fact, it is the fastest growing social site on a global scale. While I'm a huge fan of social media outlets of all kinds, Instagram (find me @brambleberry) might be my favorite! It's easy to navigate, interact with others and is completely photo-centric. I could spend hours everyday scrolling through the beautiful and inspirational images.
Now that I've been using Instagram for several years, I have learned how to leverage its function for business. Instagram is a great tool for soapy businesses because soap is visually appealing. From in-process shots to final bars, soapmaking and photos go hand in hand. Instagram is also a great way to connect with other soapers, small business owners and potential wholesale accounts. Here are some of my tips when using Instagram, including how to take better photos, connect with others, and market your business.

Use Your Phone Camera (Not Instagram's)
Because Instagram is all about photos, it's crucial that they look good. When taking photos for Instagram, use the phone on your camera rather than using the Instagram camera. The camera within Instagram only lets you take one photo. When using the camera on your phone, you can take several photos and then choose which you like best. I like to use the "square" setting on my iPhone camera and most smartphones have this option. Because Instagram only allows square photos, using the square camera setting allows you to see what is being cut from the frame ahead of time.
Setting up the Photo
Your photos should grab the users attention so they stop scrolling through their feed and interact with your photo. Slow down, and take a few extra minutes to set up a thoughtful and interesting photo. It makes such a difference! If you're looking for even more tips on taking quality photos, check out the Soap Photography Tips from Handmade in Florida blog post, along with the How to Photograph Products blog post. Keep in mind when taking product photos, practice makes perfect. Here are some things to take into consideration when taking a photo for Instagram.
Find Good Light: In order for photos to look bright and vibrant, it's crucial that you have good lighting. A lot of my photos are taken in the Soap Queen Soap Lab, which has lots of artificial lights for tutorials and Bramble Berry product photos. If you don't have ample artificial lighting, natural light can be even better. Take your photos near a window, or even take your products outside to receive all the benefits of soft natural light. When working with natural light, avoid harsh sunlight. Taking photos in the shade or covered area avoids any harsh shadows.
Consider the Background: Always take the background of your photos into consideration. A messy or distracting background can really take away the focus from a gorgeous product. Consider investing in some large craft paper in neutral tones. This creates a clean background that will help your product pop. Taking your photo from above can also helps eliminate distracting backgrounds.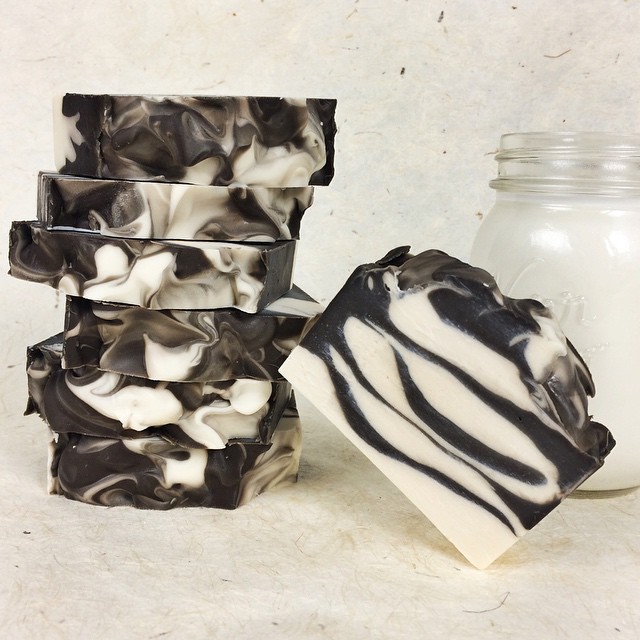 Taking photos on large pieces of paper is an easy and cost effective way to create a clean background that help your products pop. 
Fill up the Frame: Photos of soaps and other bath products can become more interesting with other items filling up the frame. When making soap, I like to place tools and ingredients into the frame. In the photos below, colorants and ingredients are included to add interest, texture and help tell a story.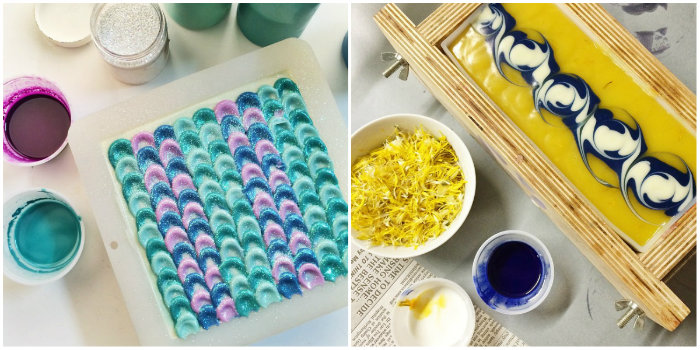 Including other interesting items in the frame fill the photo with color, texture and help tell the story of your creation.
Take the Time to Edit
You've spent a few minutes to create a quality photo, but you're not quite done! Editing your photos really makes them pop. If you are photographing products, edit carefully so you do not misrepresent the product. Personally, I like to brighten my photos, increase the contrast slightly, sharpen, and increase the saturation a small amount. Your style of editing might be very different, so play around with it and find a style that suits your products and business.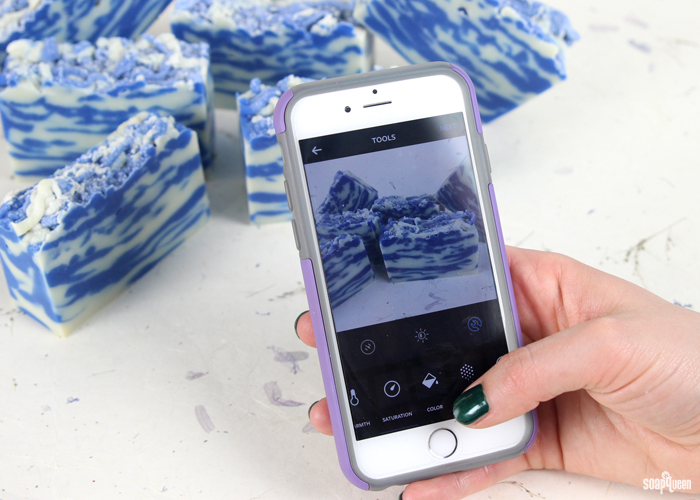 I do most edits on the app Afterlight, or use the edit functions within Instagram. Another good photo editing app is VSCO Cam. Edits should make the products jump off the screen and reflect your style. Below are some photos before and after editing. On the left are the unedited photos, and on the right are edited photos. You can see the edited photos are brighter, and slightly more vibrant.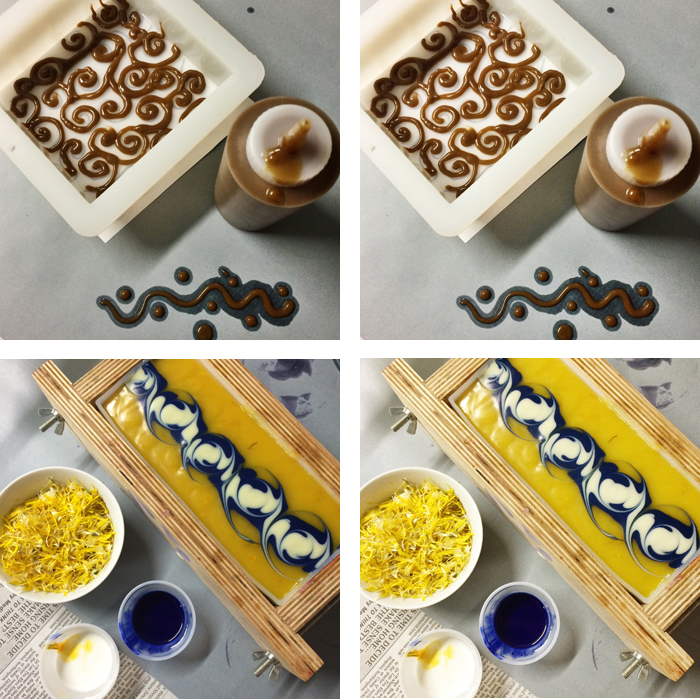 Use Hashtags on Your Photos
Hashtags make your images easy to find by others with similar interests. By using hashtags, your photos instantly become easier to discover. Hashtags should be relevant to your image; don't use a hashtag simply because it is popular. How many hashtags you'd like to include is up to you. Instagram limits users to 30 hashtags per post. Some Instagramers would say the more hashtags the better, while some like to use 1-5. This study found that as the number of tags on a photo increased, so did the average number of likes.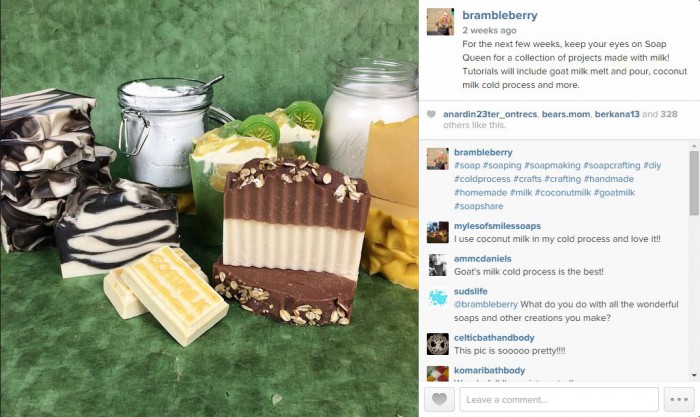 Including hashtags is a must! If using more than a couple hashtags, placing them in the comments keeps the photo description uncluttered. 
Personally, I'm all over the map. I generally err on the side of using more hashtags, rather than less; so around 10-15 hashtags per post. After about 15 tags I find they are no longer truly relevant to my post. My "go-t0" hashtags include #soap, #soaping, #soapcrafting, #soapmaking, #soapshare and #diy. When I have included more than 5 tags, I add them to my photos by leaving a comment (shown in the image above). This way, the hashtags are not included in the description of the image and are not distracting.
Search Hashtags and Interact with Others
Part of what makes Instagram so great is the supportive community. I have found that Instagram users are incredibly encouraging and complimentary. One of my favorite things to do is search hashtags like #soap and #soaping and scroll through the awesome photos. Take the time to like photos that you love, and leave a comment. Leaving comments is a great way to keep the community positive.
Commenting and interacting with others is an awesome marketing strategy! Many times, if you like a photo you'll get a like back. Or, if you start following an account, they might follow you back. If you are small business, searching and interacting with photos that are in your local area is a great way to subtly spread word about your business. I love searching photos with the hashtag #Bellingham to see what is going on in my community.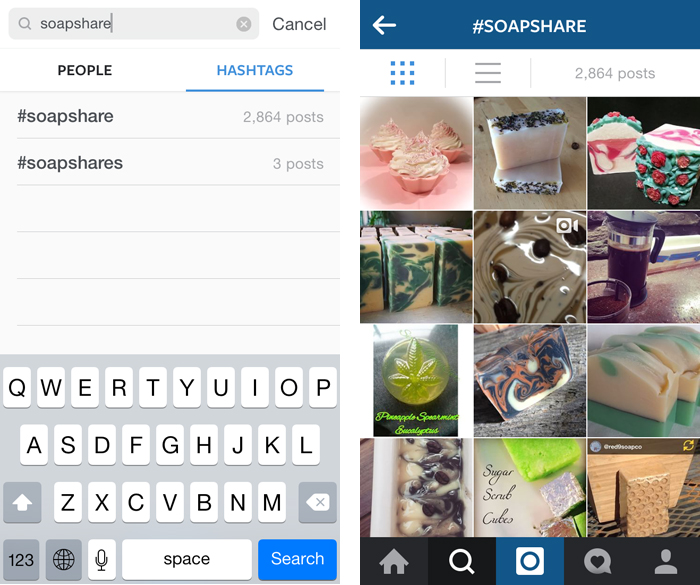 I love looking at all the photos with the hashtag #SoapShare. 
Set Up Your Profile
If you're using Instagram to promote your business, make sure your profile bio includes relevant information. The number one thing to include in your profile? A link to your store! Including a link to a place where customers can purchase your products is the easiest way to help drive sales. The bio link is also the only place on Instagram where a link can be clicked on to open a new window. Links in comments and photo descriptions will not do this.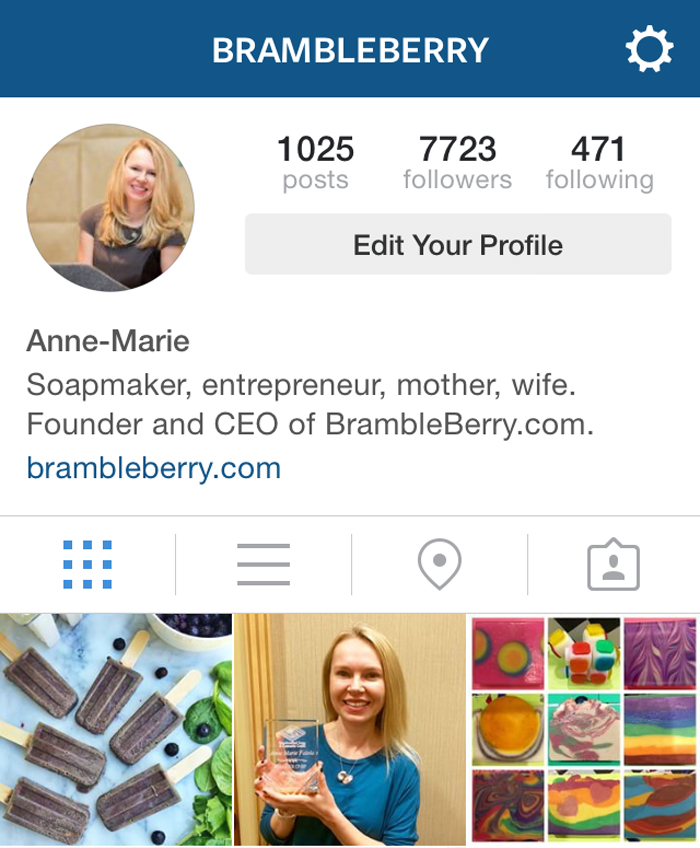 Make sure to include a link to your shop in your Instagram profile! 
Because the bio link is the only "active," link in Instagram, you may choose to change it frequently. You may have seen the term, "link in profile," or "link in bio" in the descriptions of photos. This is a popular way to give Instagram users a direct link to specific content, such as a specific blog post, sale page or product. If you choose this strategy, just make sure to change your link every time.
Track Your Statistics
If you are using social media to promote your business, it's important to review your results to hone in what is working. My favorite way to analyze Instagram stats is with the site Iconosquare. It provides in depth information including when is the best time to post by time and day, what photos receive the most engagement and overall growth. It also gives you a list of people you may want to start following, along with a list of your most engaged followers. It's full of great information!
Post Consistently
With any social media outlet, producing consistent content is important. This is especially true with Instagram. Because it's relatively easy to create Instagram content, I recommend posting once a day. My strategy for posting everyday is to take photos of everything! If you think it might take a good photo, start snapping. Worst case scenario is that the photo doesn't turn out, and you delete it from your phone. Other strategies to post everyday include "regraming" other users photos (with their credit of course) and participating in #ThrowbackThursday by posting old photos.
Instagram is just one of the awesome (and free!) social media tools at your disposal to create your brand, hone your voice and really connect in a deep and meaningful way with potential customers, clients and friends. Some of the other free tools that I've written tutorials on how to use include Twitter (click here to read that one), a blog (here's that one), how to work with a newsletter (here) and how to set up a Facebook page for your business (here). If you want to see how Bramble Berry does social media every day, there's no better place to find it all then our brand new free app that shows all of our social media feeds in one easy place.
If you're on Instagram, I would love to hear your favorite tips! Also, feel free to leave your Instagram username so I can check out your feed!