Time:
2-4 hours (both parts)
It's fun to take a stroll down memory lane by looking at the archives of the Soap Queen blog (well, if you're into soaps and crafting, that is). There are a few ways to search for posts past; if you remember the title, type it in the search bar and click "go!". If it's a specific type of project you're looking for, say Melt and Pour or Soaks and Scrubs, you can click on one of the headings in the left column. If you're looking for something by season or other key words, you can search for favorite posts by date or tag by clicking on the "Archive" tab above. Now that I've offered up enough ammo to keep you distracted for the rest of the week (tee hee!), let me show you what's caught my eye recently: Honey Ale Soap! Such a great way to celebrate Octoberfest traditions by making this non-alcoholic homage to a local favorite, the micro brew. I've reworked this fun technique to pay homage to the *other* beery holiday of the year.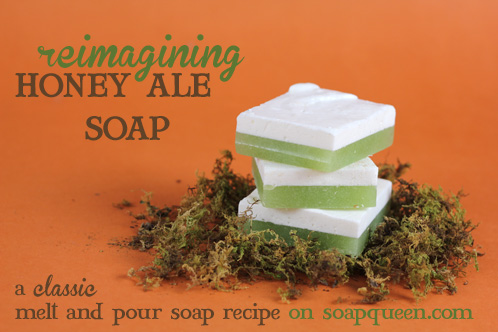 ONE: Melt 25 ounces of Honey Melt and Pour soap base in the microwave and mix in Honey Ale fragrance oil. For a colorful twist, I added some green color using a Non-Bleeding Chrome Green color block in a nod to another favorite beer holiday. I used about 4-5 medium sized shavings but what you see is what you get, so use your best judgement. New to using color blocks for melt and pour? Check out this helpful video!
TWO: Whisk the melted soap until you have frothy bubbles on top. Switch between whisking and stirring the soap. The goal is to suspend the bubbles in the soap (to look like carbonation). Stir until the soap is gelatinous and pour into the mold. Do not spritz with rubbing alcohol. We're keeping the air bubbles this time!
THREE: Once the soap has cooled make your frosting recipe for the "foam". Combine, 5 tablespoons of liquid soap, with 8 ounce of White Melt and Pour and .25 ounces of Honey Ale Fragrance Oil and blend on medium/high with an electric mixer (or super strength elbow grease). See this Soap Queen TV episode on Soap Cupcakes with Whipped Frosting to learn more about soap frosting.

FOUR: Once the "beer" portion of the soap is completely cool and the frosting recipe is nice and frothy, spritz the first layer of soap with rubbing alcohol and pour the soap frosting on top. No spritzing alcohol on the frosting either, you don't want to deflate the "beer froth"! For this go around, I played with adding some fun exfoliating accents to the frothy topping.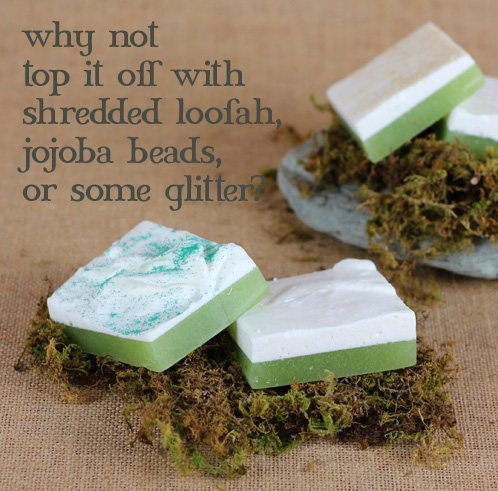 Try out some jojoba beads, shredded loofah, or glitter!
FIVE: Once the soap has cooled, carefully release from the mold and cut into adorable cubes, rectangles, or even circles. Enjoy!