Yields:
1 bottle per recipe
One of the things I love about making Nail Polish from scratch is the instant gratification factor. It's ready as soon as it's made! If I decide I'd like a quick custom color for date night tonight, boom. Done. And so much fun to experiment with different colors and color blends. The addition of a favorite scent makes for an unexpected twist on a classic cosmetic.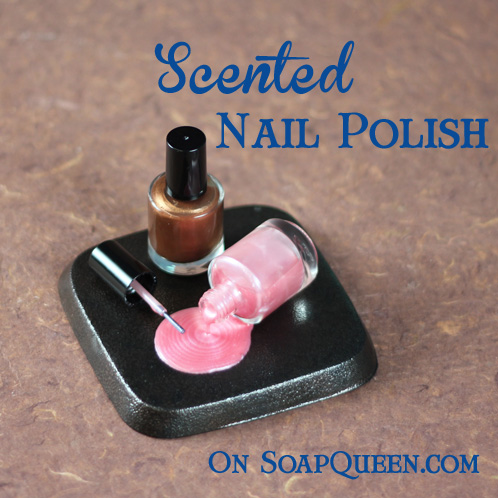 Ingredients: 
Moonlight Pomegranate Fragrance Oil
Chocolate Espresso Cybilla Fragrance Oil
Recipes:
"Barely There Pink" Polish (A lighter, more opalescent color)
Per Bottle:
1 mL Moonlight Pomegranate Fragrance Oil
2 mini scoops Red Blue Mica
1 mini scoop Coral Mica
1 mini scoop Super Pearly White
"Sweet Copper" Polish (a darker, more opaque color)
Per Bottle:
1 mL Chocolate Espresso Cybilla Fragrance Oil
2 mini scoops Cappuccino Mica
2 mini scoops Sparkle Gold Mica
Buy everything you need to make 8 bottles (4 of each recipe) with the click of a button!

ONE: Premix the colorant with the fragrance oil. There are two ways of doing this; mix the fragrance oil and the colorant in a separate container and then add them to the bottle, or you can add the fragrance oil and the colorant to the bottle and mix with the help of either the mixing beads or the split-stick attachment that comes with your Bramble Berry Mini Mixer.
TWO: Make sure you are in a well ventilated space and pour the nail polish base gently into your bottle. You will want to make sure to fill it to just below the shoulder of the bottle to allow for mixing room. If you spill, use an old rag to wipe the neck of the bottle and remove any splashes or spills. If you forget to do this, your lid may 'glue' itself to the bottle. If you have pre-mixed your colorant in a separate container, add the mixture to the nail polish bottle at this time.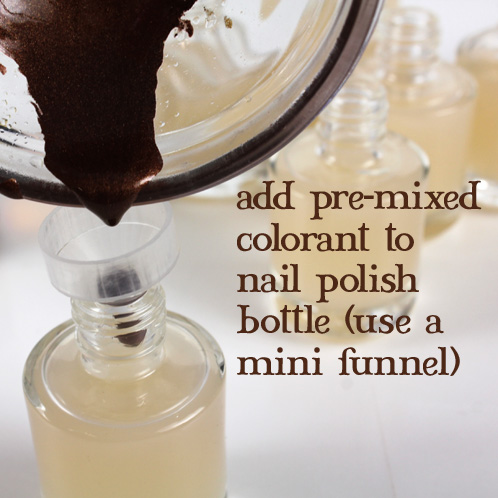 THREE: Place the brush into the bottle and screw the lid on tightly. You should hear the brush 'click' into place.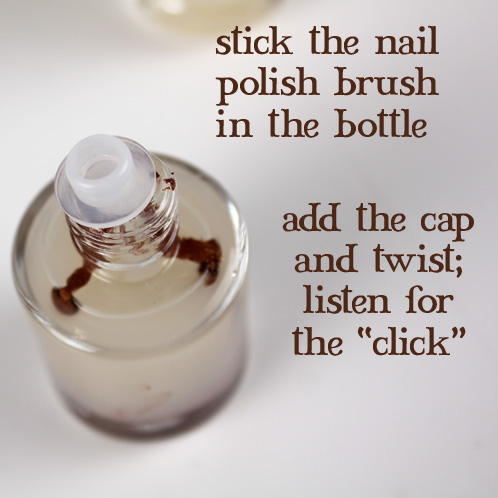 FOUR: Now shake the bottle like crazy! Colorants tend to clump and speckle if they're not mixed well enough.Test the polish to make sure you like it by swiping it on a bit on paper. If you are unhappy with the result, you can add more colorant to make changes. Your scent will not show up until your polish dries on the paper. Once it's fully dry, take a whiff! If you are unhappy, you can add a bit more, but remember that excessive fragrance oil will impede your polish's ability to dry and affect the overall durability. Add in small quantities only when you absolutely need to.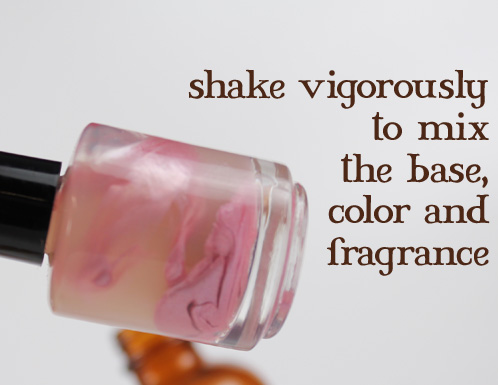 TIPS AND TRICKS:
I tested a few fragrances and found that not all are created equal when it comes to nail polish! Sometimes, the scent just doesn't want to come through. The trouble is that adding too much fragrance will impede the ability for your polish to dry. I tried scents in a higher increment and the polish took nearly 3 hours to dry. Oops! 1.5 mL was the maximum rate at which fragrance oil could be added without messing with drying time too much.
The more opaque the mica you use, the more opaque the nail polish color will be. For example, micas like Heavy Metal Gold will be totally opaque with just a few layers. However, Opalescent Turquoise on it's own won't ever get too much past a shimmer. Try blending it with something more opaque for a great effect!
I discovered that while Electric Bubblegum Pigment is the only neon colorant that Bramble Berry carries that will  mix into the nail polish base, it does stain the fingernails (probably due to the excessive amount of colorant needed to make it work).
Don't try to smell the fragrance oil in the wet nail polish base. The scent won't show up until the polish has dried.
The nail polish base is EXTREMELY flammable. Do not use or store the nail polish or base near any open flames.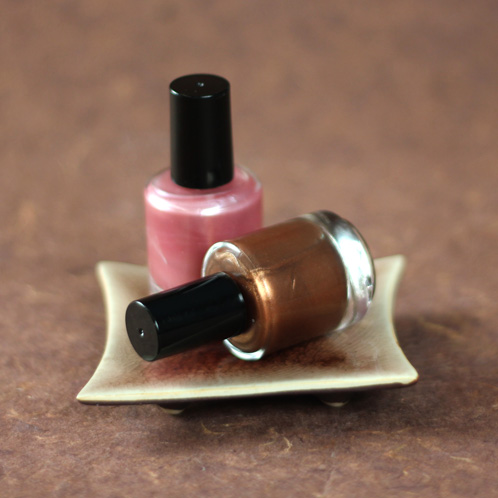 Have questions? Be sure to check out our recent Talk it out Tuesday post all about Nail Polish, or feel free to leave a comment below!