If you're a dark chocolate fanatic like I am, you know that it's almost impossible to avoid it over the holidays (or for that matter, anytime). With our Dark Rich Chocolate Fragrance Oil, you can indulge as much as you want without any of the calories!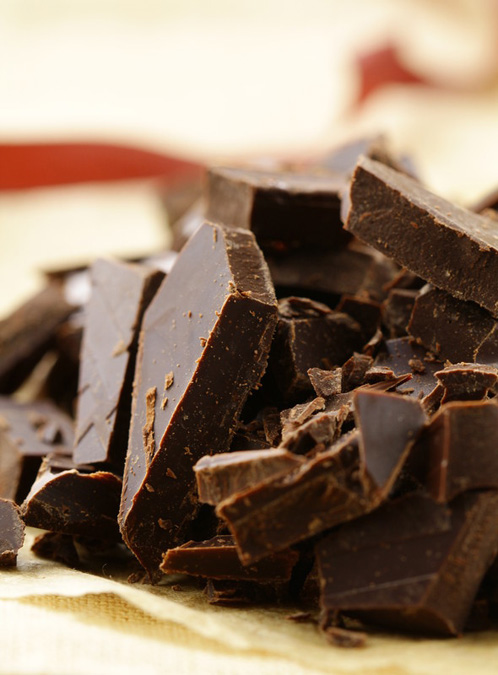 This sweet scent is as realistic as they come. In a review of the fragrance, one soaper's teenage son thought she was actually baking a chocolate cake! Sugary top notes with deep mocha and cocoa bottom notes give this fragrance excellent staying power in cold process soap. Because it's such a luscious fragrance, it does discolor to a deep ebony brown.
Edit: We asked for it and you delivered! You suggested so many blends with this wonderful fragrance that we're listing them below. You can read through the original thread on Facebook here.
The discoloration can work to your advantage, especially in tutorials such as our Almonds, Chocolate and Lavender tutorial. The intentional discoloration results a beautiful deep brown color, and it also means that's one less colorant to buy. This fragrance does move quickly in cold process soaps, so it's perfect so simple designs or thick layers of color. Check out the tutorials below to see some great examples of how to use this fragrance.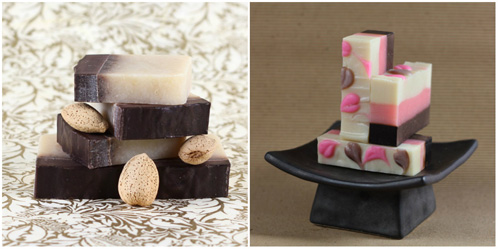 The Almonds, Chocolate and Lavender tutorial and Neapolitan Cold Process recipes both utilize intentional discoloration to achieve a rich brown color.
If you want to truly evoke the scent of holiday sweets and treats, trying pairing this fragrance with Peppermint Essential Oil or Cream Cheese Frosting Fragrance Oil. To learn more about how much of this fragrance oil to use in your cold process soaps, melt and pour projects or bath and body items, check out our post about using the Bramble Berry Fragrance Calculator. You can almost always assume that chocolate will enhance any recipe, and the same is true with this fragrance oil. If you've got any blending tips using this fragrance, I want to hear them in the comments. =) It's always good to make this fragrance go the distance by finding new and exciting blends for it.