Fruity and sweet with a hint of tartness and spice, we love Cranberry Chutney Fragrance Oil in soap. It's one of two fragrances we chose for all of our Givember projects, and throughout November, we're featuring it as part of our Make it Month: #BrambleTart! Read on to see how you can use this wonderful fragrance to create an exfoliating bar of melt and pour soap.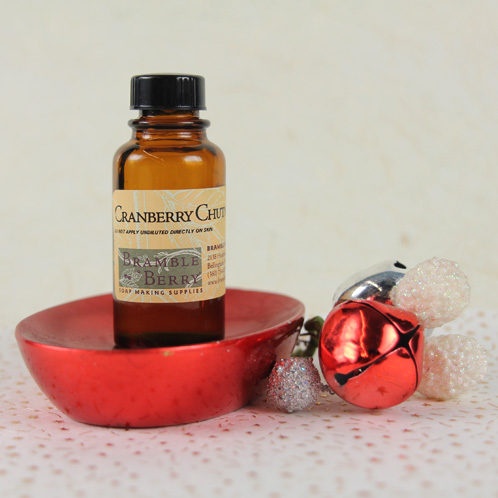 This tutorial incorporates fun embeds and cranberry seeds to create a gentle, scrubby bar of soap. Made using our 4″ Silicone Loaf Mold, these bars are the perfect size for holiday party favors or stocking stuffers!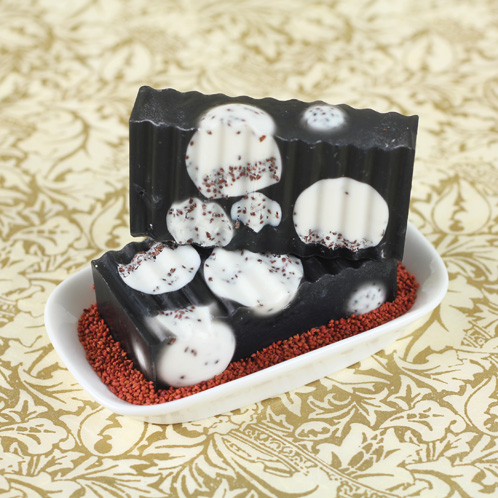 What You'll Need:
11 oz Clear Melt & Pour Soap Base
8 oz Shea Melt & Pour Soap Base
12 ml Cranberry Chutney Fragrance Oil
2 tablespoons Cranberry Seeds
1/8 teaspoon Activated Charcoal

Buy everything you need for this project with the click of a button!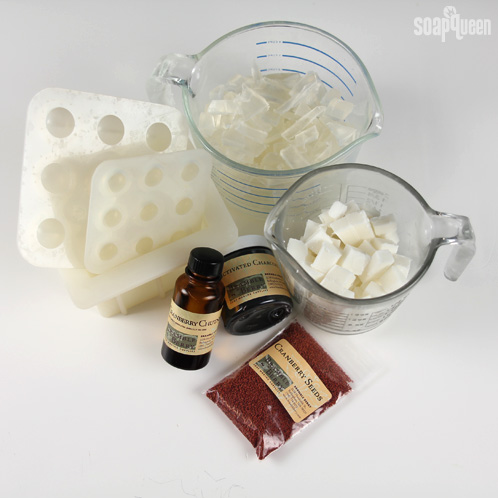 ONE: Cut 8 oz Shea Melt and Pour soap base into cubes and melt in a microwave-safe container on 10 second bursts. Add 5 mL Cranberry Chutney Fragrance Oil and stir.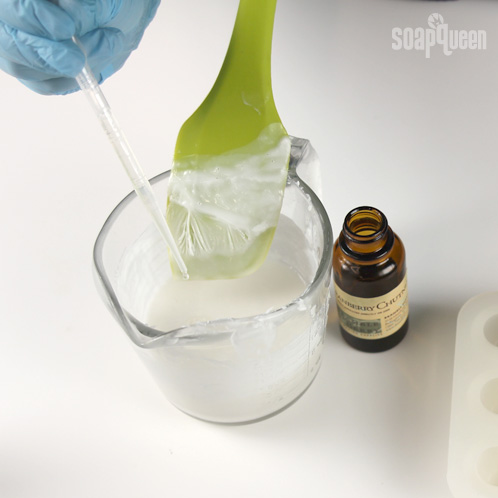 TWO:  Add 2 tablespoons cranberry seeds and stir.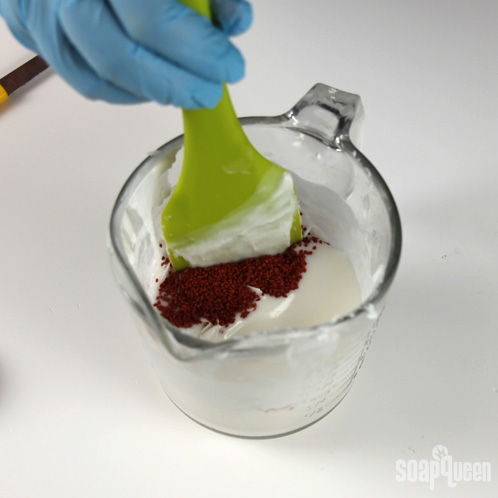 THREE: Allow to cool slightly so that the seeds don't immediately sink in the soap, then pour into the small & medium 9 ball molds. Soap in silicone molds takes longer to dry, so give the soap 60 to 90 minutes to fully harden.
Tip: Place the molds in the refrigerator if you want to hurry this project along.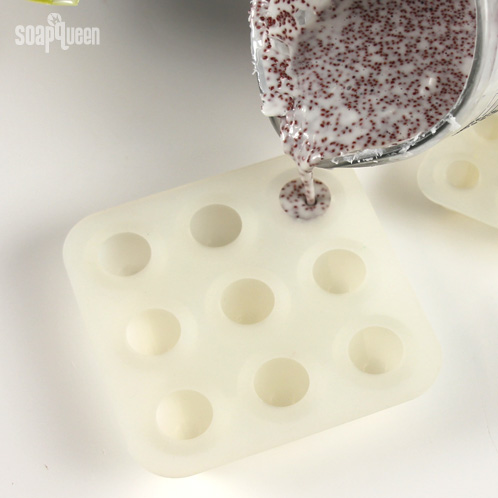 FOUR: Cut 11 oz. Clear Melt and Pour Base into chunks and melt in a microwave-safe on 15 second bursts.
FIVE: Disperse 1/8 teaspoon Activated Charcoal in 1/4 teaspoon Isopropyl Alcohol and stir into the soap. Then, add 7 mL Cranberry Chutney fragrance oil and stir.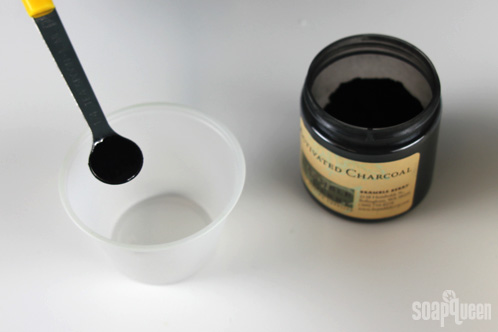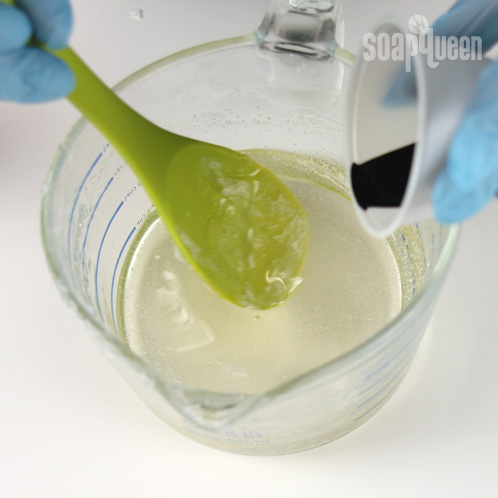 SEVEN: Pour a thin layer of charcoal tinted soap into the 4″ loaf mold.
EIGHT: Unmold the soap spheres and then generously spray them with with alcohol. Randomly place in the charcoal soap.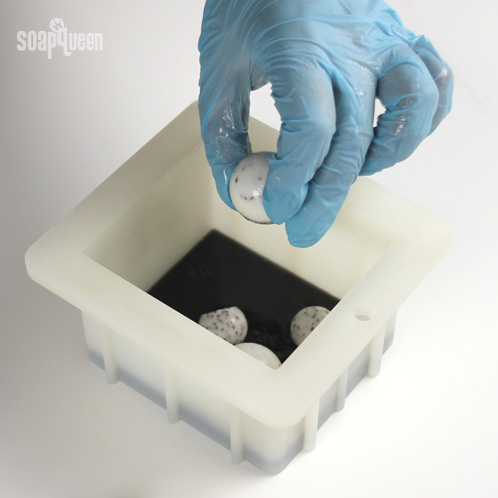 NINE: Continue alternating charcoal soap and spheres until the mold is full.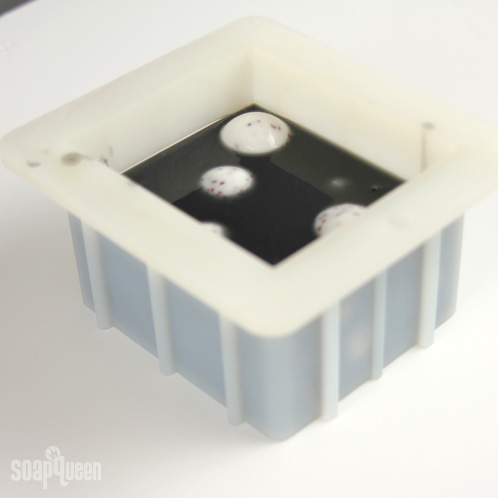 TEN: Allow to set-up for 2 – 3 hours before unmolding. Enjoy!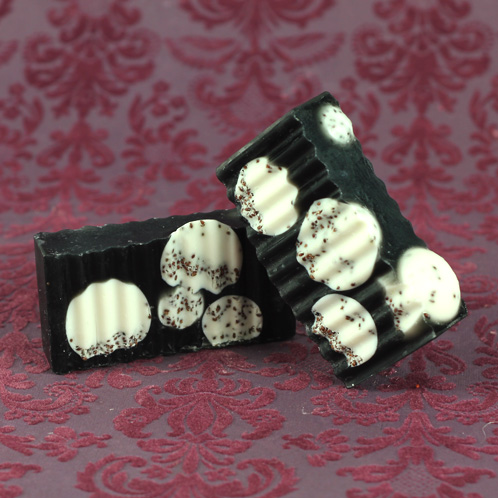 We used straight Cranberry Chutney Fragrance Oil for this project, but feel free to try any of these fabulous blends to spice things up:
Happy Holidays Blend
1 part Cranberry Chutney Fragrance Oil
1 part Santa's Spruce Fragrance Oil
Christmas Citrus Blend
1 part Cranberry Chutney Fragrance Oil
1 part Orange Grove Fragrance Oil
Savory Spice Blend
2 parts Cranberry Chutney Fragrance Oil
2 parts Saffron & Honey Fragrance Oil
1 part Pumpkin Spice Fragrance Oil
Fresh Floral Blend
2 parts Cranberry Chutney Fragrance Oil
1 part Violet Fragrance Oil
1 part Fresh Bamboo Fragrance Oil
Santa's Workshop Blend
1 part Cranberry Chutney Fragrance Oil
1 part Cinnamon Sugar Fragrance Oil
1 part Hollyberry Fragrance Oil