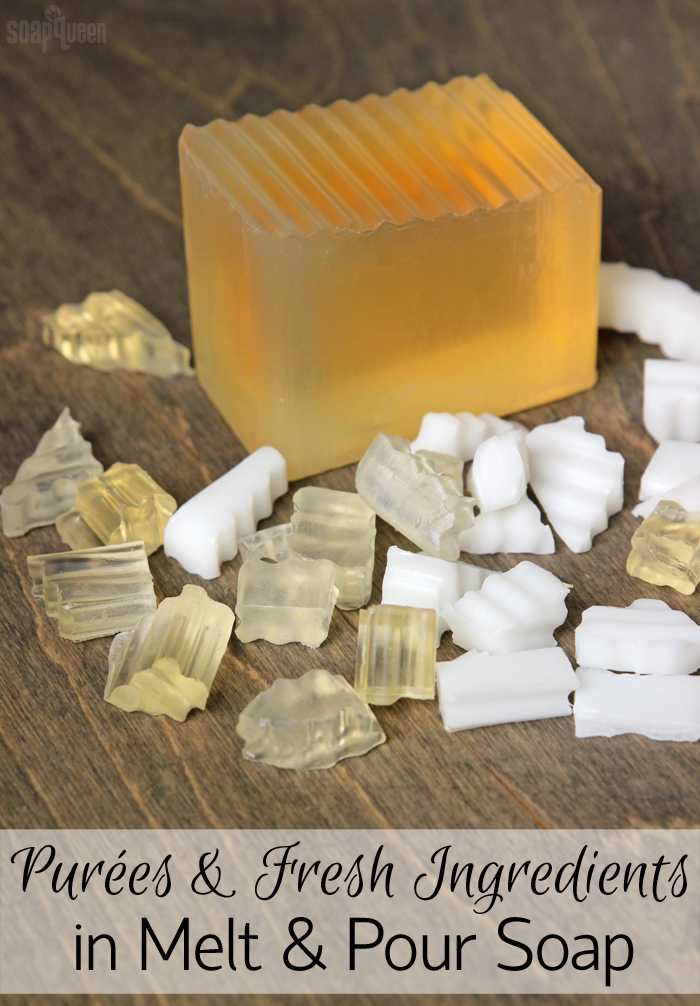 I love how a block of melt and pour soap base can be transformed into so many things. If you take a peek at the melt and pour section of this blog, you can see just how many possibilities there are. From color and fragrance to exfoliants and embeds, there are so many design options. It's easy to understand why crafters of all skill levels enjoy it!
Despite the vast possibilities for melt and pour, there are a few additives that don't work well. Fresh ingredients like purees and milk are at the top of the list. To understand why these ingredients don't work, it's important to understand what melt and pour soap is. Melt and pour soap is ready-made soap that has gone through the saponification process. That means sodium hydroxide lye, oils, glycerin (and sometimes other ingredients) were combined together to make the base – just like making cold process soap! If you're unfamiliar with saponification, this video explains the process further.
The fact that saponification has already occurred in melt and pour soap is what makes melt and pour soap "easy." You don't have to worry about working with lye. Melt and pour soap is ready to use once fully cooled and hardened, so it's fast too. No cure time is needed for melt and pour. But, because saponification has already occurred, it means that you don't have as much control over the ingredients in the soap. Ingredients that require saponification to become part of the soap (lye, oils, butters, purees, milk, eggs, etc) don't work well when added to melt and pour.