We know it's winter but we're screaming, we're screaming for ice cream – Neapolitan ice cream that is! Remember the yummy taste of vanilla, berry and chocolate melting together in your mouth? Yeah, we can too so we decided to get our icy on by designing a special Valentine's Day Soap to whet your appetite for summer days gone by. For the top of our bars, we were inspired by Kristy Rose from Kristy's Lovely Lathers. Check out Kristy's guest appearance on Soap Queen TV to see her demonstrate the swirly heart technique live.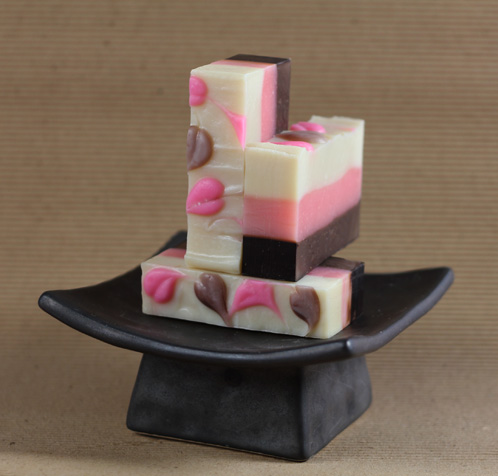 Ingredients
.8 oz Cocoa Butter
4 oz Coconut Oil
13.5 oz Olive Oil
3.2 oz Palm Oil
5.42 oz Rice Bran Oil
3.6 oz Lye
8.9 oz Distilled Water
.8 oz Dark Rich Chocolate Fragrance Oil
.8 oz Non-Discoloring Vanilla Fragrance Oil
.4 oz Sun Ripened Raspberry Fragrance Oil
.4 oz Strawberry Fragrance Oil
Liquid Glycerin (for the Bubble Gum Colorant)
Sweet Almond Oil (for the Cappuccino Mica)
Tools
Skewer or toothpick
2 Squeeze bottles
Stick Blender
4 Heat safe containers
Spoon or spatula
Get all of the ingredients you need in the click of a button! Remember that you can take items out of your cart if you already have them at home.

If you have never made cold process soap before, I strongly suggest getting a couple of  basic recipes under your belt before diving into this advanced, multiple layer recipe. Check out Soap Queen TV on Cold Process if you want to get started! It's a 4 part series that will take you through the basics (and be sure to watch the episode on Lye Safety). If you're a book worm, Bramble Berry also has some helpful reading on the cold process technique. Are you an E-book worm? Check out our E-Book on Cold Process. So bone up on the basics so we can get started making fun and creative Cold Process recipes!
ONE:  Safety gear up! Make sure you're wearing long sleeves and put on your goggles and gloves (preferably fashionable pink goggles). Carefully add the lye to the water (never the other way around!) and mix until the water is clear, taking care to not breathe in the fumes. Set aside to cool.
TWO: In a large heat safe container, melt and combine the Cocoa Butter, Coconut Oil, Olive Oil, Palm Oil and Rice Bran Oil.
THREE: When the oils and lye are around the same temperature (I usually shoot for 120-130 degrees), slowly and carefully add the lye water to the oils and mix with a stick blender for 15-20 seconds. We'll be stick blending later so you don't want the soap to trace yet. Just make sure the lye and oils are fully emulsified and evenly mixed.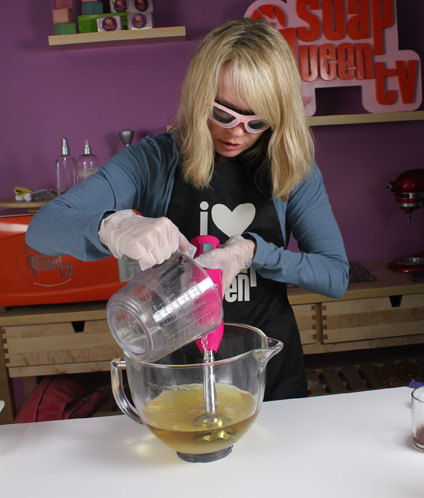 FOUR: Pour about 1 ounce of the soap mixture into two different squirt bottles and add your colorant of choice to each. Put the caps on, cover the open tops with your finger and shake the bottles to mix. Set the colorant bottles aside until the very end.
Coloring Tips: I premixed 1 Tablespoon of Sweet Almond Oil to 1 Teaspoon of Cappuccino Mica, then added 1/4 Teaspoon of that mixture to the 1 ounce of soap batter. For the pink I used a premixed concoction of 1/3 Cup of Liquid Glycerin to 1/2 teaspoon of Bubble Gum Colorant, then added 1/4 Teaspoon of that mixture to 1 ounce of soap batter. Check out a tutorial on mixing your Neon Colorants HERE .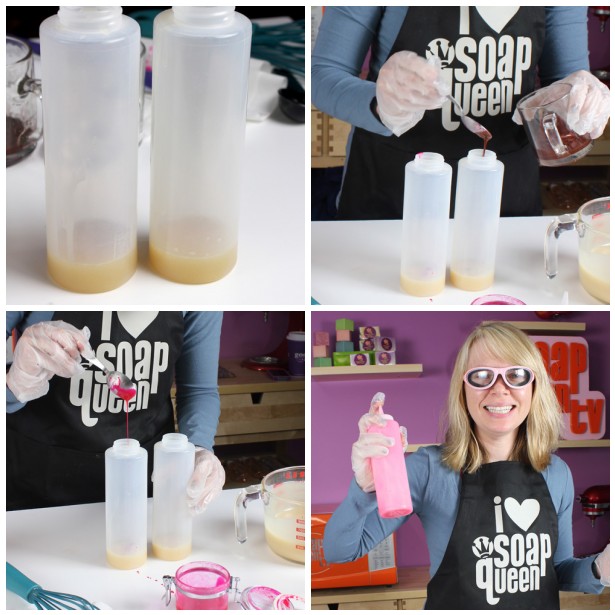 FIVE: Back to our soap batter! Even disperse the soap into three separate containers. There should be 1 1/2 cups (by volume) per container.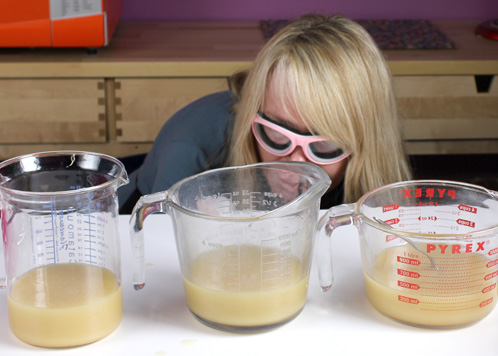 SIX: To the first container of soap, add .8 ounces of Dark Rich Chocolate Fragrance Oil and 3 mini scoops of Cappuccino Mica. Mix with a stick blender for 20-30 seconds until you reach a thick trace and pour the soap into the mold. Tap the soap mold down on the counter to get rid of any air bubbles and smooth out the surface of the soap.
TIP: Quickly rinse off your stick blender or, if you're like me and have multiple stick blender attachments, switch out the blender attachment before the next color.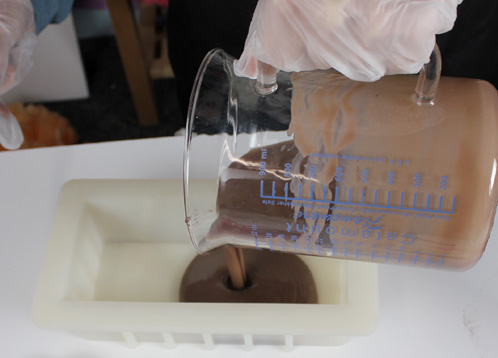 SEVEN: To the second container of soap, add .4 ounces of Strawberry Fragrance Oil,  .4 ounces of Sun Ripened Raspberry Fragrance Oil and 1/2 Teaspoon of the Bubble Gum Colorant mixture. Mix with a stick blender for 20-30 seconds until you reach thick trace. Pour the pink soap on top of the brown layer but over a spatula so it hits the first layer of soap gently preventing a "break through".
TIP: Again, quickly rinse off your stick blender or change the blender portion before the next color.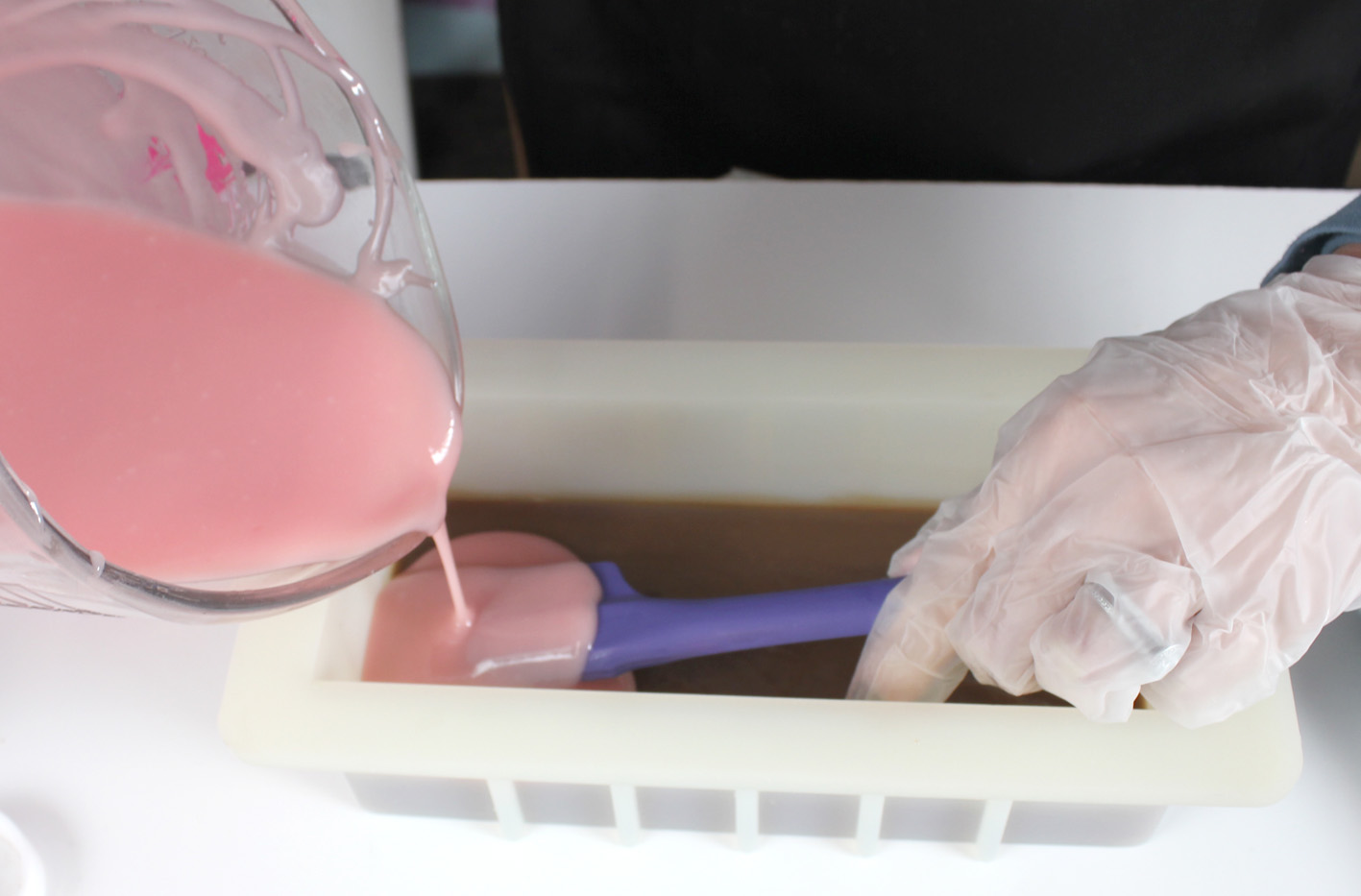 EIGHT: To the last container of soap add .8 ounces of Non-Discoloring Vanilla Fragrance Oil and 4 mini scoops of Super Pearly White Mica. Because this particular fragrance oil has a tendency to accelerate trace, whisk in the colorant and fragrance oil together then pour the final layer of soap using the "spoon trick".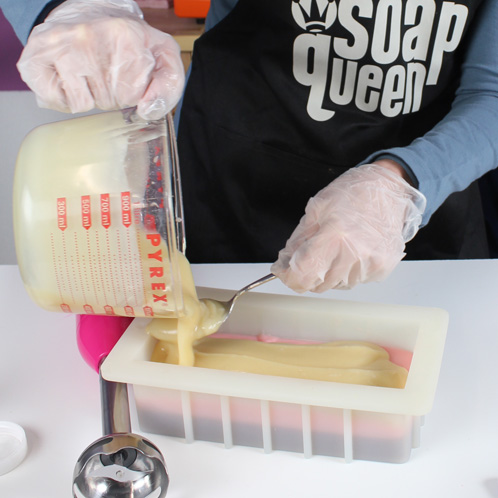 NINE: And now for the fun and creative part of the project! Use the squirt bottle to create randomly spaced dots of pink and brown  all over the top of the soap.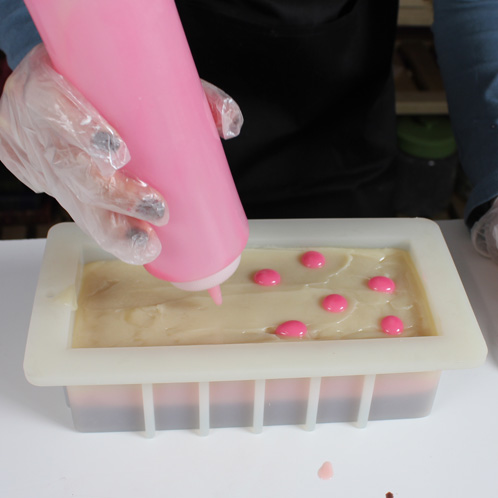 TEN: Then use your skewer to drag through the circles turning them into hearts. Just connect the dots . Unsure of how to connect the dots? Watch this tutorial if you want to see the magic it in action!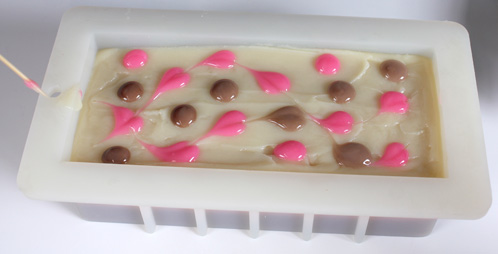 Let this soap harden and cure for 4 to 6 weeks before using it or giving it away. It looks and smells just like a wonderful icy Neapolitan treat!