Here is the first of many, many recipes included with the brand spankin' new Business in a Box Kit, exclusively from Bramble Berry. With the kit, you get this Ombre Soap advanced technique recipe along with another (soon to be revealed) technique option and a Business in a Box quick start guide all in a handy PDF. Read even more about all of the contents in the Business in a Box Kit here. Note that this recipe below uses the Quick Mix oils but this technique will work for any slow-moving recipe.
This soapmaking technique is for a super on-trend ombre look. Try out different color schemes with other LabColors from your Business in a Box kit for varied styles. Match colors to fragrance or essential oils, or create multiple colored soaps for a rainbow-esque display. Simply colored soap, when strategically layered, creates a light to dark fade that is sure to impress your customers. A seamless transition between colors will show off your expert sense of color and design.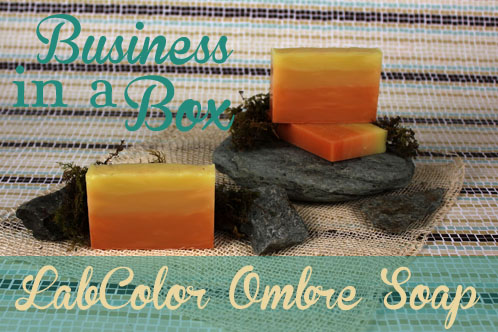 RECIPE:
33 oz Lots of Lather Quick Mix
11 oz Distilled Water
4.7 oz Sodium Hydroxide
Diluted Canary LabColor
Diluted Orange Labcolor
2 oz Energy Fragrance Oil

If you'd love to try out this tutorial but aren't ready for the full Business in a Box kit, click here to add ingredients for just this recipe to your Bramble Berry shopping cart!
If you have never made cold process soap before, I highly recommend you get a couple of basic recipes under your belt. Check out this (free!) 4-part series on cold process soap making, especially the episode on lye safety. Bramble Berry carries quite a few books on the topic as well, including this downloadable book on making cold process soap. The Business in a Box kit comes with four videos on soapmaking and a grand total of seven books and e-books, including four books on soapmaking and three on business, for your reading pleasure.
SAFETY FIRST: Suit up for safe handling practices! Long sleeves, gloves, and eye protection are necessary when making cold process soap. Eye glasses are not sufficient protection. Be sure that kids, pets, and other tripping/distraction hazards are out of the house or don't have access to your soaping space. Always soap in a well-ventilated area.
ONE: Slowly and carefully add the lye to the water and stir until clear. Set aside to cool.
TWO: Heat the entire container of Lots of Lather Quick Mix and give it a good stir. Measure the appropriate amount of oil into a heat-safe container.
NOTE: Reheat the entire container of Lots of Later Quick Mix before each use. Like with Palm Oil, separation can occur with the different ingredients, causing unequal amounts to measure out if the oils aren't reheated and mixed properly.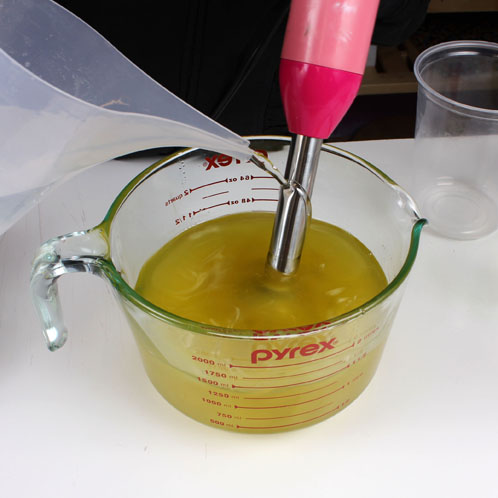 THREE: When the lye water has cooled to 130 degrees or below (and is within 10 degrees of the oils), add the lye water to the oils and mix with a stick blender until a light trace is achieved. To eliminate air bubbles from being mixed into the soap batter, pour the lye down the shaft of the stick blender and burp the stick blender by tapping it on the bottom of your container before turning it on.
FOUR: Divide the soap batter into 4 separate containers (one for each layer) by weighing out 12.2 oz of soap batter into each container. You'll want to weigh out the soap for precision's sake to make sure the soap batter is equally distributed between each layer to achieve a gradual and seamless gradient of color through your finished soap.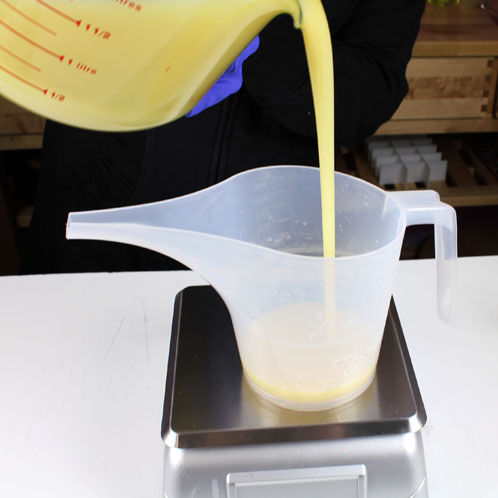 FIVE: Color to each portion of soap batter as follows: 1 teaspoon of diluted Orange LabColor to portion one; 3/4 teaspoon of diluted Orange LabColor and 1/2 teaspoon diluted Canary LabColor to portion two; 1/4 teaspoon diluted Orange LabColor and 3/4 teaspoon diluted Canary LabColor to portion three; 1 teaspoon diluted Canary LabColor to portion four. Stir in the LabColors using a spoon or whisk. Keep the soap lined up in this order from now until you pour it into the mold.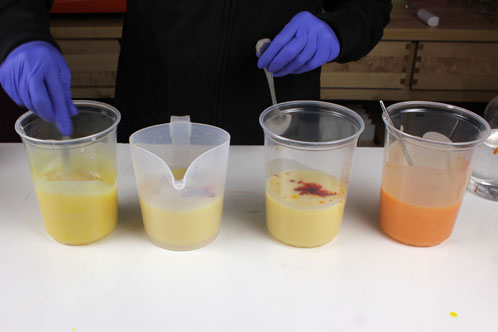 SIX: Add 0.5 oz of Energy Fragrance Oil to each portion. Mix well using a spoon or whisk.
SEVEN: To create the ombre layers, start with the darkest orange color (portion one). Bring the first layer of soap to a thick trace with the stick blender and pour into the mold. Using a spatula, distribute the soap to create a smooth, level surface for the next layer. Bring the next lightest color (portion two) to a thick trace, and pour into the mold over a spatula to maintain straight, even layers. Repeat with portions three and four, always bringing to a thick trace before pouring and pouring over a spatula to maintain the integrity of the previous layer.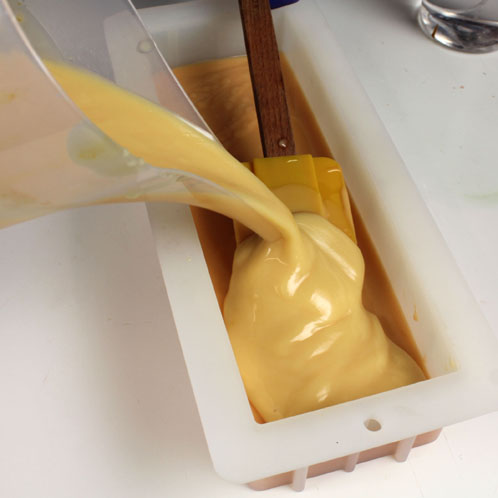 EIGHT: Spray the entire top with 91% Isopropyl Alcohol to help prevent soda ash. Cover and insulate for 24 hours and unmold after 3-4 days. Allow to cure for 4-6 weeks.