Have you ever wanted it to just be easier? For someone to pick out all the stuff you needed and point you to the correct resources so all you needed to do was create safe products and sell? That's what we've done with our Business in a Box kit. It is literally everything you need to get started making 100 pounds (roughly 375/545 bars) of soap, learn the basics of safe soapmaking, get an overview on starting a craft business and even includes label templates that are designed with correct INCI labeling. These kits are unique in that they include our most popular Quick Mix oils. You don't need to worry about designing a recipe that works. We've done the work for you (though, full disclosure, soapmaking is addicting and we're betting that you'll want to do more research in the future and create your personal idea of a 'perfect' recipe). All you need to do to start is read up on business and soapmaking to get the basics under your belt, get your state and city business license, explore insurance, make the soap using our easy and safe recipes, add your address to the labels, cure your soap and get out there and sell! When you buy this kit, even with all the start up costs of the molds, equipment etc… included, the soap comes out to just under $1.39 per bar (without your overhead costs like rent, energy and labor worked in).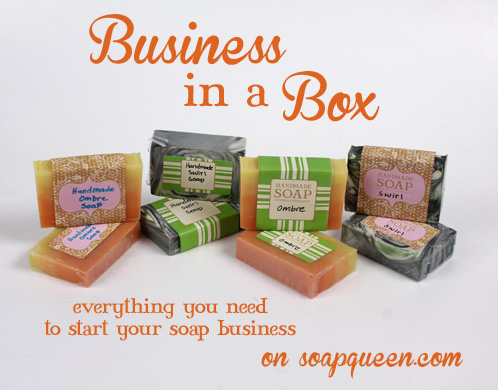 We've included lots of instructional resources to ensure you're successful: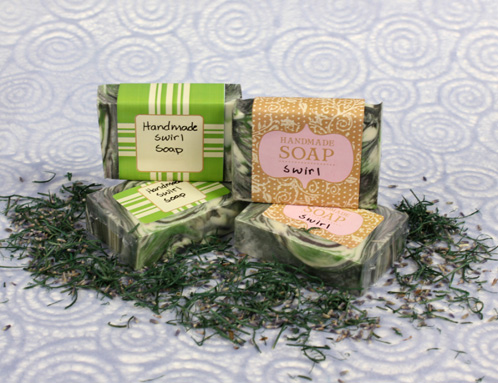 And finally, a compilation of EVERY business blog post ever written on this blog by me. And, in theory, with a Masters Degree in Business Administration and a few cool business awards under my belt, I should be a reliable source to take advice from.
This Business in a Box kit also includes fully tested, reliable (!!) fragrance oils and essential oils for even the newbiest of beginners:
You'll have a little bit of fragrance or essential oil left over but we figured that it was better to leave you with a little bit than it was for the alternative. Some blending hints for your essential oils? Patchouli blends beautifully with Lavender and Lemongrass is lovely on its own. Lavender also blends wonderfully with Energy fragrance. Remember, Vanilla Select discolors brown so keep that in mind when you're working on your fantastic designs.
A bit about our Quick Mix Oils – We've designed three wonderful recipes (with a fourth to come!) Basic, Lots of Lather and Swirling. The Basic recipe is just that; it's a nice basic recipe that is hard, creates dense bubbles and rinses away cleanly. The Lots of Lather has bigger bubbles than the Basic and also rinses away extremely nicely. The Swirling base is designed to give you the maximum time for maximum swirl effect. Because of this, it is the most moisturizing of the bunch with the lowest lather and also the shortest shelf life in the shower.
The kit also includes 3 molds we love to work with and we find the easiest for beginners to work with:
And Quick Mix Oils, enough to make soap that will fill those molds quite a few times: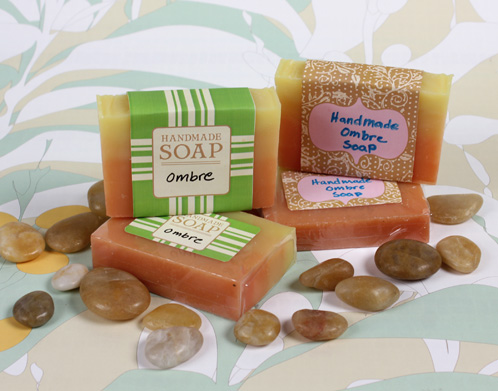 All the colorants have been thoughtfully chosen to provide maximum value and color with a minimum of fuss (and of course, matchability with the fragrances and essential oils):
Finally, all you need to provide are the spoons, the mixing containers, gloves, apron and of course, all the cardboard or newspaper to cover your soaping surface for any spills because, we've included most everything else you need for perfect mixing:
The kit sells for $759.00 – which makes each bar, even with all these start up costs (!!) as low as $1.39 per bar. When all you're doing is refilling the kit with Quick Mix Oils, Lye, fragrance and color, your price per bar can be as low as $0.85 for the materials only (your overhead will vary based on where you soap and your other expenses). Now THAT'S a business with margins I can get excited about!
Edited on 2/22/2013 to add: "Many of the comments below are concerned that you might buy this kit and think that you can short cut the hard work of learning to make soap or run a business. This kit does not magically turn you into an expert. What it does is save you the time to pick out your starter ingredients, wade through all the possible books to buy and give you an excellent starting point (far more than I started out with or any of the soapers in the comments below). You still will need to learn how to make soap, license and insure your business, and do the hard work of selling your soap."