Check out this great cold process tutorial featuring Bramble Berry's neon colorants layered to look like a gorgeous ocean sunset. Here's Amanda with the how-to! -Anne-Marie
Sunset over the water
By Amanda Griffin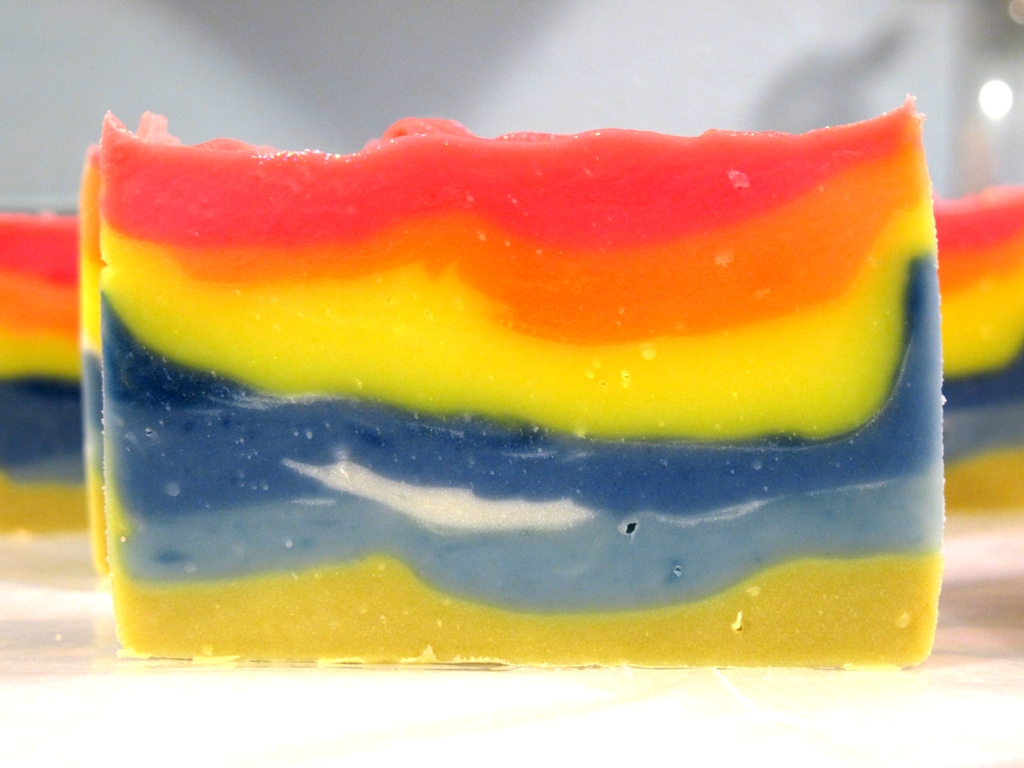 The recipe:
Sweet Almond Oil – 5 oz.
Avocado Oil – 5 oz.
Castor Oil – 4 oz.
Rice Bran Oil – 5 oz.
Olive Oil – 18 oz.
Shea Butter – 5 oz
Coconut Oil – 18 oz
Water – 12 oz (I did a discount since I have all of the soft oils)
Lye – 8.4 oz
Colorants: Fired up Fuchsia, Tangerine Wow!, Fizzy Lemonade, Blue Mix LabColor, Ultraviolet Blue, Cappuccino Mica, Super Pearly White Mica
Mold: Wood Mold with Silicone Liner
Fragrance: Energy and Moroccan Mint.

Buy  everything you need for this project with the click of a button!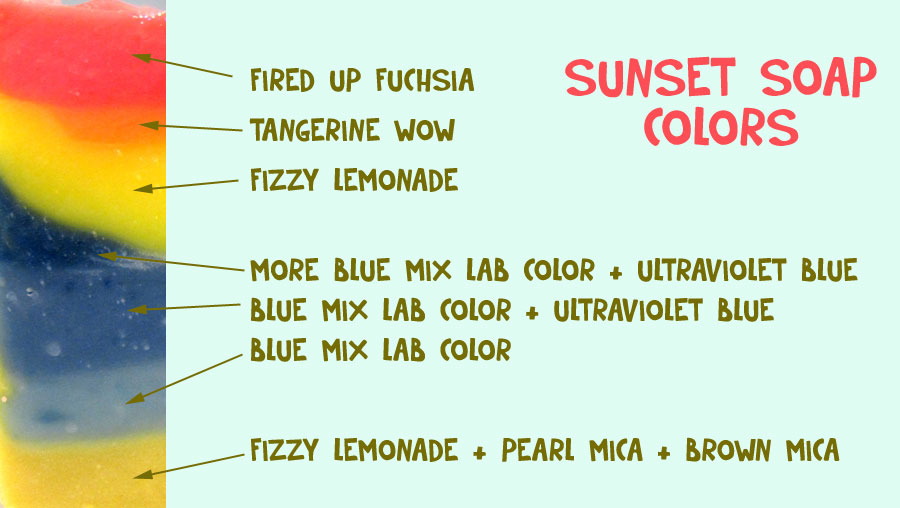 Follow all safety precautions when making cold process soap. Gear up in your goggles and gloves. If you are new to cold process soap…start here (and be sure to watch the episode on lye safety).
Step one: Make your lye solution.
Step two: Measure out the shea butter and coconut oil and melt.
Step three: Add all of the liquid oils to the melted solid oils.
Step four: Carefully add the lye solution to the oils and stick blend until you reach a steady emulsion.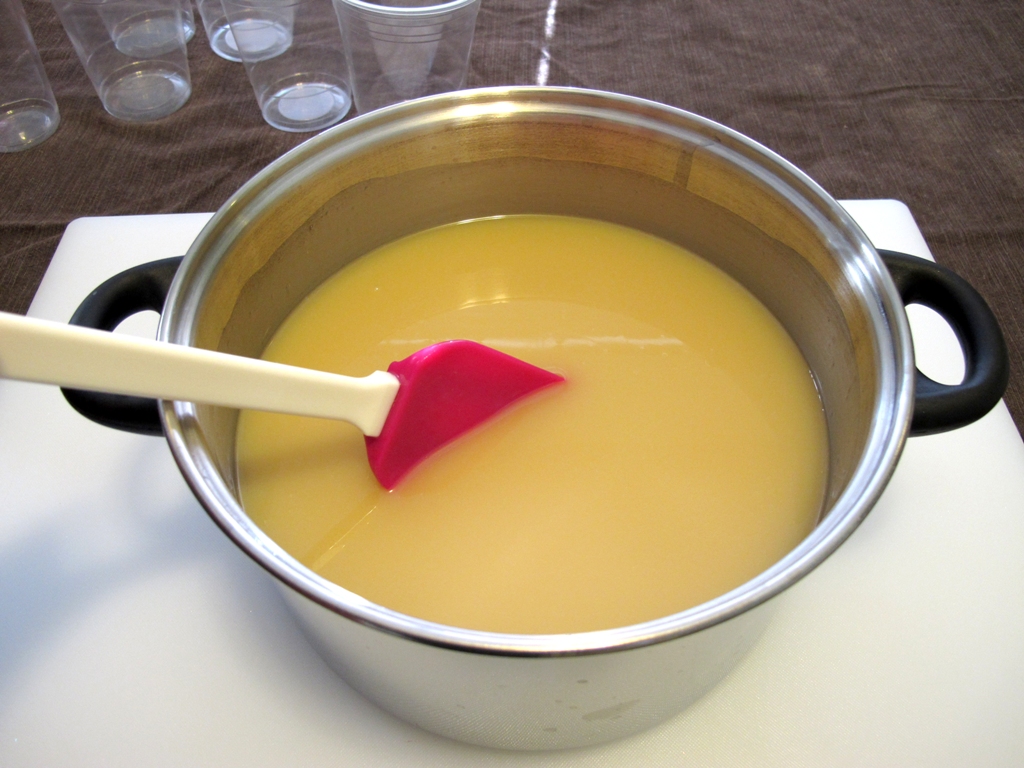 Pour about 11 oz into a cup to color for the sand. I got a nice sand color using Fizzy Lemonade, Cappuccino Mica and Super Pearly White Mica. You could also use brown oxide. If you make it too dark…add some white to lighten it to a nice sand color.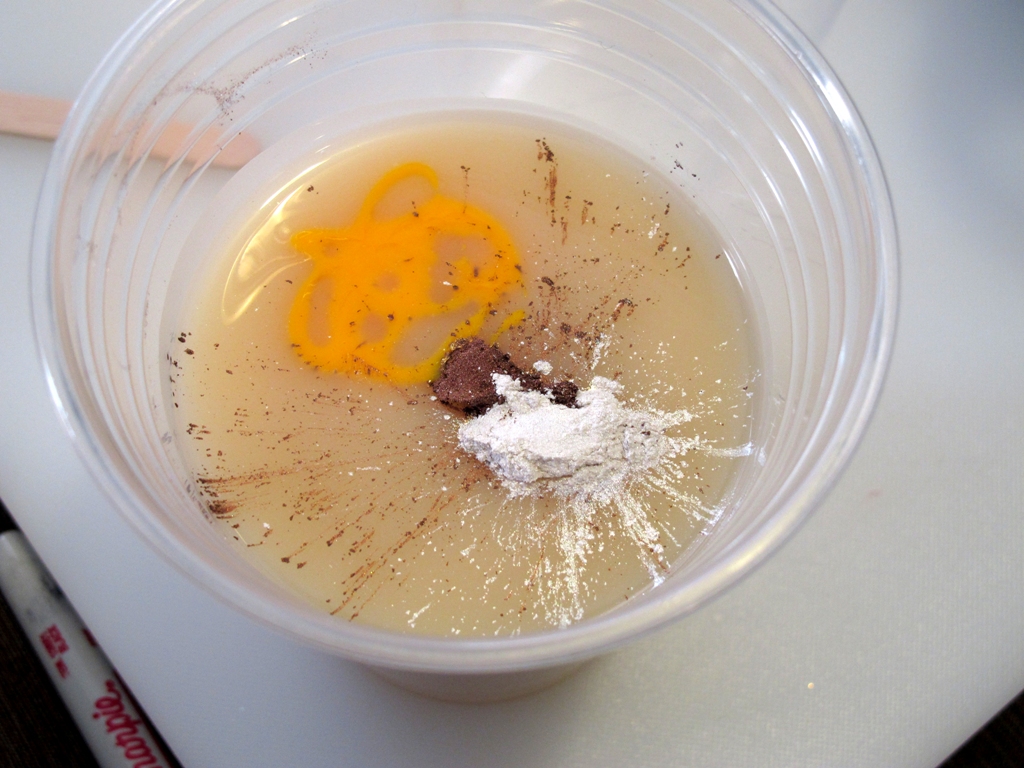 Add .5 oz of Moroccan mint to fragrance. Hit this with the stick blender until it gets nice and thick and spread this into the mold. You can make hills and bumps to shape up the beach however you like. You can even add some ground walnut shells to give it a grainy sand look.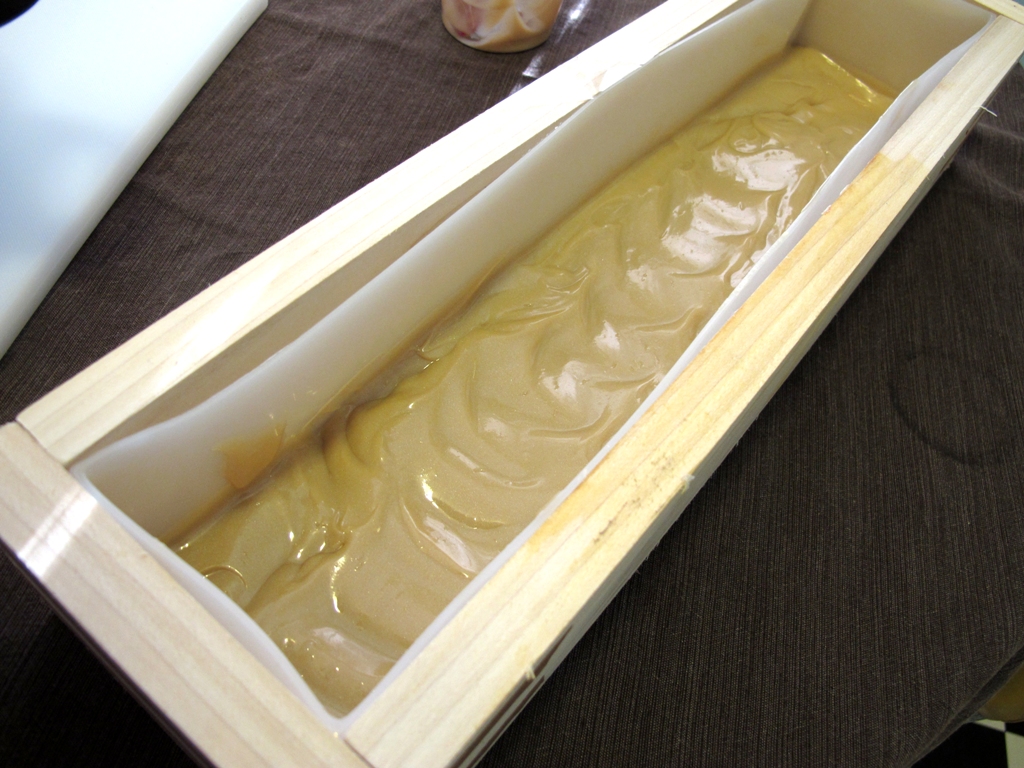 Next, divide your soap batter out between the sunset colors, an ounce of white (to cap waves) and blue for the ocean. I did about 11 oz for each sunset color (pink, orange, yellow) and 1 oz white and the rest was blue for the ocean.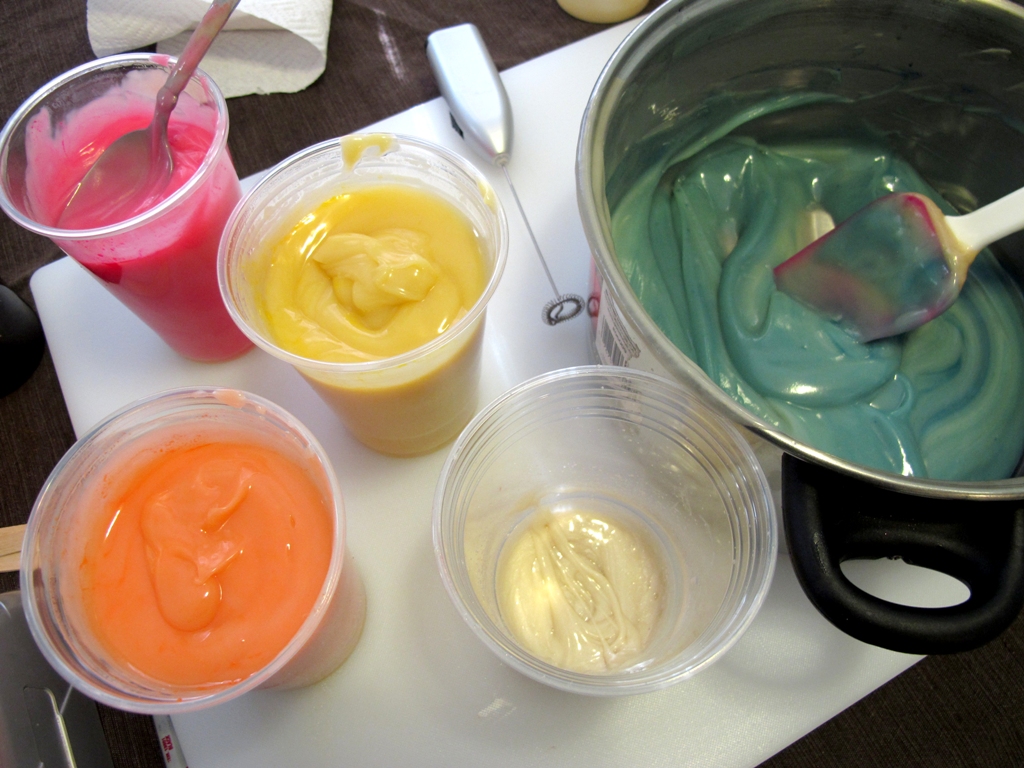 Add your colorant and fragrance oil to each color (except the white). I used Energy and as you can see it turned the ocean blue a bit of a green. But it still turned out nicely. Just be aware of how your fragrance oil will affect the colors. You can do one shade of blue or you can start off with a lighter blue and add more blue in the additional layers to make it darker. I'll show you how to make the shades of blue to make the ocean more dynamic.
Spoon about 1/3 of the blue mixture into the mold on top of the sand layer. Drizzle with a bit of white to add white caps to the waves.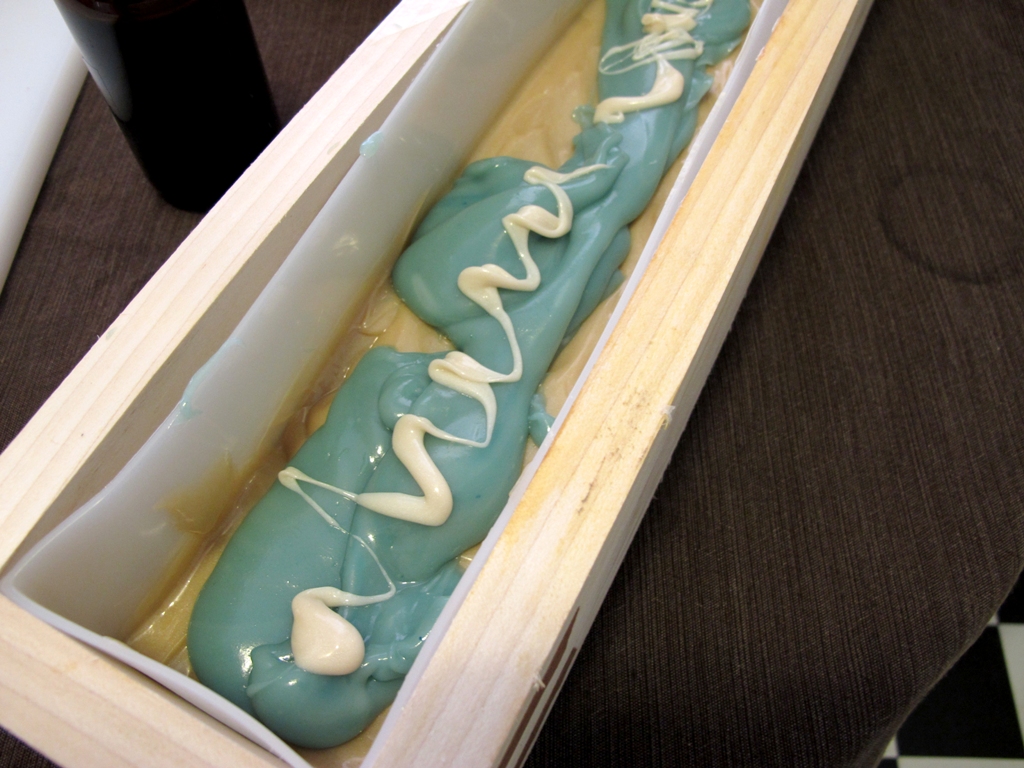 Using the back of a spoon spread the layer over the whole sand layer. This is where we want to change the shade of the blue. You can add more blue mix labcolor or you can add another blue colorant. I added a bit of ultraviolet blue.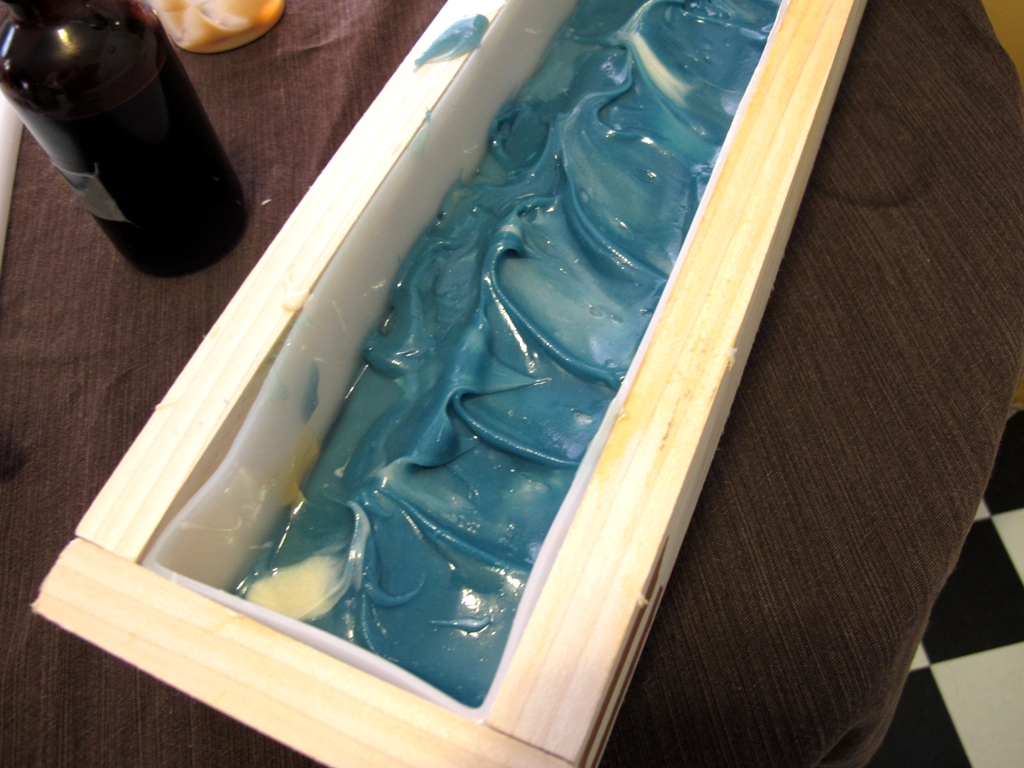 Scoop out about half of this color and spread it over the blue layer already in the mold. Add some white caps if you want. Add a bit more blue to change the remaining blue soap. I added a splash more of blue mix labcolor. Layer this on top.
We now have the sand layer and three blue layers for the ocean.
Now it's time to do the sunset. I used pink, orange and yellow but you can use whatever sunset colors you want. Go to Google images and do an image search for sunset and you'll find all kinds of inspiration.
Layer on the neon colors until you've filled up the mold. I did yellow, orange and then pink but you can do them in whatever order you want. You can even give the sunset layers a bit of a swirl but be careful not to break into the water layer if you decided to try that.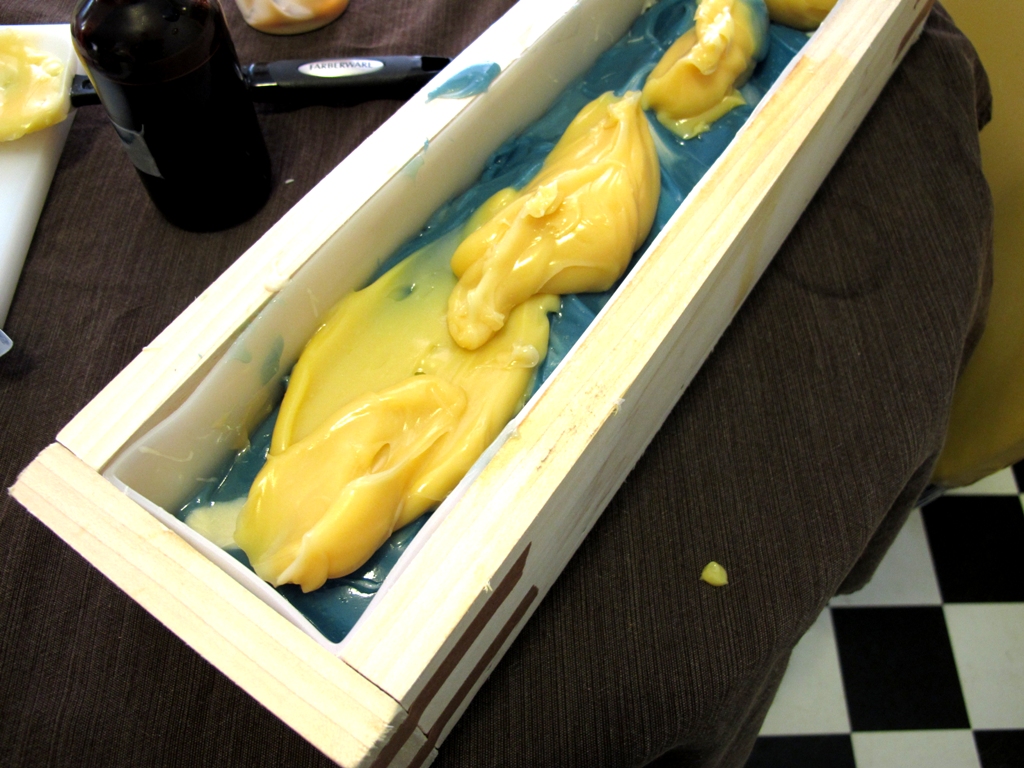 Let it sit 24 hours and then cut. Let cure the regular 4-6 weeks.
Happy Soaping!
Amanda
www.lovinsoap.com