Lotions and butters are some of the most popular bath and body products, but they're also products that can raise the most questions. Questions such as "Do I need a preservative for my product?" "Which preservative do I use?" and "Are preservatives safe?" are some of the most common ones we see, and we hope this thorough guest post by formulation guru and fellow crafter Susan Barclay-Nichols will help clear up some confusion.
Susan is an expert in cosmetic chemistry, and in this post she gets down to the nitty-gritty of which preservatives work best in which products, their usage rates and their ingredients. It's a one-stop-shop for everything preservative related! Read on to learn about the wide world of preservatives and how you can safely use them in your products.
A-M Note: If you're concerned about parabens and the safety of preservatives in bath and body products, we've found these following resources to be helpful explanations: Parabens Puzzlement, More to the Parabens Puzzlement and Debate Over Parabens – Truth and Research. Borrowing from the blogs: "The FDA supports the use of Parabens as does the European Union….and under regimented testing by the cosmetics directive of the European Union they too, found no direct correlation of Parabens and cancer."
Keep in mind, the type of preservative you choose is up to you, and I'm glad that there are effective options for everyone out there who wants to responsibly use a full spectrum preservative. All Bramble Berry preservatives have been approved for use in body products. Now onto the guide! – A.M.
_____________________________________________________________________________________________________________________________________________________________________
You'll notice there are actually two areas of contamination in the product. The first is the great big green spot on the left side, but did you notice the brown-y orange streak to the right hand side of that on the side of the jug? Yep, there's a little more contamination for you!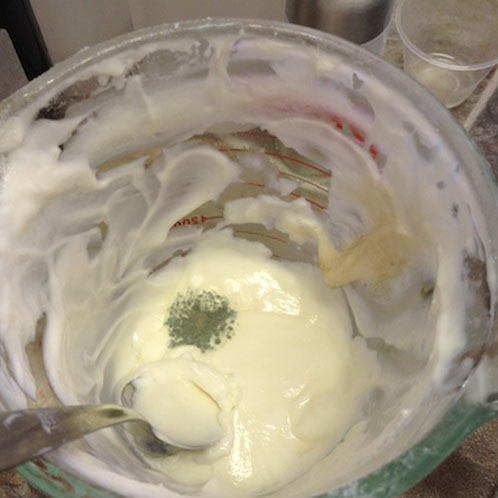 I made this lotion without preservatives to show you how quickly things can go off. I made this sixteen days ago. (It might have gone off earlier. This was the first chance I had to check it, to be honest!) I did all the things I generally do – I heated and held both phases, I made sure all my equipment and workshop was clean – but I left out the preservatives. I covered it tightly with Press & Seal in this jug after it had cooled to room temperature. It's been cold in the workshop – below 10˚C – which is quite chilly considering a fridge should be kept at 0˚C to 4˚C, and room temperature is 18˚C to 22˚C. It is also quite damp back there as we've had a bunch of rain since Halloween – just about every day – which is normal for this time of year.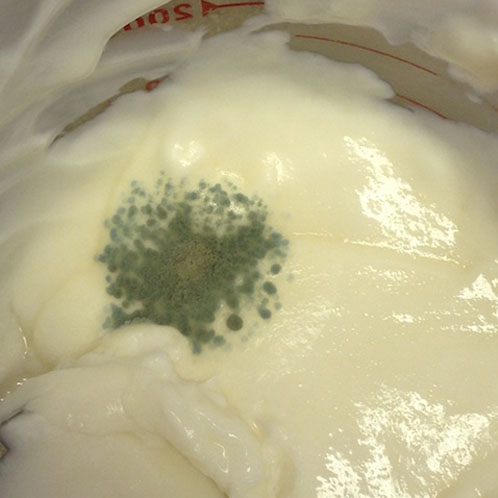 I have to point out that I get weary of hearing people saying they're going to leave the preservative out of their products because "it's just for me". Do you want to smear THAT on your skin? Do you want to give that to someone you love? Please don't. Products are contaminated a lot sooner than you think, and contamination is almost always there long before you see the green or orange bloom!
What could we have done to prevent such a tragic lotion contamination? Preservatives! Effective, broad spectrum preservatives suitable for a product that contains water, like a lotion.
What's a broad spectrum preservative?
The ideal preservative will be a broad spectrum preservative, meaning it kills off bacteria, mold, yeast, and other fungi. The preservatives we buy are called synergistic preservatives, which are combinations of preservatives intended to eliminate all the various contaminants we could see in our products.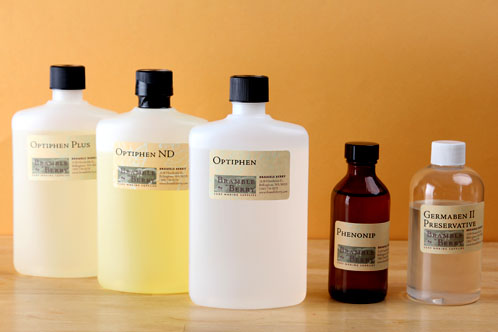 How do they work?
Preservatives kill the microorganisms in our products in a few different ways, but the primary way is to cause some kind of chemical disruption that leads to death. They leak their internal fluids, they can't maintain pH, their cell walls break open, and so on.
Once the preservative has been used to attack a little beastie, it's used up and can't fight anything else. This is one of the reasons we need to preserve our products at a proper level and why we want to start with as little contamination as possible in our workshop, our ingredients, our equipment, and our packaging! Preservatives tend to live in the water phase of our products to fight any contamination that might show up in our creations because that's where the beasties live. (They can migrate into the oil phase to fight beasties there, but most our problems are in the water phase!)
Which preservatives could we choose for our products? There are quite a few good and effective preservatives found at Bramble Berry, but you want to make sure you choose a broad spectrum one – or a combination of preservatives that will cover all the bases – suitable for your product.
For instance, if you want to make a sugar scrub that doesn't contain water, you'll want to pick something that is oil soluble, like Phenonip. If you're creating a product that contains a lot of botanicals, you'll want to consider Germaben II as it's great for hard to preserve ingredients. If you want to make a lotion, you'll want to choose something that works with water containing products or emulsions.
Let's take a closer look at the preservatives you can find at Brambleberry!
Germaben II
INCI: Propylene Glycol, Diazolidinyl Urea, Methylparaben, and Propylparaben.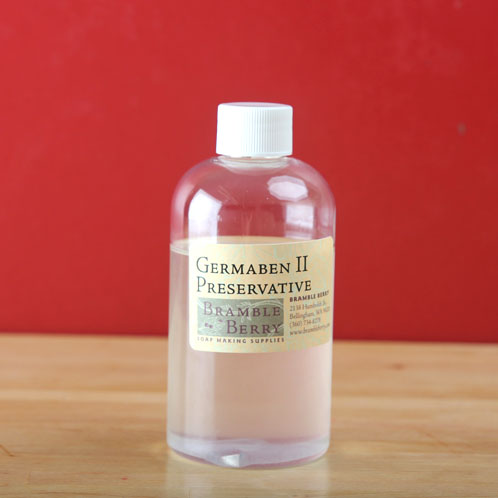 Germaben II is a liquid broad spectrum preservative that should be used at 0.5% to 1% in the cool down phase of your watery creations. The INCI is Propylene Glycol (56%), Diazolidinyl Urea (30%), Methylparaben (11%), and Propylparaben (3%), which means it is a formaldehyde releaser that contains parabens.
Because it contains three different preserving chemicals, it is suggested for use as a preservative for products that are hard to preserve, such as those containing a lot of botanical or proteins, like a toner or lotion with a lot of extracts and hydrosols. (I like it for things like strawberry extract that are very hard to preserve!) Although the manufacturer notes it can be added to your products at emulsification temperatures – up to 80˚C – it's best used in your cool down phase at less than 60˚C.
Summary of Germaben II:
INCI: Propylene Glycol, Diazolidinyl Urea, Methylparaben, and Propylparaben.
Usage: 0.5% to 1% in the cool down phase of your creation
Water soluble, so it's not suitable for anhydrous creations
pH range: 3.0 to 7.5
Optiphen
(INCI: Phenoxyethanol (and) Caprylyl Glycol)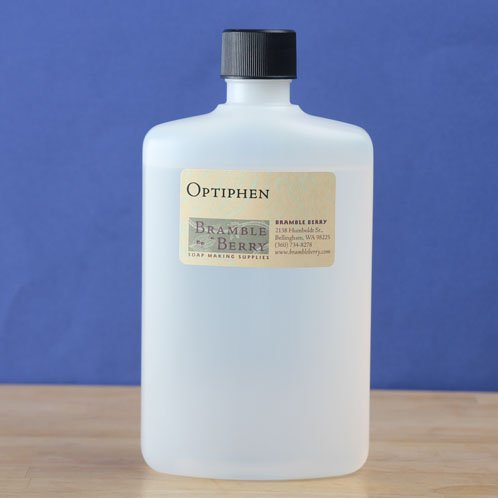 Optiphen is a liquid preservative appropriate for fighting bacteria and yeast in our products (I can't find any information on its efficacy against mould). Its INCI is Phenoxyethanol (and) Caprylyl Glycol. We know phenoxyethanol is a very effective against bacteria and yeast, but what about caprylyl glycol? It is paraben free and is not a formaldehyde donor.
Caprylyl glycol (aka 1,2-octanediol) is a good bacteriostatic ingredient (meaning it limits the growth of the bacteria but doesn't kill it) and bactericide, but it isn't very effective against yeast or fungi. Which means we really don't have a fungal killer in this preservative.
Its suggested use is at 0.75% to 1.5% in the cool down phase of our product (best below 37.5˚C or 100˚F). It's suitable for anhydrous products or things like sugar scrubs that do not contain water. It's best in products with a pH of 6.0.
Some people report Optiphen can de-stabilize their emulsions, so it's suggested to add this preservative at 45˚C to 55˚C (113˚F to 131˚F) and continue mixing until cool. It can thin out a cationic emulsion, but it will thicken as it cools, so don't worry too much!
Summary of Optiphen:
INCI: Phenoxyethanol (and) Caprylyl Glycol
Usage: 0.75% to 1.5% in the cool down phase of your water based creations.
Suitable for anhydrous products
*Editor's note: There is some debate over whether Optiphen can be used for water-based creations. You can read more about this on Susan's blog. For water based creations, Optiphen ND is recommended.
No pH restrictions for this preservative.
Optiphen ND
INCI: Phenoxyethanol (and) Benzoic Acid (and) Dehydroacetic Acid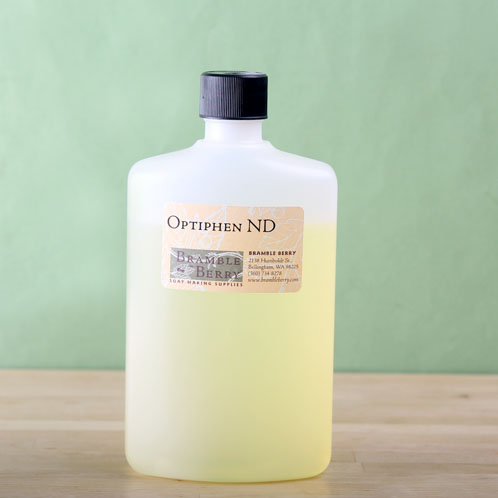 Optiphen ND is a liquid broad spectrum preservative with the INCI Phenoxyethanol (79% to 81%), Benzoic Acid (11.5% to 12.5%) Dehydroacetic Acid (7.7% to 8.5%). It is suitable for products containing water and can be added at any point in the product making process as it isn't heat sensitive. It is best used with products with a pH under 6.0. It's paraben free and isn't a formaldehyde donor.
We know benzoic acid has moderate bactericidal activity and great fungicidal activity, and we know that phenoxyethanol has great bacteria and yeast killing abilities, but we don't know anything about dehydroacetic acid. What does it do? Dehydroacetic acid is one of our organic acids. It has great fungicial properties but low bactericidal properties, so it's a good addition to this mix to make it a broad spectrum preservative. Unfortunately, it tends to work very poorly when included at a pH of 5.0, and it can be inactivated easily by cationics, non-ionics, and proteins.
Summary of Optiphen ND:
INCI: Phenoxyethanol (and) Benzoic Acid (and) Dehydroacetic Acid.
Usage at 0.2% to 1.2% in any phase of your creation.
Suitable for creations containing water. Not suitable for anhydrous products.
May not be suitable for products that include cationic polymers or quaternary compounds.
Best used in products with a pH lower than 6.0.
Optiphen Plus
INCI: Phenoxyethanol (and) Caprylyl Glycol (and) Sorbic Acid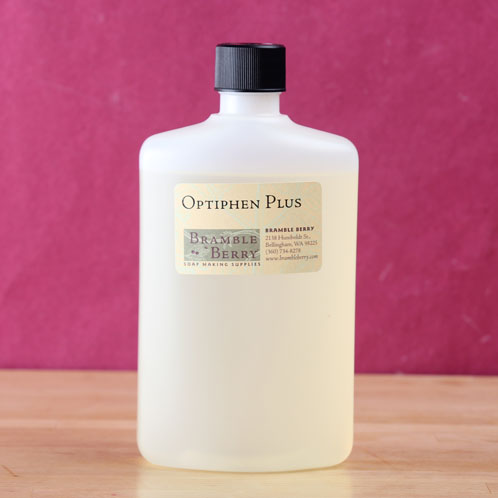 Optiphen Plus is a liquid broad spectrum preservative with an INCI of Phenoxyethanol (and) Caprylyl Glycol (and) Sorbic Acid. (It differs slightly from Optiphen with the inclusion of the sorbic acid.) As it isn't heat sensitive, we can include it in our water-based creations at 80˚C or lower in the water phase of our process. It is not a formaldehyde donor.
We know phenoxyethanol is a good bacteria and yeast killer, while caprylyl glycol is a good bacteriostatic and bactericide, so why include sorbic acid? Sorbic acid is one of the organic acids, and it can be found paired with a calcium, magnesium, or sodium salt to help increase its solubility. It's a good fungal, mould, and yeast inhibitor at pH 6.0 or less, and it's an okay bactericide. It's generally found in food stuffs at 0.01% to 0.1%. By combining these three preservatives, we have a great bacteria, yeast, mould, and fungal killing combination suitable for water-containing products. (I'm not sure if this version of Optiphen can curdle or destabilize your emulsions as I've never used it, so please report on your experiences in the comments!)
The one down side of using Optiphen Plus is the limited pH range of the product. It works best at pH 6.0 or lower, which means you will need to test your products to ensure they are in the right range. For instance, if you're using decyl glucoside with a pH that can range from 7.5 to 11 as your primary surfactant, you'll need to get that pH down substantially to play well with Optiphen Plus.
Summary of Optiphen Plus
INCI: Phenoxyethanol (and) Caprylyl Glycol (and) Sorbic Acid
Usage at 0.75% to 1.5% in the heated water phase of your product.
Suitable for products that contain water.
Good for products with a pH of 6.0 or under
Phenonip
INCI: Phenoxyethanol (and) Methylparaben (and) Ethylparaben (and) Butylparaben (and) Propylparaben (and) Isobutylparaben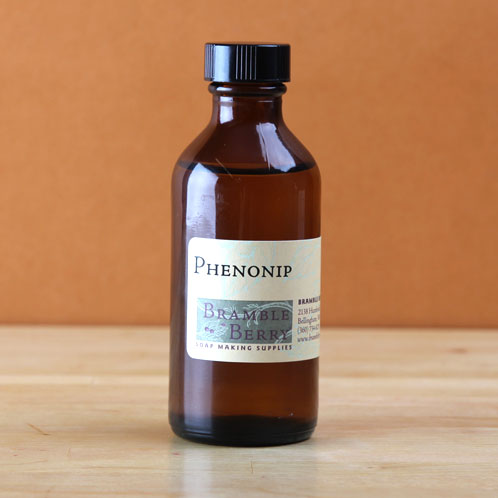 Phenonip is a liquid, broad spectrum preservative. It can be used at 0.25% to 1.0% in all your creations, including anhydrous ones (those that do not contain water) because some of these parabens are oil soluble! With all these parabens, it is considered a very powerful preservative, so it's suitable for those creations that might contain a ton of botanical or natural ingredients, like extracts or hydrosols. It's paraben based and it is not a formaldehyde donor.
It's suggested that we use Phenonip in the heated phase of our creations as it dissolves around 60˚C to 70˚C. If you are making a lotion, it's suggested to divide the product up between the water and oil phases. If you want to use it in a cold product, heat up some propylene glycol or glycerin and add the Phenonip to that before adding it to your product. If you want to use it in a surfactant mix – say, a shampoo bar or body wash – then add it to the heated surfactant phase.
Phenonip  is inactivated by some non-ionic ingredients, such as polysorbate 80 (at 5%, Phenonip is completely inactivated by polysorbate 80), and slightly by polysorbate 20 and 80 at 2.5%. It doesn't do well with ceteareth-20 – it's inactivated by 5% – but it is not affected by cetearyl alcohol. (I'll have a post on preservatives and non-ionic ingredients shortly…)
Because Phenonip is oil soluble, it's great for emulsified scrubs, oil based scrubs, lotion bars, scrub bars, hair care bars, and any other products that don't contain water but might be exposed to it.
Summary of Phenonip :
INCI: Phenoxyethanol (and) Methylparaben (and) Ethylparaben (and) Butylparaben (and) Propylparaben (and) Isobutylparaben
Usage: In the heated phase of your product. Divide into the oil and water phases in lotions.
Suitable for all products, including anhydrous products.
Suitable for pH ranges of 3.0 to 8.0, so pretty much all of our products.
Preservatives in Action: Cold Weather Barrier Butter recipe
Let's take a look at one of my favourite winter body butter recipes, and think about which preservatives might work well with it.
I've chosen to add cocoa butter at 5% to this product as it's an approved barrier ingredient, which means it can help our skin prevent wind or cold chapping by creating an occlusive layer. I've chosen the calendula extract as it will help soothe irritated and sensitive skin. You could use another oil soluble extract in its place, such as chamomile or evening primrose extract, both of which work as great anti-inflammatories. And I've chosen rice bran oil as it has a lovely mix of linoleic and oleic acids, great for barrier repair and softening and moisturizing respectively, as well as a good amount of anti-inflammatory phytosterols.
Cold Weather Barrier Butter
Heated water phase:
43.5% water
10% aloe vera
3% glycerin
2% silk amino acids
2% DL-panthenol
Heated oil phase:
10% rice bran oil
10% avocado butter
5% calendula extract (oil soluble)
5% cocoa butter
7% BTMS-50 or Polawax
Cool down phase:
1% preservative
0.5% Vitamin E (anti-oxidant)
1% fragrance or essential oil
1. Weigh your water phase into a heat proof container and put into a double boiler.
1a. Weigh your total water phase on a scale – jug and all – so we can compensate for the lost water before mixing. And set some water in a separate container to heat. A pot with water on the stove or boiling up the kettle works well. You don't need to boil it the whole time – bring it to boiling now and you'll have some less-than-boiling water for step 3a.
2. Weigh your oil phase into a heat proof container and put into a double boiler.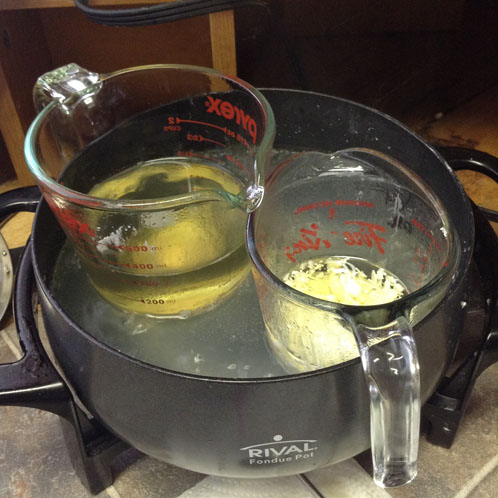 3. Heat both phases to 158˚F and hold for 20 minutes. This is to kill any nasties that might be in any of our ingredients, as well ensuring both phases are the same temperature when we mix them together. (This is part of the emulsification process – the heating part of emulsification.)
3a. Remember how we measured the water phase in step 1a? Measure it again – zero your scale and measure the jug and all. Add enough of the warm water to get you to the total weight from step 1a.
4. When both phases reach 158˚F, pour one phase into the other and mix very well with a stick blender, hand mixer, or stand mixer. Mix periodically as the temperature drops.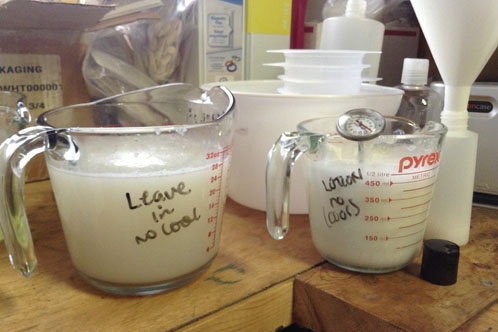 5. When you reach 113˚F, add your cool down ingredients and mix very well.
6. Allow the lotion to come to room temperature before bottling so you don't get condensation on the inside of the bottle or lid. I suggest using jars for this recipe as it'll be quite thick.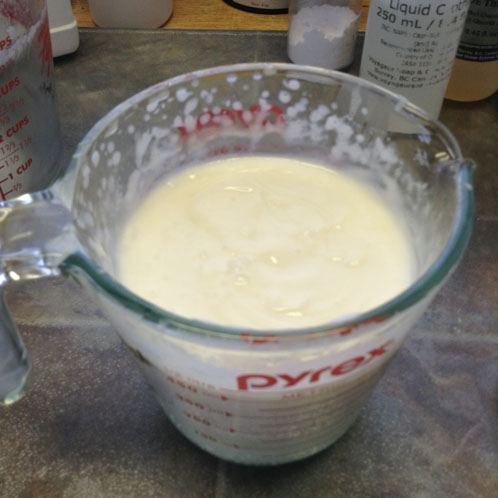 7. Always label your bottle with the ingredients and date so you can replicate it or throw it away when the shelf life expires.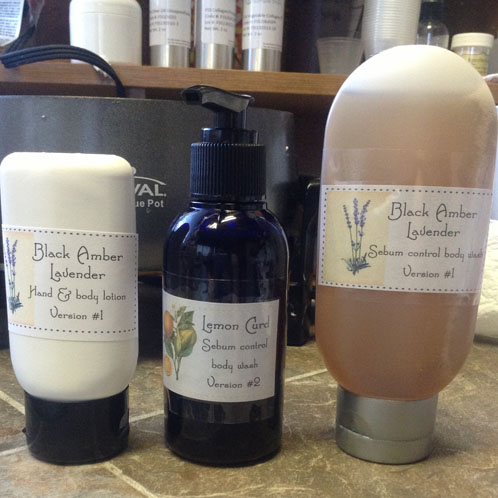 What preservatives would work with this recipe?
To determine this, we need to determine what this product is. It's a lotion, which means it is an emulsion of oil and water. So we need to choose a preservative that works with water containing products and not something that works only with anhydrous (non-water containing) products. Our pH is slightly lower than 6 – around 5.8. We might be using a cationic or positively charged emulsifier like BTMS-50 or a non-ionic or neutrally charged emulsifier, so that's important to remember. And we're using harder-to-preserve botanical ingredients, like aloe vera, so we'll want to use a preservative meant for that purpose or use one at maximum suggested usage levels.
Always take into consideration the container into which you're putting your product when you're done. Containers with disc caps, flip tops, and pumps are less likely to be contaminated compared to jars and containers with screw tops where products can be exposed to more air more frequently. If you're using a jar for this lotion – something that's a very good idea given how much butter we've used! – then you'll want to use the maximum preservative in it. Which means we'd be using…
Germaben II – 1% in the cool down phase
Optiphen – 1.5% in the cool down phase
Optiphen ND – 1.2% in any phase. (Please don't use this if you're using BTMS-50 as your emulsifier as it doesn't play well with cationic or positively charged emulsifiers.)
Optiphen Plus – 1.5% in the heated water phase
Phenonip – 0.5% in the heated water phase, 0.5% in the heated oil phase
When choosing which preservative to buy, you could work with just one that works for all products, like Phenonip, or get one for anhydrous (containing no water) products and one for water containing products. Use them at the maximum usage rate to start, then try them at slightly lower levels, if you wish, but no lower than the suggested minimum usage rate.
Regardless of which one or ones you choose, use them every time you make a product to avoid horrible and unsafe contamination issues like the ones I had in my unpreserved lotion! — Post by Susan Barclay-Nichols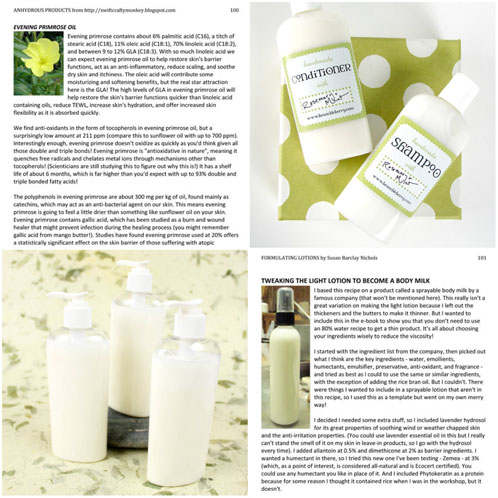 If you've enjoyed this post by Susan, check out her e-books — they're just as helpful and informative! From top left clockwise: