As a quick and easy gift or for a crafty night in, homemade nail polish can't be beat! I also have it on good authority that nail polish parties are the hot ticket at Otion. We have rigorously tested our Suspending Nail Polish Base to make sure it can suspend all sizes of glitters, and we've found the best usage rate is 5 – 7.5% (max) for the glitter. If you add more than that, it won't matter how lovely and light the glitter is … it'll still sink. Our nail polish base is also formaldehyde, toluene and DBP free.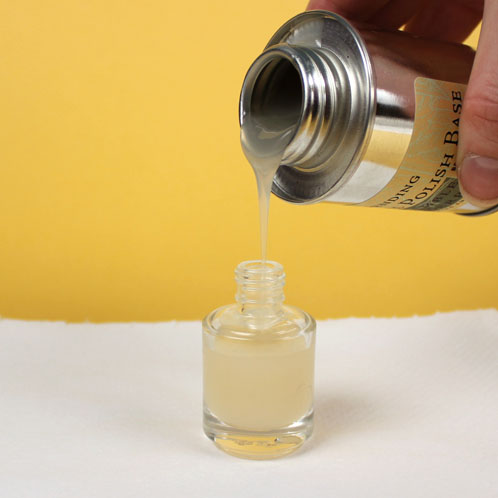 Between our glitters and micas, there are millions of possibilities for customizing nail polish base. But you're not just limited to colors and glitters — you can add fragrance oil to our base too. Creating your own nail polish is easy: simply funnel the uncolored base into your bottle of choice (we like our 8 and 15 mL sizes), don't forget to add your mixing bead and then scoop in your colorants and glitter. For complete step-by-step instruction check out this Soap Queen TV Short!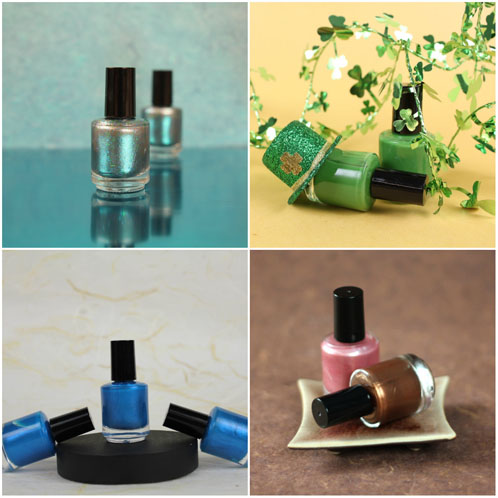 Top: Peacock Glitter Polish, Anti-Pinch Nail Polish
Bottom: Matte Finish Nail Polish, Scented Nail Polish
There are a number of nail polish tutorials on the Soap Queen blog, as well as a wealth of information about commonly asked nail polish questions. Check them out here:
What are your favorite wintertime nail polish colors? I'm totally jonesing on dark brown or purple colors.