Lotions and butters are some of the most popular bath and body products, but they're also products that can raise the most questions. Questions such as "Do I need a preservative for my product?" "Which preservative do I use?" and "Are preservatives safe?" are some of the most common ones we see, and we hope this thorough guest post by formulation guru and fellow crafter Susan Barclay-Nichols will help clear up some confusion.
Susan is an expert in cosmetic chemistry, and in this post she gets down to the nitty-gritty of which preservatives work best in which products, their usage rates and their ingredients. It's a one-stop-shop for everything preservative related! Read on to learn about the wide world of preservatives and how you can safely use them in your products.
A-M Note: If you're concerned about parabens and the safety of preservatives in bath and body products, we've found these following resources to be helpful explanations: Parabens Puzzlement, More to the Parabens Puzzlement and Debate Over Parabens – Truth and Research. Borrowing from the blogs: "The FDA supports the use of Parabens as does the European Union….and under regimented testing by the cosmetics directive of the European Union they too, found no direct correlation of Parabens and cancer."
Keep in mind, the type of preservative you choose is up to you, and I'm glad that there are effective options for everyone out there who wants to responsibly use a full spectrum preservative. All Bramble Berry preservatives have been approved for use in body products. Now onto the guide! – A.M.
_____________________________________________________________________________________________________________________________________________________________________
You'll notice there are actually two areas of contamination in the product. The first is the great big green spot on the left side, but did you notice the brown-y orange streak to the right hand side of that on the side of the jug? Yep, there's a little more contamination for you!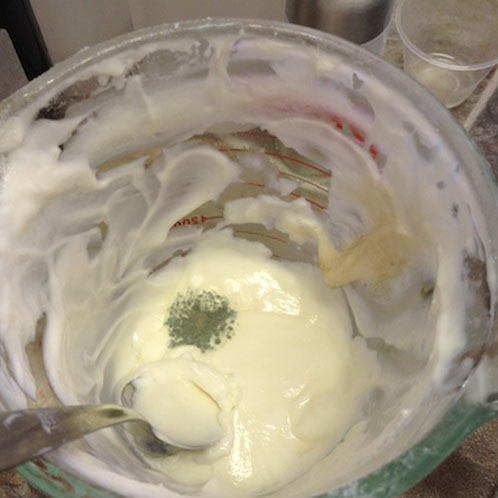 I made this lotion without preservatives to show you how quickly things can go off. I made this sixteen days ago. (It might have gone off earlier. This was the first chance I had to check it, to be honest!) I did all the things I generally do – I heated and held both phases, I made sure all my equipment and workshop was clean – but I left out the preservatives. I covered it tightly with Press & Seal in this jug after it had cooled to room temperature. It's been cold in the workshop – below 10˚C – which is quite chilly considering a fridge should be kept at 0˚C to 4˚C, and room temperature is 18˚C to 22˚C. It is also quite damp back there as we've had a bunch of rain since Halloween – just about every day – which is normal for this time of year.