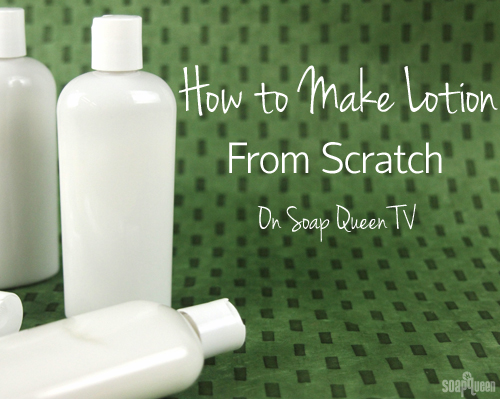 In this special throwback episode of Soap Queen TV filmed in 2010, I show you how to create lotion from scratch. After watching this video, you will have all the tools you need to make luxurious, moisturizing, and perfect lotion every time!
First, lotion ingredient uses and benefits are reviewed. Then I show you how to make lotion from start to finish. Labeling requirements are also covered if you plan on selling your product. A note on semantics: I use the term sterilize which is technically incorrect. I should be using the term disinfect when talking about cleaning my tools for lotion making.
As an extra bonus, the label template used in the video with the correct INCI names is available for download. Just download the PDF template, print it on label stock, cut out the labels and write in the fragrance you used and your contact information.
Want to make your very own lotion from scratch? Our Lotion Kit includes everything you need to make 48 oz. of handmade lotion!

Kit Includes:
8 oz. Sweet Almond Oil
8 oz. Avocado Oil
8 oz. Shea Butter
1 oz. Phenonip
1 lb. Stearic Acid
1 lb. Emulsifying Wax or Ceteryl Alcohol
12 – 4 oz. Clear Reverse Tapered Ovals w/White Caps
1 oz. Lavender 40/42 Essential Oil
1 oz. Cucumber Melon Fragrance Oil
Lotion Making Booklet