With the end of summer in sight (why yes, it has been raining here all week; thanks for asking), we are making the most out of the sun with recipes to keep skin hydrated. Summer means clothing like tank tops and shorts, which means more shaving.  Not to worry, we've got you covered with the Sunday Night Spotlight: Foaming Bath Whip + Green Tea Shaving Cream Tutorial.
With moisturizing ingredients like Vitamin E Oil, Green Tea Seed Oil and Green Tea Extract, it leaves your skin feeling soothed and fresh. Foaming Bath Whip can also be used for other recipes, as seen in this Rose Clay Sugar Scrub.
Those who don't worry about razors  will love the Moisturizing Mahogany Beard Oil. It combines Jojoba Oil and Buckthorn Extract to leave facial hair feeling silky smooth. It also helps skin under the beard stay soft and flake-free.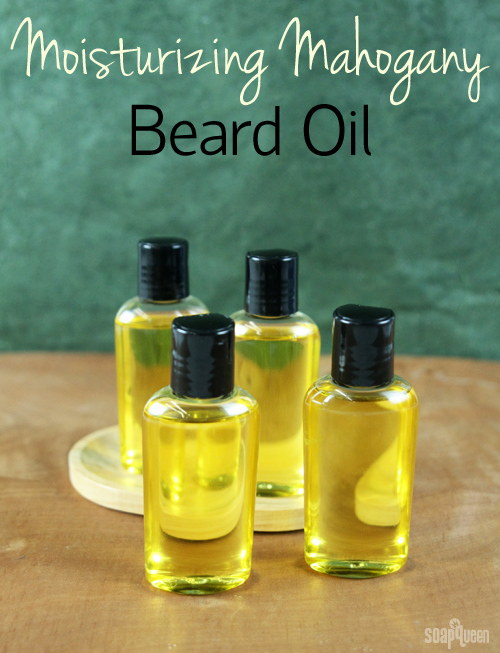 To keep your lips feeling silky and smooth, check out this Lip Balm Recipe Roundup + Tips. It has several great lip balm and lip stick tutorials, as well as tips for making the perfect recipe!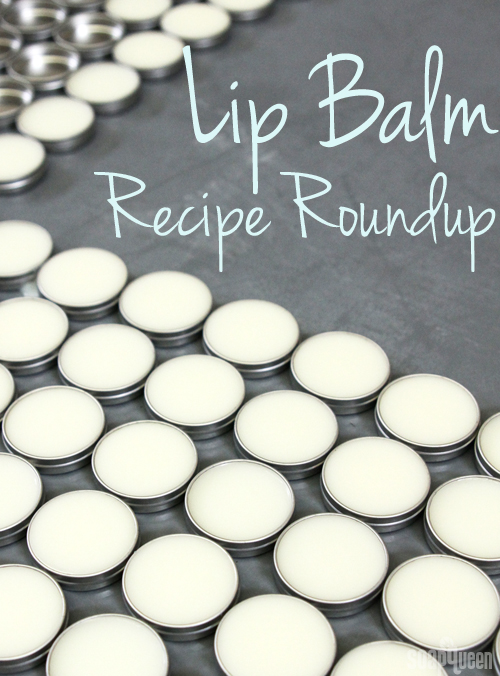 If you still can't get enough moisturizing recipes, check out How to Make Lotion From Scratch on Soap Queen TV. Take a trip down memory lane in this episode, which was filmed in 2010 and features a recipe, tips, and labeling information.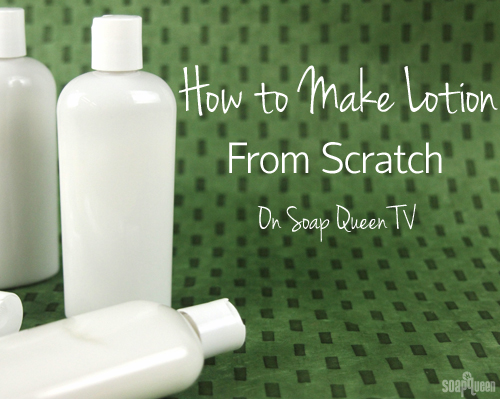 While I was on the set in 2010, Katie White of Royalty Soaps was learning how to make cold process soap. She became fascinated with the process and started her business when she was only 17! Now she makes show-stopping soaps with beautiful color and detail. Learn more about Katie and her soapy business in this interview.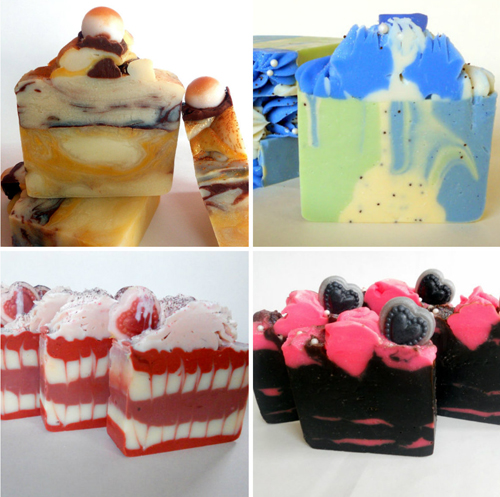 If you want more soap with bright colors and intricate details, you'll love this week's Facebook Photo of the Week from Nora with Nora's Soap Scents. Swirls of pink, green and white are accented with glitter and pearls on top.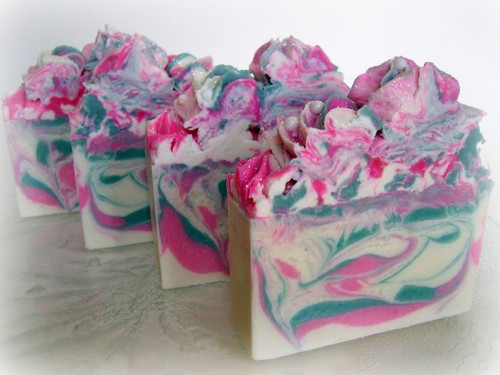 The swirls really stand out in Nora's soap. If you'd like a swirly soap, check out this Butterfly Swirl Soap Tutorial. To get this look in melt and pour soap, check out this Faux Swirl Melt and Pour Cubes Tutorial.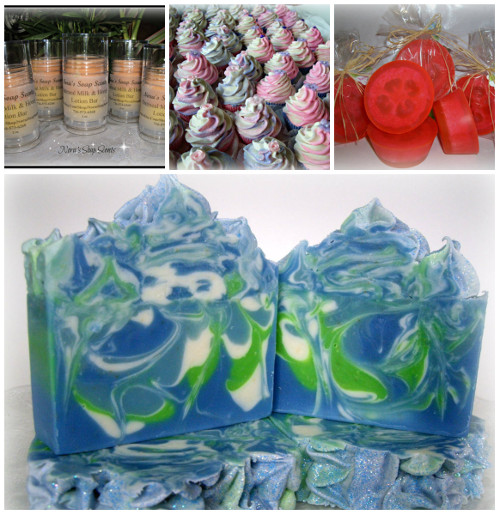 Shown above (clockwise, top) are Nora's Oatmeal, Milk and Honey Lotion Bars, collection of soapy cupcakes, Homemade Loofah Soaps, and Spring Rain Artisian Luxury Soap. If you want to add some frosty goodness to your soap, check out this Soap Queen TV Episode How to Make Soap Cupcakes with Whipped Frosting. You can also add beautiful fluff to your bars of soap, as seen in this Coconut Cream Pie Cold Process Tutorial.
Find Nora's Soap Scents:
Post pictures of your crafty creations on the Facebook page each week for a chance to be featured on the Soap Queen blog and receive a sweet soapy package from Bramble Berry. Photos are chosen based on consensus from the Bramble Berry staff, so the best way to increase your chances of winning is to show us lots of photos!