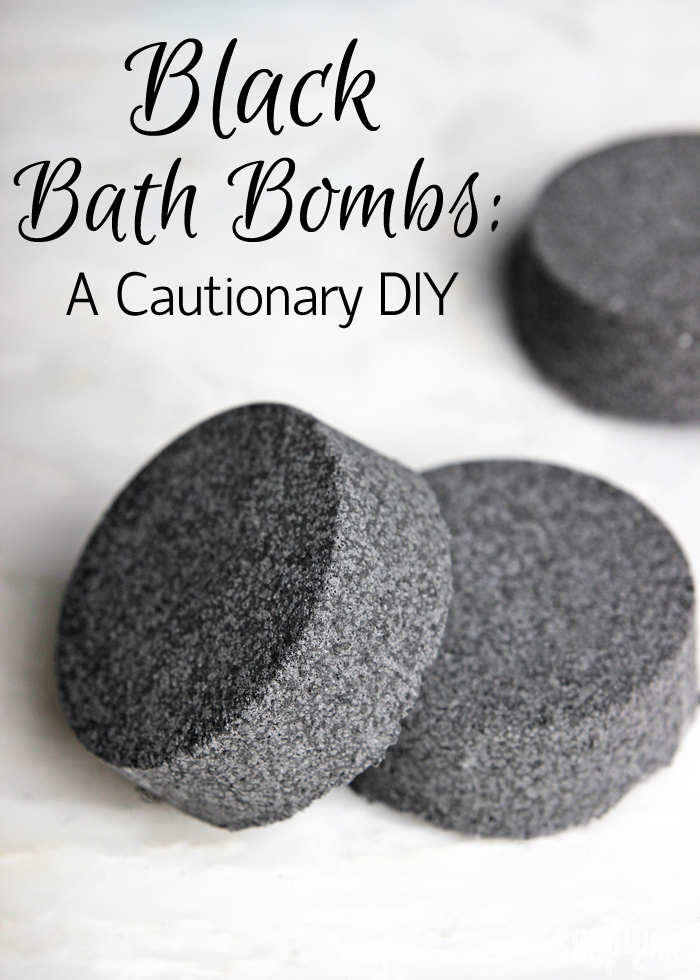 Black bath bombs are everywhere right now! Made with typical bath bomb ingredients (baking soda and citric acid), they also contain lots of black colorant. Once placed in the tub, the bath bomb turns the water black. The original black bath bomb video quickly went viral. It's easy to see why. The smoky color that emits from the black bath bomb is hypnotizing.
After receiving lots of questions on how to make black bath bombs, I decided to give them a try. I made two different bath bombs, one colored with activated charcoal and another colored with Liquid Black Iron Oxide. I chose the Liquid Black Iron Oxide because it's black oxide dispersed in glycerin, which is similar to a La Bomb colorant. To learn more about La Bomb colorants, click here. Since powdered colorants tend to cling to the side of the tub, I was skeptical about the black bath bomb trend. The idea is awesome, but won't it make a huge mess? Won't the color stick to the tub and your skin?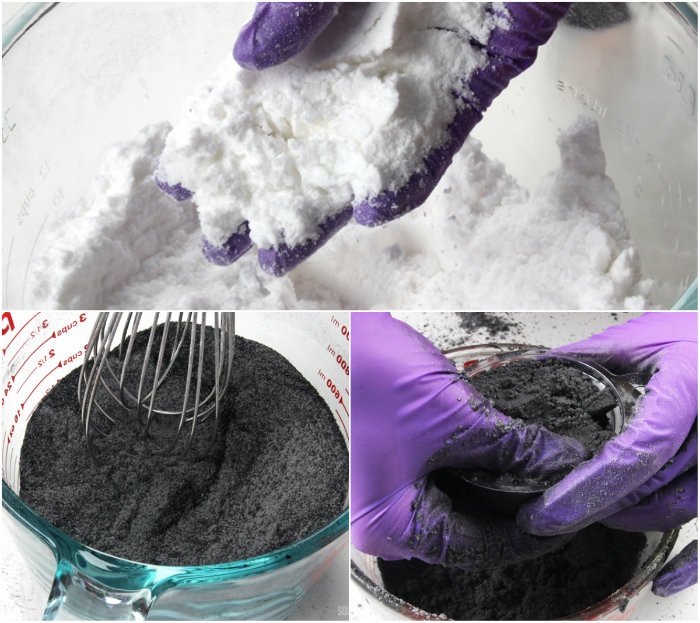 For this experiment, I made two different black bath bombs. One made with activated charcoal and another with Liquid Black Iron Oxide.
First, I made one big batch of bath bombs by mixing together 2 cups baking soda and 1 cup citric acid. Then, I split it in half. To one container, I added 4 tsp. of activated charcoal. To the other, I added 40 drops of Liquid Black Iron Oxide. I used my hands to thoroughly mix in the colorants. I added Espresso Fragrance Oil for scent. Once mixed, I spritzed the fizzy mixture with witch hazel until it was the texture of wet sand. Then, I pressed the mixture into Disk Mold & Package.
In the photo below, the activated charcoal bath bomb is on the left, and the Liquid Black Iron Oxide bath bomb is on the right. Because these colorants are not typically used to color bath bombs, they have a "speckly" look to them. The activated charcoal resulted in a slightly darker bath bomb. Once unmolded, I tested the bath bombs in a large bowl of water to get an idea of how they would behave in the tub. See the photos below!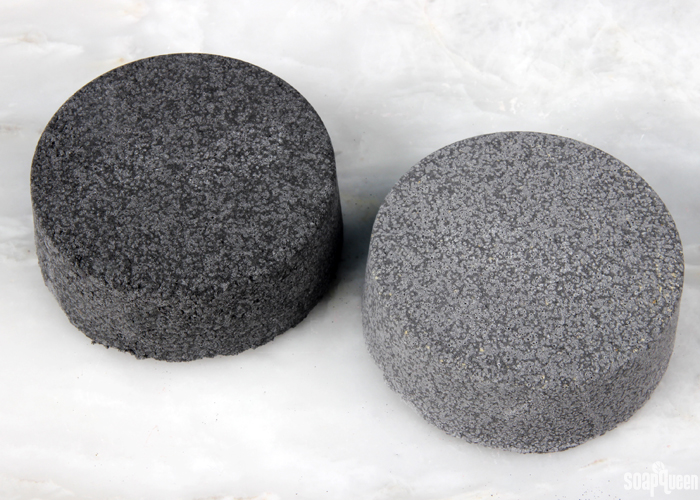 Left to right: bath bomb made with activated charcoal, bath bomb made with Liquid Black Iron Oxide.
Black Bath Bomb – Activated Charcoal
The charcoal bath bomb created extremely dark water. Some of charcoal immediately clung to the side of the bowl. It also clumped up in the water in interesting ways, and transferred to the skin in clumps.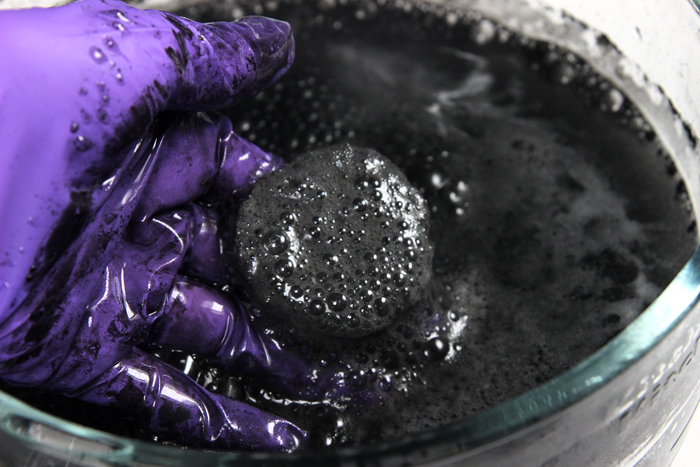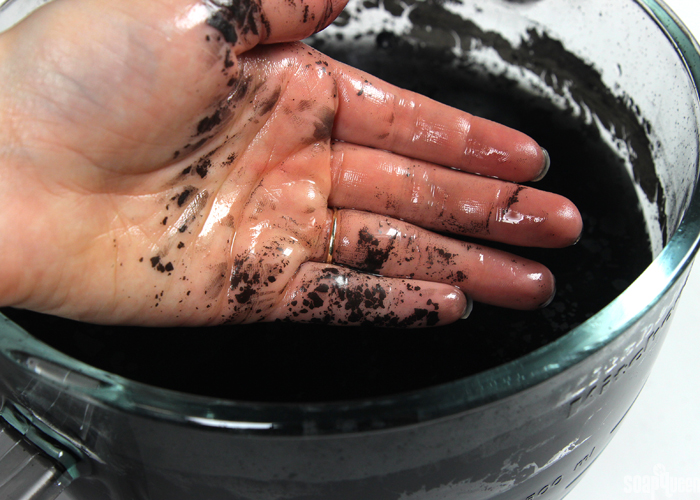 Black Bath Bomb – Liquid Black Iron Oxide
The liquid black bath bomb created a gray-ish color in the water. The colorant did tend to stick to the sides of the bowl, but not nearly as much as the charcoal bath bomb. The colorant did not stick to the skin either.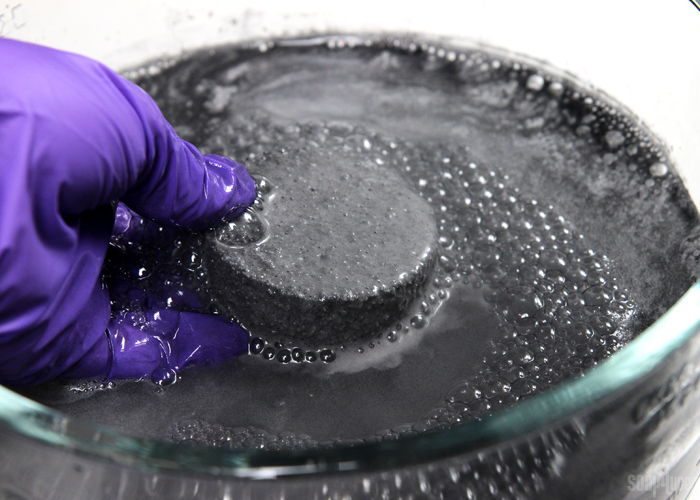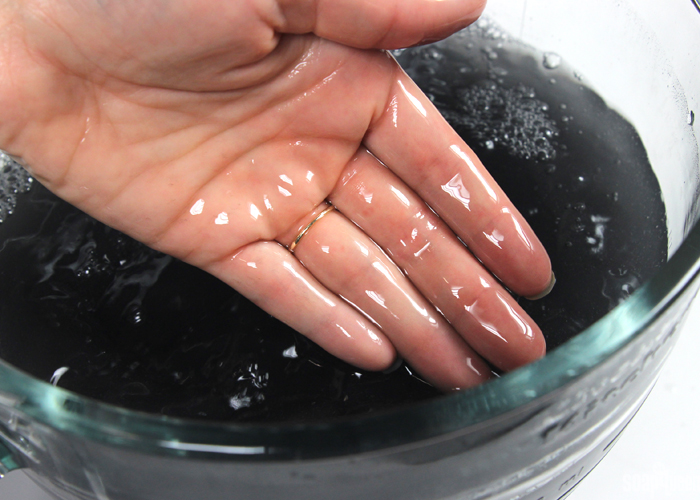 Tina in customer service (meet her here!) was brave enough to test the fizzies in her tub. Ultimately, the bath bomb made with activated charcoal colored the water a dramatic black hue. But, it bunched up in the water in rather unattractive clumps. It also left a real mess in the tub. The bath bomb made with Liquid Black Iron Oxide turned the water a gray color, but left less of a mess on the tub once drained.
Black Bath Bomb – Activated Charcoal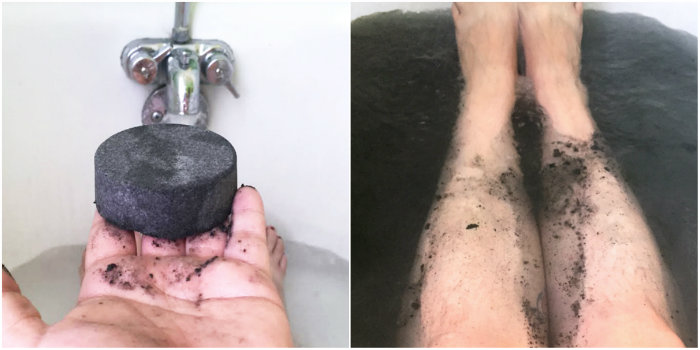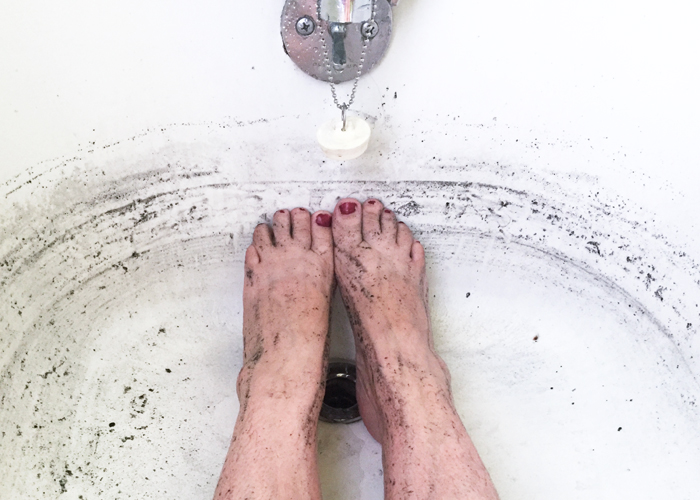 Black Bath Bomb – Liquid Black Iron Oxide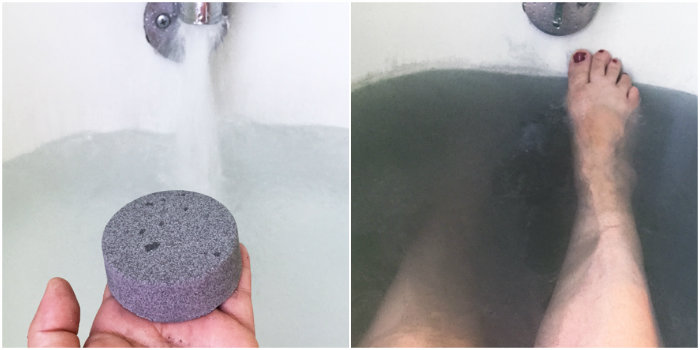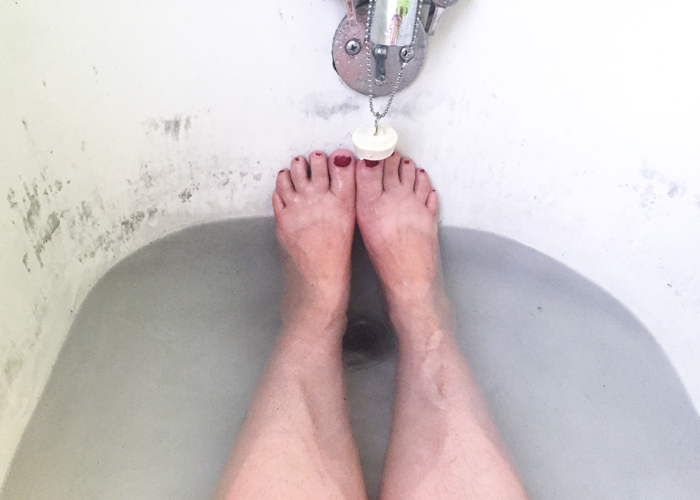 My ultimate conclusion? My black bath bombs are messy. They are messy to make, and messy to use. Would I recommend making them? Not really. While the concept is fun, I don't think the clean up was worth it. Also, the activated charcoal did not disperse very well in the water. As Tina put it, the bathing experience was extremely "unattractive."
After the bath, Tina needed a shower to rinse off all the charcoal and Liquid Black Iron Oxide that stuck to her skin. She found the best way to clean up her tub was with plenty of dish soap. With a little scrubbing, the colorants came off of her porcelain tub without permanent staining.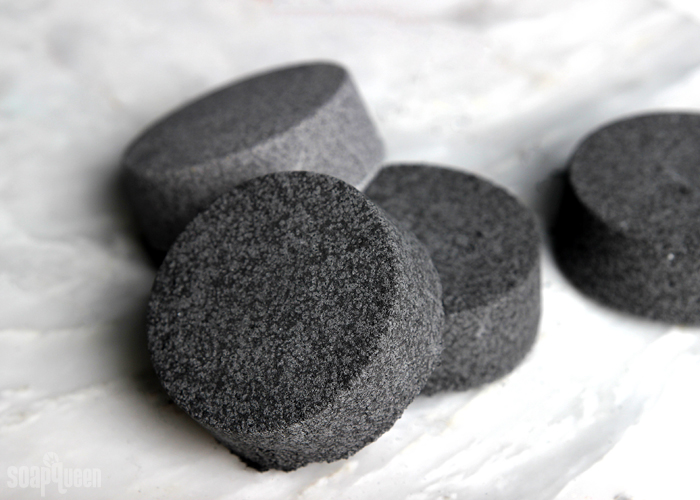 So there you have it! I probably won't be making or using black bath bombs again. But if you found a recipe that works better, I would love to hear it! I have seen so many awesome looking photos on Pinterest and Instagram, and they are so much fun to watch in the water. Obviously somebody must have figured out the secret and I'm betting it's water soluble colors! =) In researching black bath bomb recipes and DIYs, I have seen some tutorials call for gel food coloring (which is basically an FD&C color like Labcolor). While this may work the best in terms of avoiding a mess because the water disperses in the bath as opposed to sitting on top of the water, some of those frosting/food colorants may not be approved for cosmetic use and could irritate the skin so keep that in mind if you're trying that theory out. And if you're like, "Hey, you carry a black Labcolor; why can't I use that?!"  using a water based color could set off your fizzing reaction prematurely so that's why we don't suggest water based colorants in bath fizzies. =)
UPDATE! 
After a several readers suggested adding polysorbate 80 to the bath bombs, we gave it a try! Polysorbate 80 is normally used as a co-emulsifier, and helps emulsify oils in bath water. Interestingly, it can also prolong the fizzy reaction in bath bombs. Because the activated charcoal gave the darkest color in the tub, we tested using Polysorbate 80 in the activated charcoal bath bombs. Technically, polysorbate 80 can be added to bath bombs as a wetting agent at a usage rate of 1-6%. In our tests, we found that more than 2% can cause the fizzy to expand.
Four our test, we used 1 tablespoon of activated charcoal into 10 oz. of bath bomb mixture (2 parts baking soda + 1 part citric acid). Once the dry ingredients were mixed, we added 1% polysorbate 80, and a few spritzes of witch hazel to achieve a "wet sand" texture. Then, we let the fizzy dry for 24 hours before using. Once it was fully dry, we tested it in a large bowl of water before trying it at home. As you can see in the photo below, the polysorbate 80 helped the activated charcoal to evenly disperse in the water, without large chunks.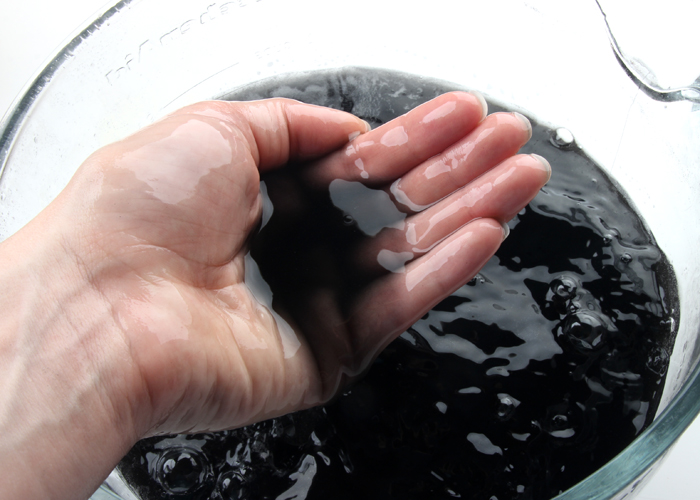 Tina took a fizzy home to test in her tub. Once added to a large amount of water, the fizzy created a slightly grey tone, rather than the rich black color shown above. But, it gave a similar effect to the dark colors that some have achieved with gel food coloring.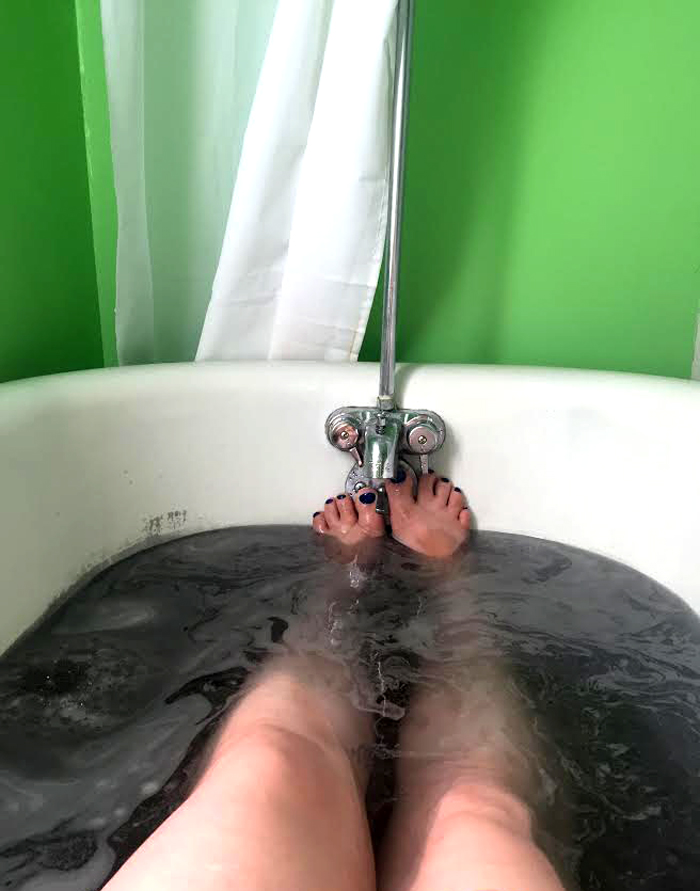 Tina reported that some of the charcoal stuck to the sides of the tub, but it wasn't nearly as messy as the activated charcoal bath bomb without polysorbate 80! Most of the charcoal dispersed in the water and went down the drain, rather than clinging to the skin and tub.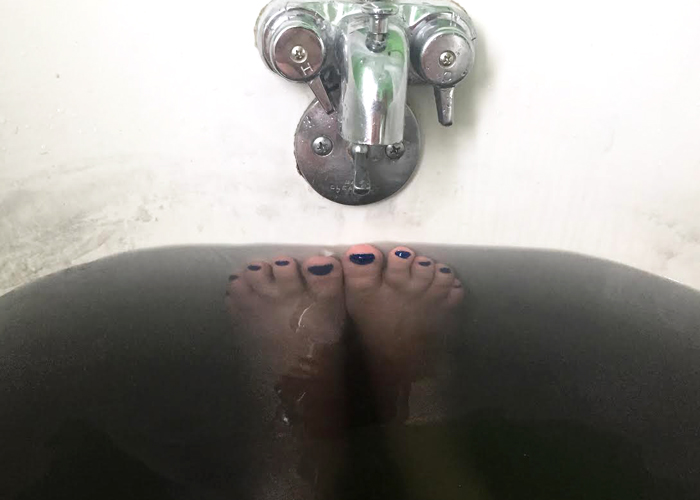 So there you have it! Polysorbate 80 is the key to making a black bath bomb with activated charcoal. Even the small amount of 1% made a huge difference; the bath bomb created black water with minimal cleanup. If you add more activated charcoal, you may want to increase the amount of polysorbate 80 – but be careful! Adding too much polysorbate 80 can cause the fizzy to expand. I would recommend starting with 1%, and increase the amount if necessary. =)