Labeling your handmade products can seem so confusing. In this 3 part series, I am going to give some basic examples of how to label lip balm, cold process soap, and lotion so that you can confidently sell or give these products as gifts.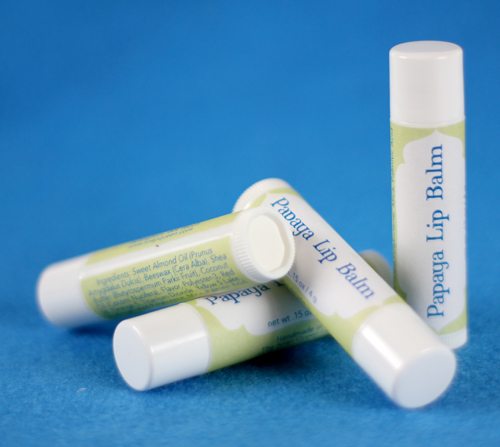 I am just going to be touching the tip of the iceberg though. There is more to know than I can explain in a few blog posts.  If you'd like to become a labeling ninja, I highly recommend the book Soap & Cosmetic Labeling by Marie Gale. It is a concise and easy-to-read book, full of examples about labeling cosmetics with a special emphasis on soap.
The FDA's website has many interesting articles and you can read the law as it is actually written. They also have a free Cosmetic Labeling Manual that addresses all of the basics of labeling.
The Basics for Labeling Lip Balm:
1. Ingredients: The ingredients need to be listed from most used to least used. The exception to this is listing colorants –  those you can just add to the end of the list of ingredients. The names of the ingredients need to follow the INCI ( International Nomenclature of Cosmetic Ingredients) rules. This is the scientific or agreed upon standard name for the ingredient. There are actually a few different versions of these rules that are acceptable, including common names (typically found in the 2nd edition). Here, we are going to use the 6th edition rules of the INCI Dictionary.
2. Quantity: You need to list how much product is in the container. We are going to go by weight since lip balm is a solid product.
3. Who made it: You need to list the name of the maker of the product and where they are located. That means an address (not just a website).

UPDATE 9/19/2017: The FTC has updated regulations concerning business name and address. The NEW regulation says the street address may be omitted if it is listed in a readily accessible, widely published, and publicly available resource. Read more here. 
And that's it! Well sort of. There are more details and exceptions to the rule especially if you are making claims like 'heals cracked lips'. If you want to make those types of claims, your product will end up being considered an 'over the counter drug' and you will definitely want to do a little more research in books and on the FDA website.
For our first example we are going to learn how to list the ingredients for a lip balm:
My recipe is:
This post does not explain how you make lip balm – but how to label it after you've made it (but if you're curious, check out how to make lip balm here).
For the above recipe, the label would look like:
Ingredients:  Sweet Almond Oil (Prunus Amygdalus Dulcis), Beeswax (Cera Alba), Shea Butter (Butyrospermum Parkii Fruit), Coconut Oil (Cocons Nucifera), Flavor, Polyester-3, Red 28, Orange 5, Titanium Dioxide, Yellow 5 Lake, Hydrogenated Polybutene, Mica, Palmitic Acid
There are a few different ways to list the ingredients that are legal. I prefer the 6th edition rules because it combines the botanical name (which is standardized) and the Common name (which is easy to understand). The 2nd, 6th and 8th edition rules are all legal and accepted by the FDA.
Notice that the ingredients are listed in order of quantity from most used to least. In the case of the Shea Butter and Coconut Oil, since the same amount is used, you just pick one to list first. Also notice that the INCI for the colorants are just added at the end. It doesn't matter what order they are in.
And that concludes this first very basic overview of labeling. I hope it's a little less intimidating now. In the next part of this series, I will show how to label your cold process soap and handmade lotion.
If you like these little labels they are available as a free download on the Bramble Berry website.
If you're still looking for more resouces, check out this great roundup of FDA Cosmetic law links on the Indie Business Network.