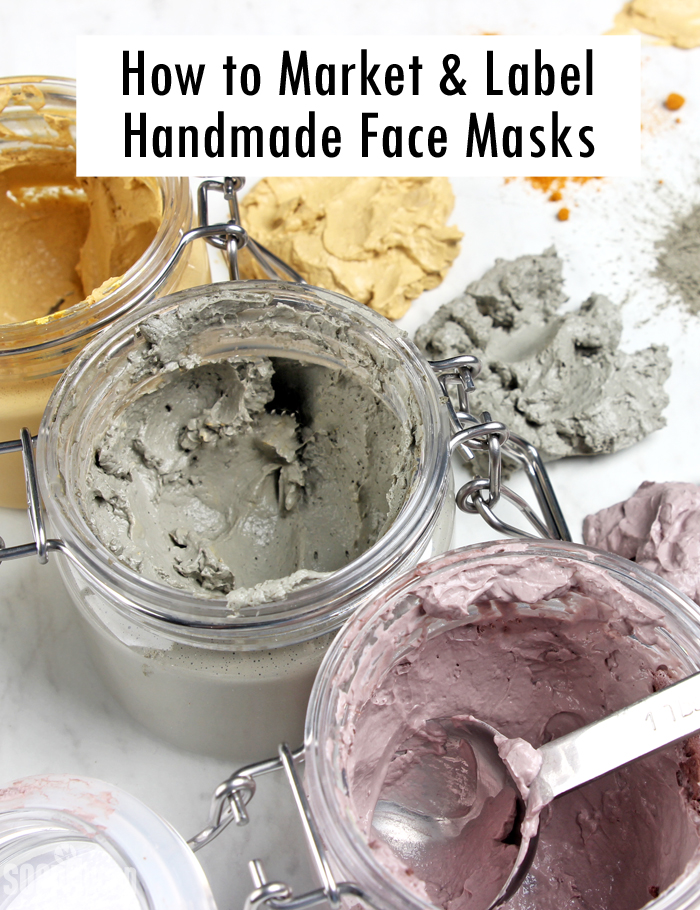 Thinking about creating and selling your own skin care products? Our clay mask recipes (Lavender, Sea Clay and Turmeric) are a great place to start. Don't let the list of ingredients intimidate you, they are easy to make. Because the recipe has such a large water content, they can be quite cost effective to sell. When selling skin care, there are some important things to keep in mind, including labeling and claiming what the product can do.
Mask Cosmetic Claims vs. Medical Claims
Depending on what claims you make, the product is classified as a drug, cosmetic or soap by the FDA. If your product claims to treat or heal the body in any way, it is considered a drug and requires additional testing. For your product to be considered a cosmetic, it can only claim to beautify, promote attractiveness or alter ones appearance. The clay masks are considered a cosmetic by the FDA. But, if you make a claim that the masks  cure, treat or heal the skin, they are considered a drug. Learn more about medical vs. drug claims here.
So, if you're planning on adding a clay mask to your line…what can you say? Acceptable claims include saying the masks are moisturizing, conditioning, calming, skin-loving, beautifying, mattifying, or hydrating. You cannot advertise the masks as intended for certain skin conditions. For example, calling the mask a "Sea Clay Mask for Acne," implies that it is intended to cure acne. Even if it has beneficial properties for acne-prone skin, the product was not tested to treat the skin by the FDA.
Medical and cosmetic claims can be a little confusing and frustrating. I'm sure you have seen plenty of people selling their products by making medical claims. Every small business owner must make the decision for themselves to adhere to the rules of the FDA or not. I always recommend to err on the side of caution to protect you and your business. It's not worth the risk!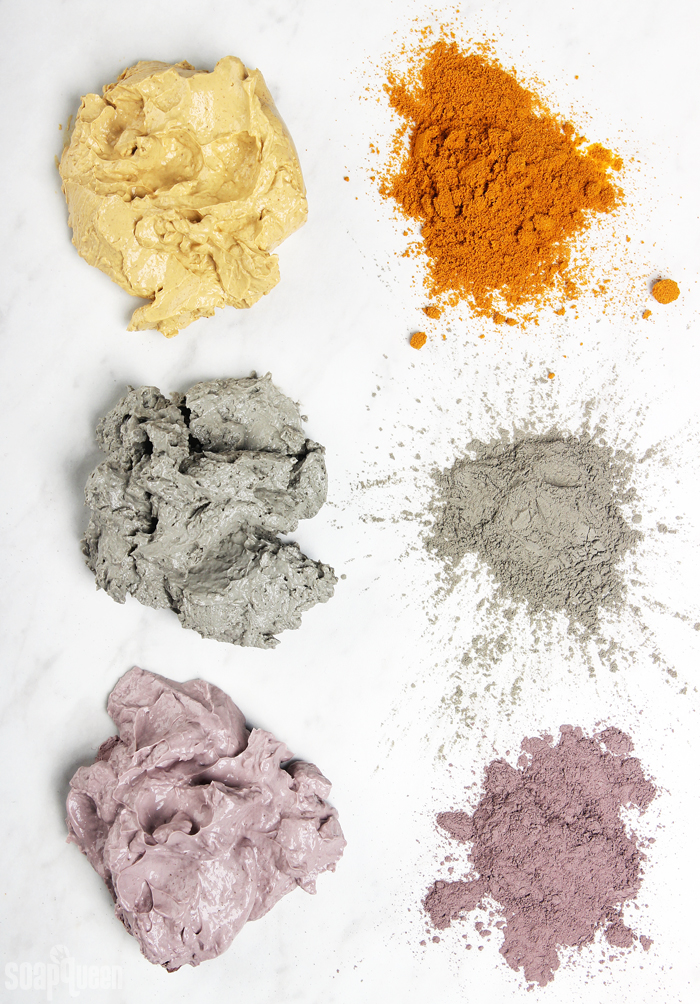 Labeling the Masks
Now, let's talk labeling. For each recipe, we included free downloadable labels that can be printed on label paper and applied to the jars. These labels are great for gifting to friends or for personal use. But if you're selling the masks, they need to be properly labeled with ingredients. To properly label your products, there are several rules to adhere to; click here to see the complete labeling guide by the FDA. It's not the most interesting subject matter, but reviewing labeling rules and regulations is a must for small business owners.
Let's take a look at the recipe for the Lavender Clay Mask, and go over how to properly label this product. The ingredients need to be listed in order of prominence in the recipe. The list of ingredients need to include the common name for the ingredient. Including the INCI name in parentheses is not required, but can be helpful for your customers. Learn more about INCI names and labeling here.
Lavender Clay Mask Recipe
21.4 oz. Distilled Water
1 oz. Argan Oil
1.3 oz. Avocado Oil
1 oz. Polawax Emulsifying Wax
0.8 oz. BTMS-50 Conditioning Wax
3.5 oz. Kaolin Clay
1 oz. Purple Brazilian Clay
2 mL Lavender 40/42 Essential Oil
0.5 oz. Evening Primrose Extract
0.2 oz. Optiphen
The ingredient list would look like this:
Water (Aqua), Kaolin Clay (Kaolinite), Avocado Oil (Persea Gratissima), Argan Oil (Argania Spinosa), Magnesium Aluminum Silicate, Montmorillonite, Kaolin, Mica, Emulsifying Wax NF, Behentrimonium Methosulfate, Cetyl Alcohol, Butylene Glycol, Fractionated Coconut Oil (Caprylic/Capric Triglyceride) Evening Primrose Oil (Oenothera Biennis Flower Extract), Phenoxyethanol, Caprylyl Glycol, Lavender Essential Oil (Lavandula Angustifolia)
The first few ingredients are straightforward. Water, kaolin clay, avocado oil and argan oil are listed along with their INCI names in parentheses. Including the INCI name in parentheses is optional. Then, we get to purple Brazilian clay, which is made up of several ingredients. The ingredients within the purple Brazilian Clay are listed, separated by commas.
Moving right along, we get to the Polawax Emulsifying Wax, which is a brand name and is protected by trade secret laws. The official INCI for that is "Emulsifying Wax NF." BTMS-50 is made up of different ingredients, so the individual ingredients are listed. The same goes for the evening primrose extract and Optiphen. Lavender 40/42 essential oil does not contain multiple ingredients, so the INCI name goes into the parentheses.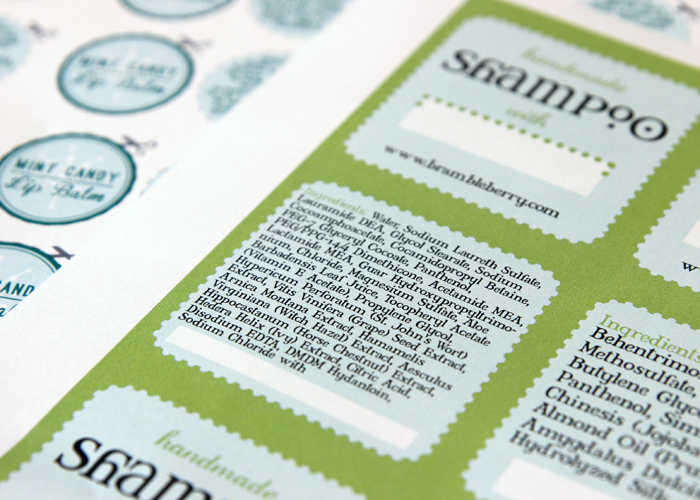 All the ingredients can look intimidating to a customer. So it's important to educate yourself about the ingredients in your products to address any questions or concerns. Choosing to not properly label the product in order to make it look "safer" or more appealing is not the answer. Being able to address the importance of preservatives ("This product would grow mold without it!") or the importance of an emulsifier ("That's what binds together the water and skin-loving oils") gives your customers the ability to make informed decisions about the products they buy. It will also build trust in you as a maker, and in your company.
If you're looking for more labeling information and resources, check out the blog posts below. In addition, take the time to thoroughly read the Cosmetic Labeling Guide. If you find it overwhelming and boring (I hear you!), take it piece by piece and read small sections everyday. Marie Gale is also a fantastic resource on labeling; I highly recommend perusing her blog and investing in her book, Soap and Cosmetic Labeling.