Yields:
5-6 Ribbon Candy Soaps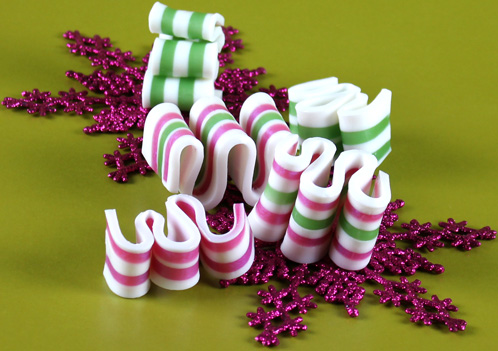 Ingredients
Tools
Craft Knife
Ruler
Cutting Board
Get everything you need to make the Ribbon Candy Soap in the click of a button! * Tools not included 

PREP: The first step is to prepare the colorful stripes that we'll be embedding in the candy. If you only have one tray mold, then I would start with just one color. If you have two tray molds, then dive in and pour both colors at once. The trick to this project is unmolding and folding the soap as quickly as possible. If you wait too long you'll get cracks in your candy…er…soap. We're making soap! But you'll think you're making candy when working with this fragrance oil. It can be very deceiving at times.
Make the Green Soap: In a heat safe container,  combine 4 oz of melted Clear MP, 15 drops Liquid Green, .5 oz Liquid Glycerin and 2 ml Holiday Candy Fragrance Oil. Mix well and pour into a silicone tray mold. Spritz with alcohol to get rid of any unwanted bubbles.
Make the Pink Soap: In a heat safe container,  combine 4 oz melted Clear MP, 4 mini scoops Red Blue Mica, .5 oz Liquid Glycerin and 2 ml Holiday Candy Fragrance Oil. Mix well and pour into your second silicone tray mold.
ONE: Let both soaps slabs cool. Because it's such a thin layer it should only take about 10 minutes (or less). You'll want to unmold the soap when it's still a little warm but hard enough to unmold. Letting the soap get too hard (i.e. letting it sit for an hour) will cause cracking in your final soap. Timing is everything.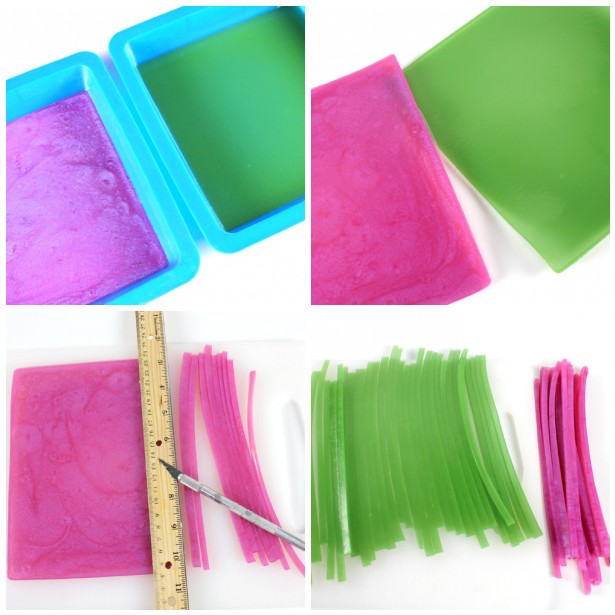 TWO: After unmolding the soap slabs, put it on a cutting surface and use a craft knife to cut the soap into thin strips. Use a ruler to guide your craft knife to cut straight, 1/4 inch thick pieces.
Hint: Remember that Ribbon Candy is handmade so the cuts don't have to be perfect. In fact, the little imperfections are what's going to make these soaps look so realistic. Oh, and the smell, of course. I'm telling you…it smells just like ribbon candy.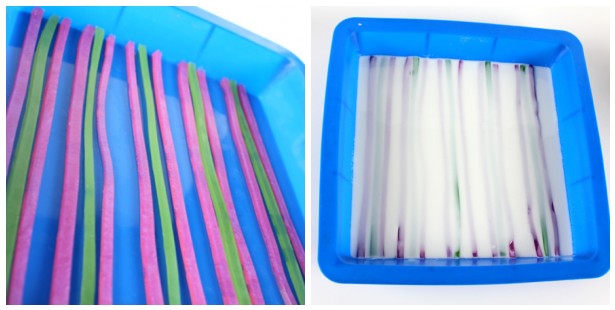 THREE: Lay your strips of colored soap back into the tray mold in any order that you want. In the picture above, I wanted each ribbon candy to have a pink stripe on the outside and green stripe in the center. Press the soap down firmly into the mold. Example: Pink, Green, Pink = 1 ribbon candy. The setup above will make 5 ribbon candy soaps.
FOUR: In a heat safe container, combine 4 oz of melted white MP, .5 oz Liquid Glycerin and 2 ml Holiday Candy Fragrance Oil. Mix well. Let the soap cool down to 130 degrees then spray the green and pink soap with rubbing alcohol and pour the white on top. It's a very thin layer so you may even want to spread the soap around with a spoon. Let the soap cool for about 10 minutes and unmold as soon as it's hard enough to handle (it will still be a little warm).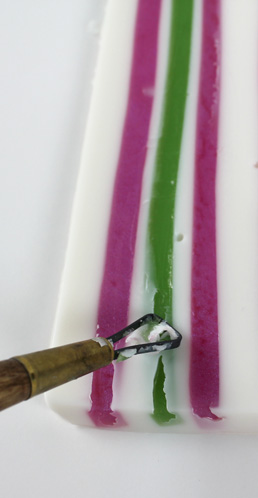 FIVE: The soap that was touching the glossy bottom of the tray mold will now the top of the soap. Notice some white soap leaked underneath the colored pieces (kudos to you if you can unmold with super clean lines) so just use your clean up tool to, well, clean up the soap. Work fast though. You only have a few minutes to do the next steps.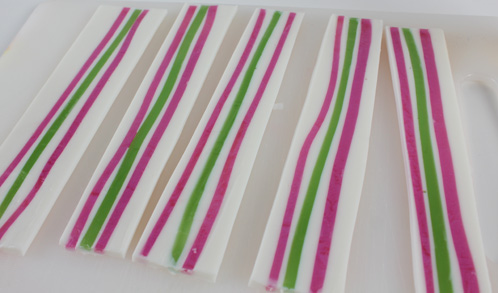 SIX: After touching up the soap, use your craft knife again to cut your candy strips. Trim as much or as little white as you want. I think I found a happy medium.
SEVEN: Fold the strips like you would a fan. If you work quickly through this entire process you shouldn't have any cracks. If you do get cracks just smooth them out with your finger and a little rubbing alcohol. No biggie.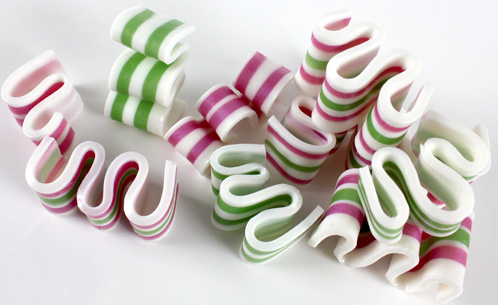 Wouldn't these be cute tied up in a little cellophane bag? But be careful! Be sure you put big 'Do Not Eat' sign on them.