Holiday madness is officially upon us … well, it is if you're a cold process soaper! I am always so inspired by all the wonderful treats and desserts that show up at yearly holiday parties, and we wanted to try and replicate a delectable holiday treat in soap form. This recipe was inspired by a lovely dessert I came across on Pinterest: soft, doughy cookies with ample fudge and swirled holiday frosting. Delish!
The goal with this soap is to get your layers as straight as possible by using a pour-over-the-spatula technique. We also incorporated the fragrance sample of the month, the delightfully warm Chai Tea Cybilla. It does discolor in cold process soap, which is something we kept in mind when formulating this recipe. In the end, we think the result is just as sweet as the original dessert inspiration!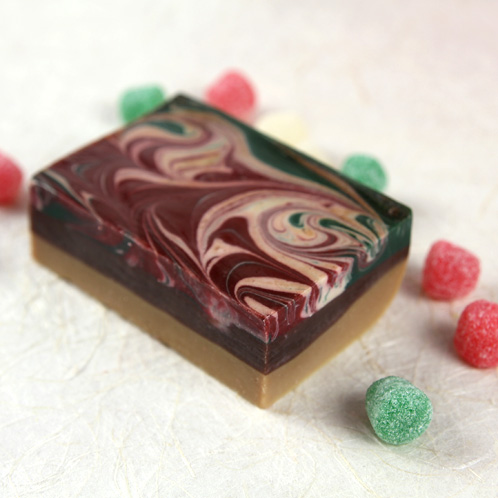 What you'll need:
1.6 oz. Avocado Oil
6.4 oz. Coconut Oil
9.6 oz. Olive Oil
6.4 oz. Palm Oil
.96 oz. Palm Kernel Flakes
1.6 oz. Shea Butter
5.4 oz. Sweet Almond Oil
4.4 oz. Sodium Hydroxide
10.5 oz. distilled water
2 oz Chai Tea Cybilla Fragrance Oil

Click here to add everything you need for this project to your Bramble Berry shopping cart!
If you don't want to make this oil blend from scratch, check out our Swirl Quick Mix. You'll get the same great swirly results but we mix and assemble the oil for you!
If you've never made Cold Process soap before, stop here! I highly recommend checking out our FREE four part SoapQueen.tv series on Cold Process Soapmaking, especially the episode on lye safety. And if you'd rather do some reading, Bramble Berry carries a wide range of books on the topic, including my newest book, Soap Crafting. You can also checkout the digital downloads for that instant gratification factor.
COLOR PREP:
Dark top – Disperse 1 teaspoon of Dutch Cocoa Powder in 1 tablespoon of liquid oil (we like Sunflower Oil or Sweet Almond Oil). Disperse 1 teaspoon of Yellow Oxide in 1 tablespoon of liquid oil and 1 teapsoon Titanium Dioxide in 1 tablespoon of liquid oil.
Light brown base – Disperse 1 teaspoons of Cappuccino Mica in 1 tablespoon of liquid oil and 1 additional teaspoon of Dutch Cocoa Powder in 1 tablespoon of liquid oil.
Swirls – Disperse 1 teaspoon of each colorant (Hydrated Chrome Green, Merlot Mica, Titanium Dioxide and Electric Bubblegum) into 1 tablespoon of liquid oil.
MOLD PREP: Be sure to line your mold with freezer paper (shiny side up!) before you begin. We like using two pieces to cover the length of the mold and one large sheet to cover the width.
SAFETY FIRST: Suit up for safe handling practices! That means goggles, gloves and long sleeves. Make sure kids, pets, and other distractions and tripping hazards are out of the house or don't have access to your soaping space. Always soap in a well-ventilated area.
ONE: Slowly and carefully add the lye to the water and gently stir until the lye has fully dissolved and the liquid is clear. Set aside to cool.
TWO: Completely melt and combine the Palm oil, Coconut oil, and Palm Kernel Flakes (remember to fully melt then mix your entire container of Palm Oil before portioning). Add the Avocado oil, Olive oil, Sweet Almond oil and Shea butter and stir to combine and gently melt the Shea Butter. Once the lye water and the oils have cooled to 130 degrees or below (and are ideally within 10 degrees of each other), add the lye water to the oils and stick blend until thin trace. If you'd like a harder bar of soap that releases faster from the mold, you can add Sodium Lactate to the cooled lye water. Use 1 teaspoon of Sodium Lactate per pound of oils in the recipe.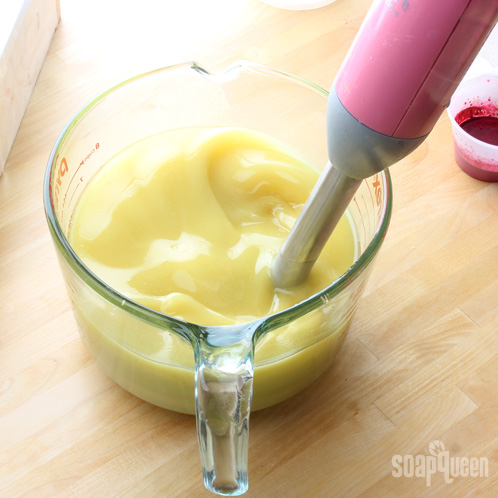 TWO: In a large container, split off 2 cups of batter. This will form the top layer of the cookie. Set it aside for now. In three other smaller containers, pour off 1 – 1.5 cups of batter into each. The batter in these containers will become the swirled colors on top. Set them aside for now.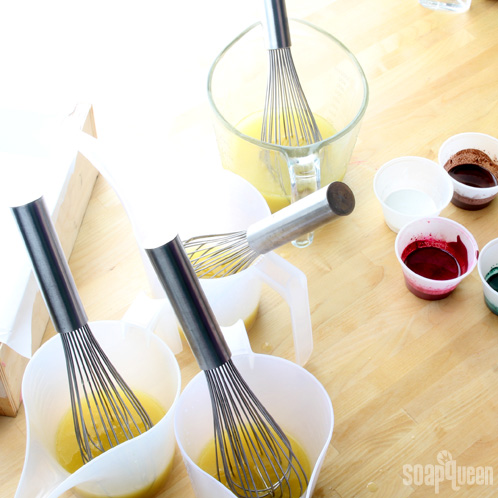 THREE: In the original container, add 2 teaspoons of dispersed Cappuccino Mica and 1 teaspoon of dispersed Dutch Cocoa Powder. Use a stick blender to get the batter to a thick trace — you want it to be firm enough to hold up the top two layers without breaking through. Add about .5 ounce of fragrance oil to the batter and mix well.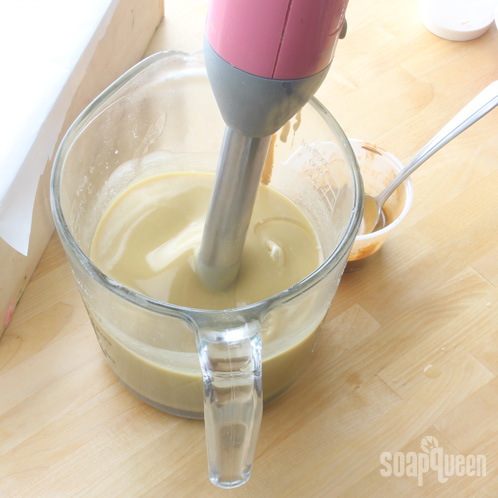 FOUR: Use a spatula to scrape all the batter into the mold. Tamp the mold on the table several times to disperse bubbles and ensure even and level coverage.
FIVE: Add about 1 ounce of fragrance oil to the large cup of uncolored batter. Mix well with a wire whisk or spatula.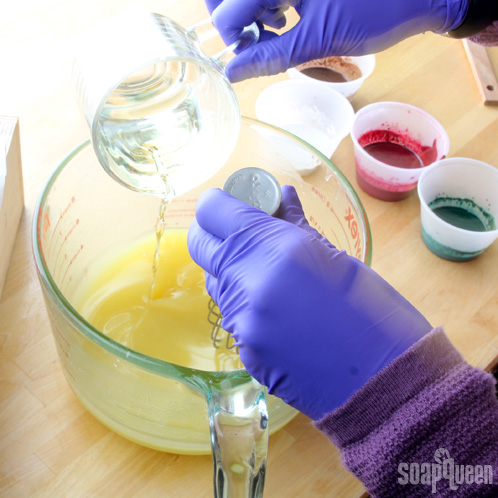 SIX: Add two teaspoons of dispersed Dutch Cocoa Powder, 1 teaspoon of dispersed Yellow Oxide and 1 teaspoon of dispersed Titanium Dioxide. Mix well with a wire whisk or spatula.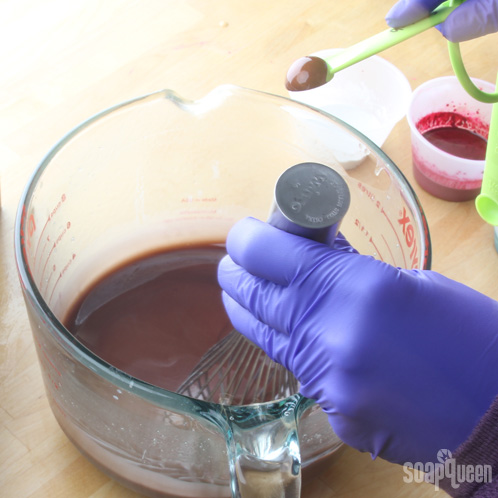 SEVEN: After the color and fragrance have been fully incorporated, carefully pour the dark batter over a spatula into the mold. This will help to keep the layers smooth and straight.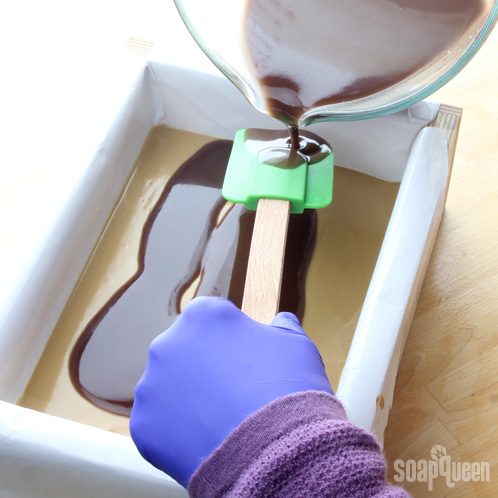 EIGHT: Add 1.5 teaspoons of dispersed Titanium Dioxide to one container of uncolored soap and 1.5 teaspoons dispersed Hydrated Chrome Green to another. In the last container, add 1.5 teaspoons dispersed Merlot Mica and 2 teaspoons dispersed Electric Bubblegum. Mix in the colorants from lightest to darkest with a wire whisk or spatula.
Add the remaining fragrance oil to the green and red cups of soap batter. Do not add any fragrance oil to the white container because it will discolor.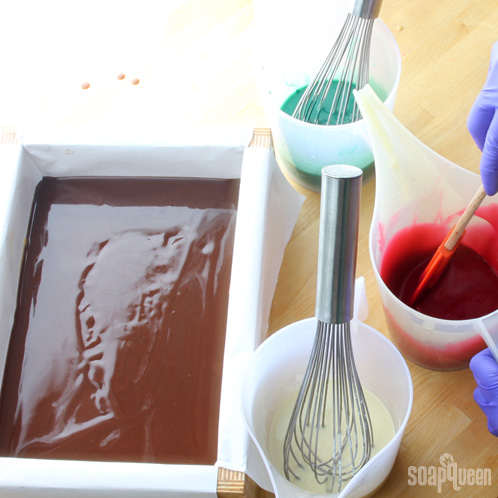 NINE: Pour each color one by one in a horizontal zig-zag pattern across the mold. Repeat the pattern until you've used all the batter in each cup.

TEN: Instert a chopstick or dowel 1/4 inch into the top of the soap, starting in the bottom left hand corner. Drag the tool through the soap in a vertical zig-zag until you reach the end of the mold.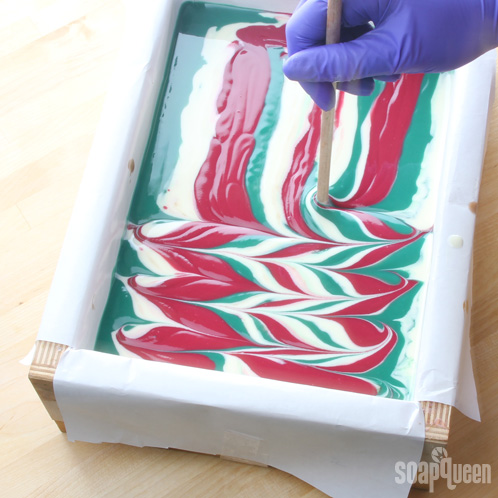 Bonus: Here is an Instagram video demonstrating the first part of the swirl (click the arrow to play).
ELEVEN: Beginning in the upper left hand corner, use the tool to make large, swooping loops through the soap, working your way across the mold. Once you end, make loops down the side and then loop your way back across the mold to the right. The idea is to achieve big swirls.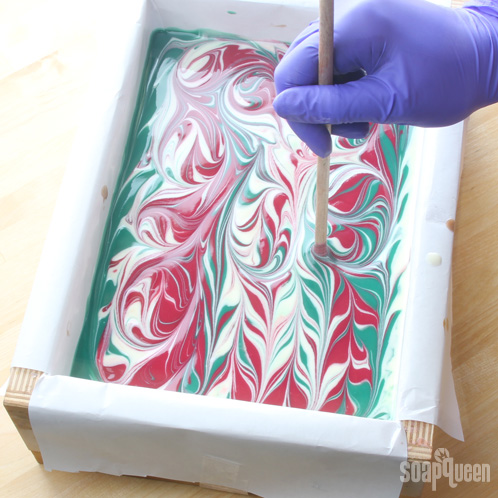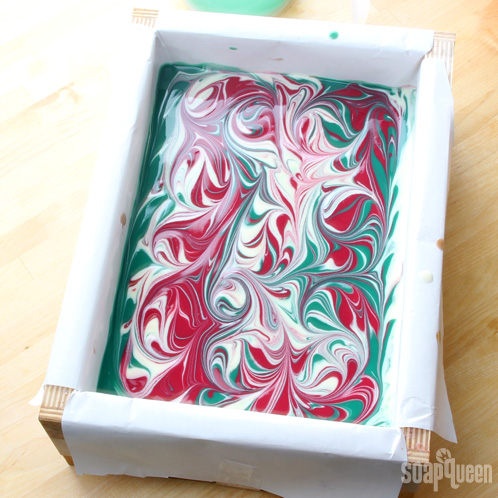 Allow the soap to sit for 5 – 7 days before unmolding. Keep in mind, the Chai Tea Cybilla Fragrance Oil WILL discolor the soap — it's an example of intentional discoloration (for another great example, check out this Black & Tan Beer Soap tutorial)! The colors will become much more muted than when they were first poured. Allow the soap to cure for 4 – 6 weeks and then cut. Cut the soap horizontally to emphasize the beautiful top swirls and enjoy!