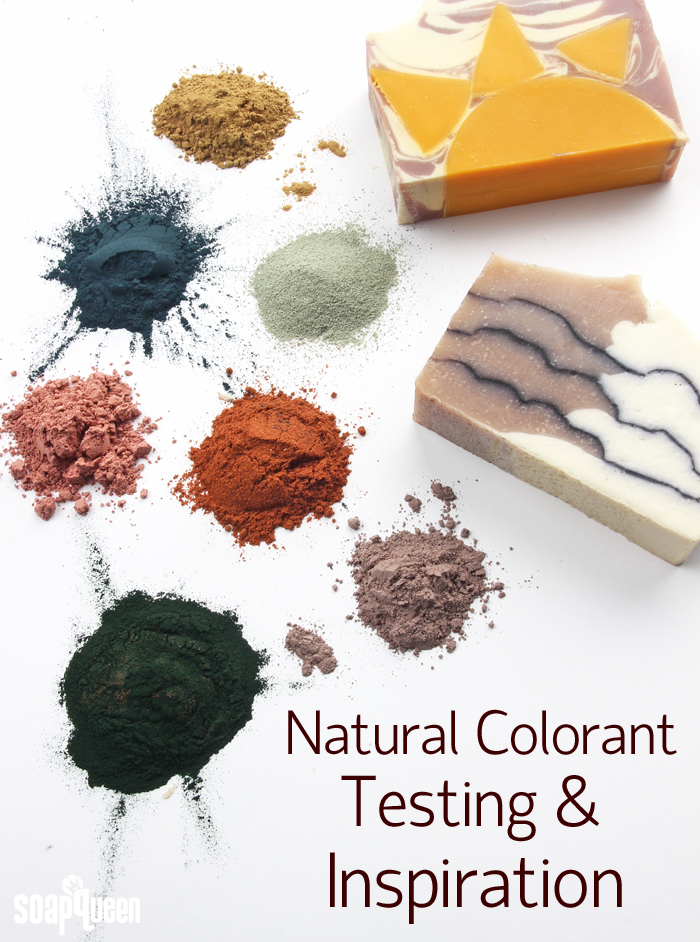 Adding color is one of my favorite parts of the soapmaking process. Color in soap can convey different places, scents, themes or moods. If you prefer to keep your soap as natural as possible, there are a wide variety of colorant options. Various clays, herbs, botanicals and powders can give soap surprisingly vibrant hues. If you'd like to browse natural colorant options, click here for clays and here for herbs and botanicals.
To demonstrate various natural colorants in cold process soap, I uploaded this photo onto Instagram. I was so blown away by the response (!).  Because of that excitement level on Instagram, I decided to do a more in-depth post about the process and usage rates. Check out the natural colorant tests below. Aren't they gorgeous? In particular I adore the way that rose clay, purple Brazilian clay and green zeolite clay look in cold process soap. I love working with natural colorants and ingredients in cold process soap so much, I wrote a whole book about it! My new book, Pure Soap Making, is available for pre-order now and only uses natural and nature-identical colorants (like pigments and oxides).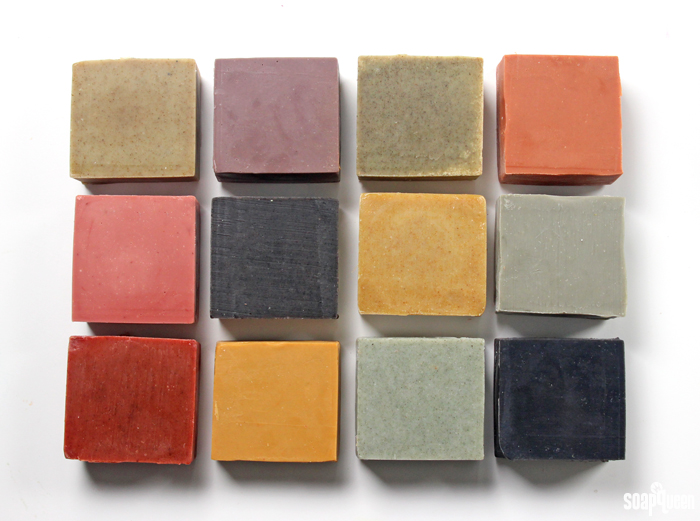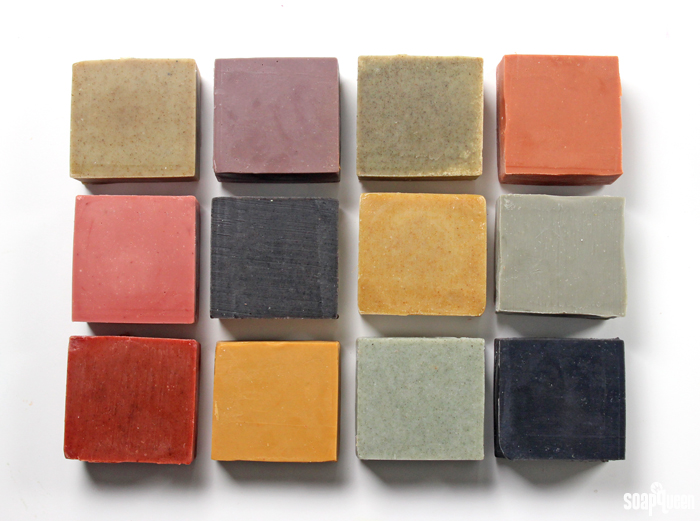 Top row, left to right: Olive Leaf Powder, Purple Brazilian Clay, Comfrey Leaf, Medium Red Brazilian Clay
Middle row, left to right: Rose Clay, Alkanet Root Powder, Orange Peel Powder, Sea Clay
Bottom row, left to right: Madder Root Powder, Yellow Brazilian Clay, Green Zeolite Clay, Indigo Powder
To test the colorants shown above, I used a basic recipe of 33% canola oil, 33% coconut oil and 33% palm oil. I chose not to use olive oil in these experiments to help keep my batter as white as possible. This way, the colors would not be affected by a yellowish tinted soap batter. I used a 3% superfat and scented them with peppermint essential oil 1st distill, for a nice clean scent. If you're curious, they were made in the 12 Cavity Square Silicone Mold. =)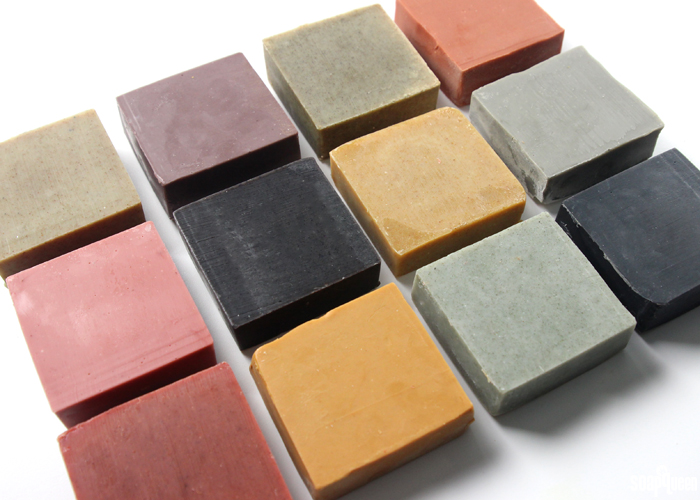 For these soaps, I first dispersed 1 tsp. of each colorant into 1 Tbs. canola oil. This helps work out any clumps beforehand, and allows the colorants to blend in easier. Then, I split the soap into 4 ounce portions. I added all of the dispersed color to each container of soap and poured it into the mold. Once poured into the mold, I isolated with a blanket and set on a heating pad for 30 minutes on high. This helped ensure that each soap went through gel phase. Gel phase makes colors look more vibrant. This is especially true for natural colorants! If you'd like to learn more about gel phase and how it affects colors in cold process soap, check out this blog post.
A great example of heat and natural colorants is in the Lavender & Lemongrass Hot Process Soap. This hot process project uses spirulina powder and green zeolite clay and is topped with lavender buds. The additional heat during the cooking process helps the natural colorants really pop!
If you'd like to get soaping with natural colorants, check out the tutorials below! In the Pink Clay & Primrose Hand-Milled Soap, pink Brazilian clay adds a soft rosy hue. The soap is then topped with rose petals for a beautiful touch. Dried flowers are also added to the top of the Juicy Orange & Sweet Rose Cold Process and the Marbled Clay Hot Process Soap. In the Natural Colorant Taiwan Swirl a combination of colorants including indigo powder and dark red Brazilian clay create gorgeous color contrast.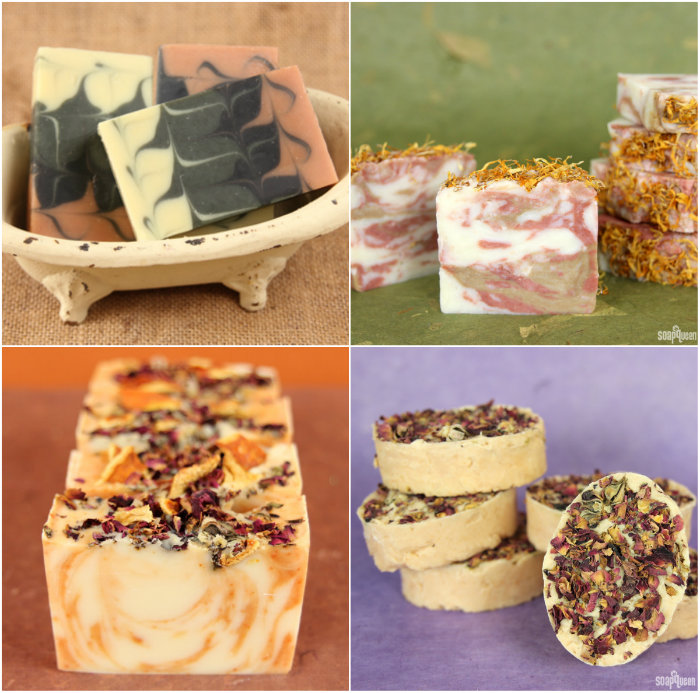 Top left, clockwise: Natural Colorant Taiwan Swirl, Marbled Clay Hot Process Soap, Pink Clay & Primrose Hand-Milled Soap, Juicy Orange & Sweet Rose Cold Process
Natural colorants aren't just for cold process soap. If you're looking to make other bath and body products, natural colorants are a great option. In the Lavender & Clay Mondo Bath Fizzy, pink and purple Brazilian clays are used to create layers within the bath fizzy. The Minty Clay Melt and Pour Bars use a combination of green zeolite clay and spirulina powder for a wonderful green hue. Natural colorants can also be used in scrubs, as shown in the Sea Clay Dry Salt Scrub tutorial.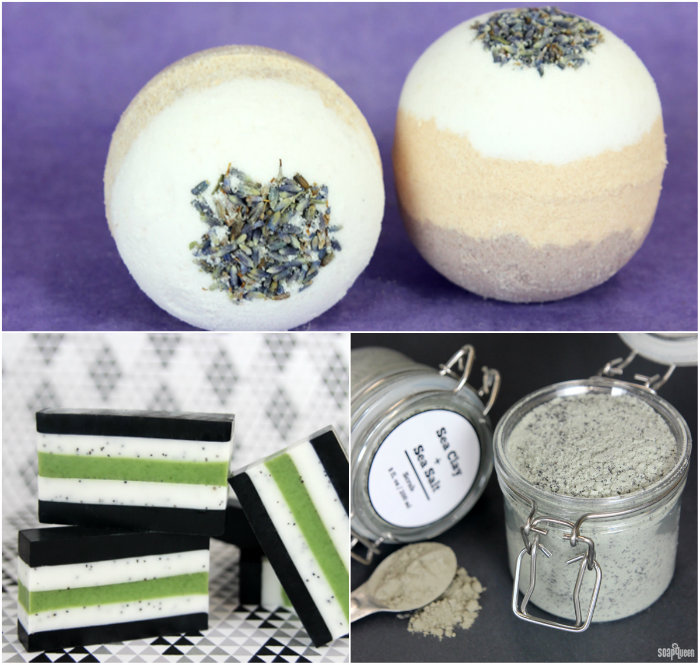 Top, clockwise: Lavender & Clay Mondo Bath Fizzy, Sea Clay Dry Salt Scrub, Minty Clay Melt and Pour Bars
What's your favorite ways to use natural colorants? Below are more blog posts with tips and tricks for using clays and other natural colorants in your projects!
Sunday Night Spotlight: Natural Colorants
Natural vs. Organic
Talk it Out Tuesday: Colorants
Make it Monday: #Natural Colorants
#Natural Colorants Winners!
Guest Post: Testing Natural Colorants in Cold Process