Yields:
About 2 pounds of soap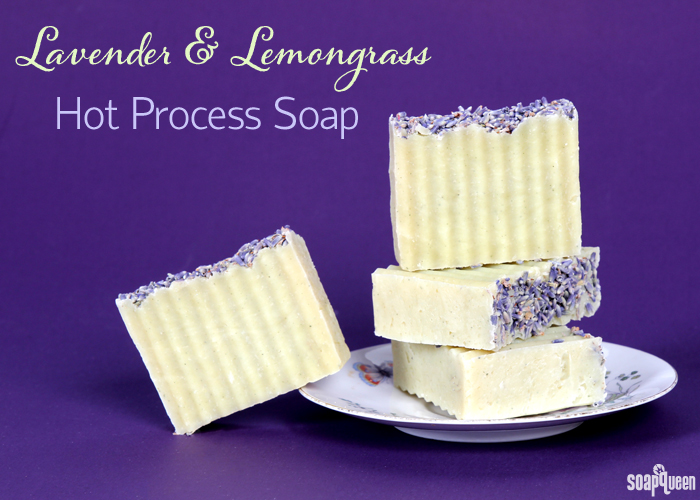 Hot process soap is a fantastic method to create homemade soap from scratch. Similar to cold process soaping in many ways, hot process involves "cooking" the soap which speeds up the saponification process. In this Soap Queen TV video, I demonstrate how to create natural Lavender & Lemongrass Hot Process Soap in the crock pot. The extra heat cuts down dramatically on wait time! Hot process soap is ready to unmold within 24 hours, and does not require the 4-6 week cure time. Personally, I still like to allow my hot process soaps to cure for about 2 weeks to allow excess water to evaporate and create a harder bar.
This hot process recipe uses a combination of Lavender 40/42 Essential Oil and Lemongrass Essential Oil for a blend that's both fresh and calming. The light green color is created with green zeolite clay and spirulina powder. Lavender buds are added to the top of the soap for a chic and rustic look. For a charming finishing touch, I used a crinkle cutter. To help avoid drag marks from the lavender buds, I recommend flipping the loaf upside down and cutting from the bottom.
What You'll Need:
2 lb Wood Loaf Mold
Silicone Liner for 2 lb Wood Mold
2.1 oz. Sweet Almond Oil (Note: In the video the amount of Sweet Almond Oil is 12.1, which is incorrect. I apologize for the confusion!)
1 oz. Avocado Butter
4.2 oz. Coconut Oil
8.4 oz. Olive Oil
4.2 oz. Palm Oil
1 oz. Shea Butter
2.9 oz. Sodium Hydroxide Lye
6.9 oz. Distilled Water
.6 oz. Sodium Lactate
Spirulina Powder
Green Zeolite Clay
Lavender Buds
.8 oz. Lemongrass Essential Oil
.6 oz. Lavender 40/42 Essential
Optional: Crinkle Cutter


Click here to add everything you need for this project to your Bramble Berry shopping cart!
Have you made hot process soap before? I love to use the hot process method when I need my soap quickly!