Remember when Amber did a guest post on the homemade Almond Milk (which also inspired a Blueberry Almond Smoothie and Strawberry Almond Thumprint Cookies)? She inspired us to make Almond Meal Soap with the leftover almond meal from her almond milk making. The almond milk byproduct of almond meal is a gentle exfoliant and a lovely way to get a little more cleaning power from your bar. The fragrance oil blend of chocolate and lavender is a gourmet candy like combination (think sophisticated foodie chocolate). Enjoy this luxurious recipe!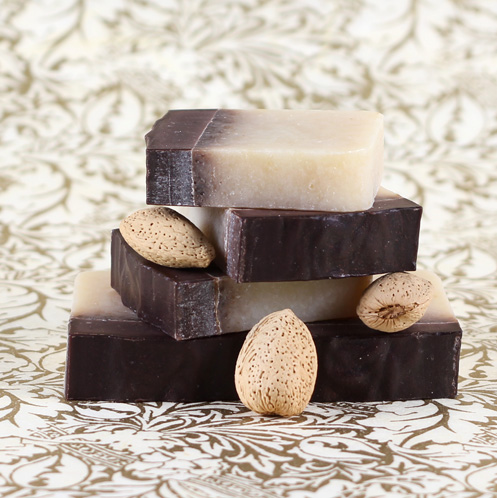 Ingredients
1.3 oz Castor Oil
5.7 oz Coconut Oil
8.8 oz Pomace Olive Oil
4.4 oz Palm Oil
1.7 oz Shea Oil
3.1 oz Lye
7.26 oz Distilled Water
Lavender and Herb Fragrance Oil
Dark Rich Chocolate Fragrance Oil
 Buy all of the ingredients you need for this project with the click of a button

Directions
If you have never made cold process soap before, I strongly suggest getting a couple of  basic recipes under your belt before diving in. Check out Soap Queen TV on Cold Process if you want to get started with cold process. It's a 4 part series that will take you through the basics (and be sure to watch the episode on Lye Safety). If you're a book worm, Bramble Berry also has some helpful reading on the cold process technique.
ONE: Suit up! Make sure you're wearing long sleeves, put on your goggles and gloves and make sure there are no small children or pets around. Carefully add the lye to the water (never the other way around!) and mix until the water is clear. Don't breathe in the lye fumes.  Set aside to cool.
TWO: Melt and mix the Coconut Oil, Palm Oil, Olive Oil, Shea Oil and Castor Oil. Slowly add the lye water to the oils, stick blending for about 10-15 seconds or until you reach a light trace. Not sure what trace is? Click here for the Soap Queen.Tv Cold Process video that shows trace.
THREE: Pour out a 1/2 cup of the soap batter into a separate container. Set the container aside for now. We'll be back to it soon.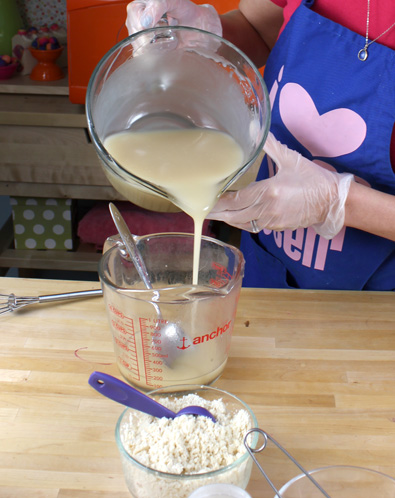 FOUR: Add 4 Tablespoons of the Almond Meal to the remaining soap batter and 1 ounce of Lavender and Herb Fragrance Oil. Give it a good mix with a stick blender until you have a nice thick trace. TIP: A thick trace is important since we're going to be pouring another layer on top. The soap needs to to be thick enough to support the next layer.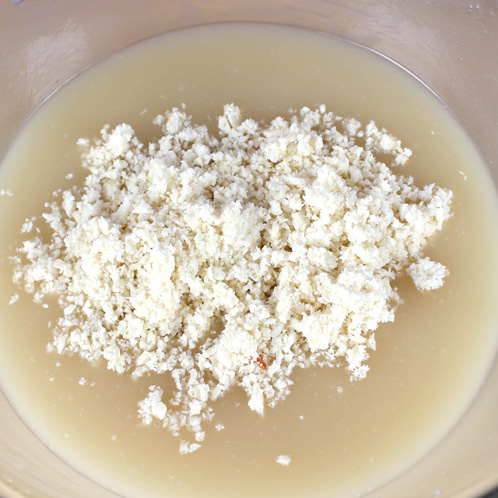 FIVE: Pour the almond meal soap batter into the lined, 2 pound mold.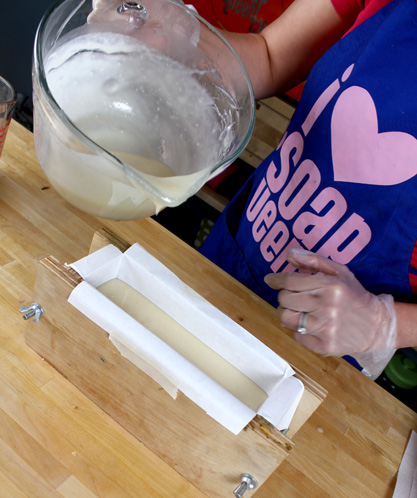 SIX: Make a vein in the finished soap using  a tea infuser.Fill your tea infuser with mica. Then, sprinkle a fine layer of Super Pearly White Mica (or mica of your choice) on the top layer of the soap batter by gently shaking your tea infuser. Sprinkle the mica as fine as you can. TIP: Too much mica in the vein may make your layers separate. If you accidentally sprinkle on too much, put your goggles on and blow the excess off. It's messy but it works.
SEVEN: Now getting back to the 1/2 cup of soap batter. Mix in 1/2 teaspoon of Cappuccino Mica and 1/3 of an ounce of Dark Rich Chocolate Fragrance Oil. Since there's so little soap batter to work with, a whisk will mix best!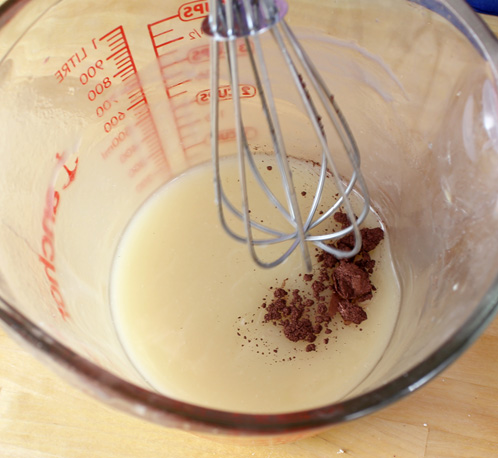 EIGHT: Pour the chocolate scented soap on top of the first layer of almond meal soap.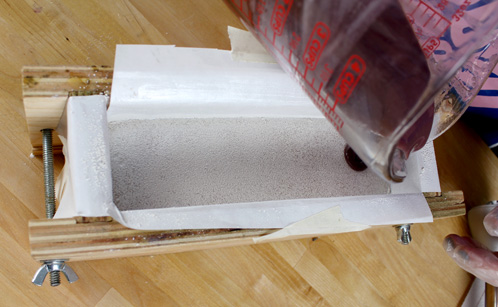 Optional: Since my trace was pretty thick, I saw the opportunity to make a curly circle design on top. But texture the top with any design that inspires you.

NINE: Let the soap cool for 24 hours and it's ready to cut!
TIP: To prevent the Chocolate fragrance from discoloring the base soap (like it did in my soap after a few months – see top photo versus the fresh soap loaf below) try mixing some Vanilla Color Stabilizer with the Dark, Rich Chocolate fragrance. It won't prevent the browning forever but it will help with it for a few months at least.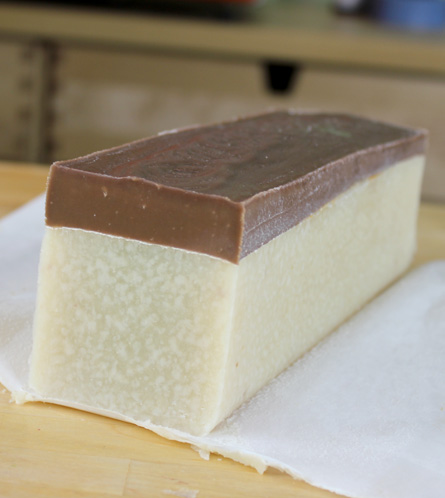 The texture the almond meal provides is really interesting. It helps to provide a unique mottled texture. And in the shower, it gives a nice gentle soft scrubbiness.