Did you ever have a batch that you just knew would be perfect … only, it wasn't? Sometimes, batches curdle, seize, separate or do otherwise strange things on us even when we think we've accounted for all of the variables in our cold process soap batch. Not to worry – your batch is not all lost. This post will show you how to save each of these formerly-ruined batches. This technique will work up to 24 hours after your batch has been ruined. If you check on your soap a day after you made it and found it's separated in the mold into an oily top layer and a goopy hard bottom layer, not to worry, this method will work for that too.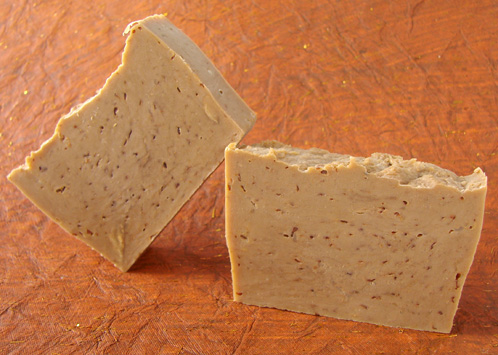 ONE: Wearing all of your safety equipment, pour your entire batch into a stainless steel pot. The lye in your soap is still present because saponification didn't quite work out the way we had planned on. Your pot must be 3X larger than the batch size. You need a lot of head space for this process.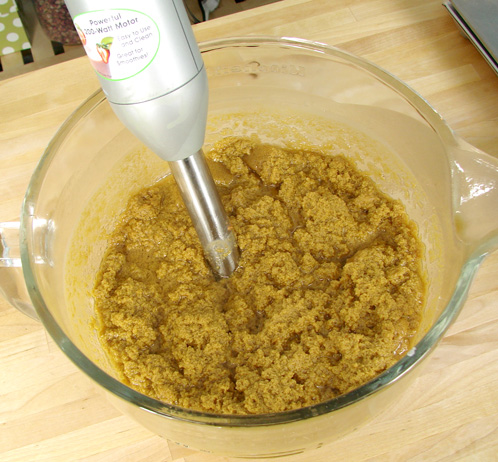 TWO: Put the pot onto the stove. Turn the stove onto medium.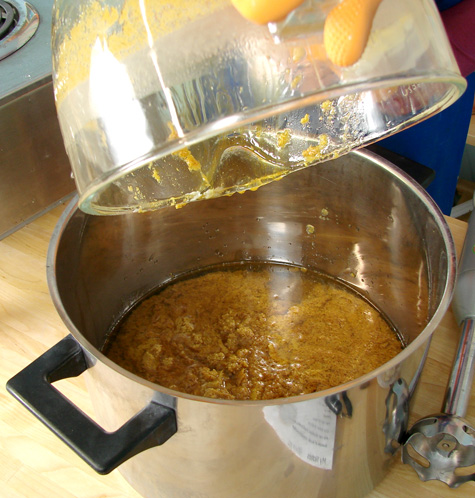 THREE: With your goggles on, start to stir your gloppy, blobby mess. It's okay if it's still in chunks. It will start to liquefy shortly. Keep stirring.
FOUR: If your soap starts to pop oil up at you, turn down the heat until the oil is no longer spitting at you from the pot. You want to stay as close to medium as possible.
FIVE: Keep stirring. The soap should start to fully liquefy and become an oatmeal like consistency, easily stirrable.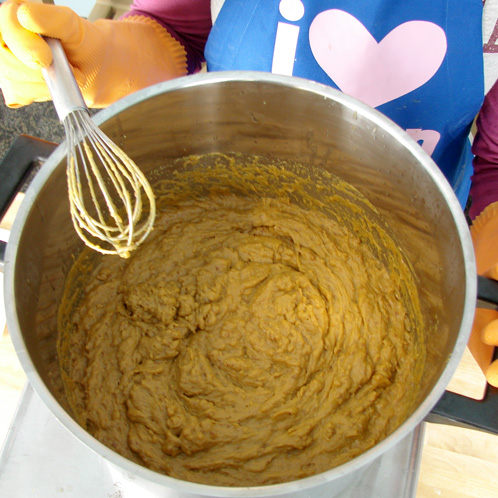 SIX: When the entire batch is fully consistent in texture and color (no oil leaking, no strange looking globby spots) and the batch is sticking together in the pot in a smooth and homogenous manner, you are ready to glop.
SEVEN: This soap is hot, hot, hot. Make sure that the mold you are pouring the soap into can withstand the heat. This plastic mold started to bow on me soon after I put the hot soap into the mold (note to self).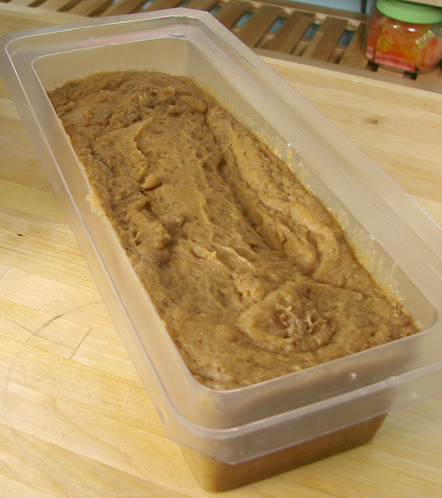 EIGHT:Let the soap cool for 24 hours and harden up. The soap is ready to use right away. You have literally cooked the pH down to a soap-level (around 9). If you let the soap sit for 4 to 6 weeks, it will become harder as it evaporates out its water. PS – The 'dots' in the soap are just oatmeal. The soap itself is perfect and totally usable now (as opposed to when it was a gloppy oily separated mess).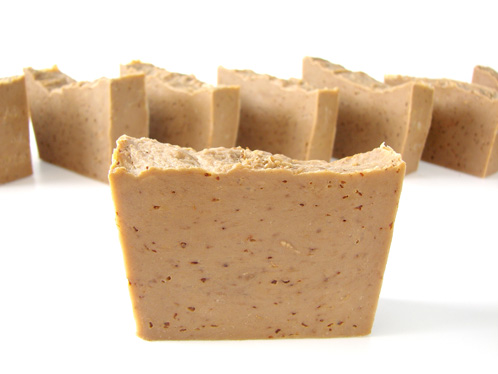 Now, was this the design you planned on?  Probably not but at least it's useable soap that you can give away, sell, or turn into a promotional bonus at your craft show booths. It's far better than (literally) throwing it all down the drain.