Another week has come to a close, and we started to catch the first glimpses of autumn (it rained for what felt like the first time in months). We rounded out our Soap Crafting-inspired tutorials this week with a citric-acid Shampoo Bar recipe. If you missed the other tutorials, you can check them out here, here and here. Speaking of Soap Crafting, we're planning something exciting at the end of this month (I may or may not be signing the book at a local bookshop in Bellingham *winkwink*). As usual, we had plenty of activity on planet Soapy Social Media, so take a look at a few of my favorite things from the past two weeks.
Pins: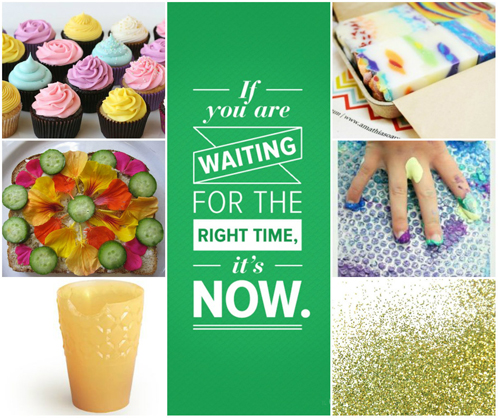 Top left: This is a great little primer on how to frost beautiful cupcakes. Bonus points: these tips apply to frosting soap cupcakes too!
Center left: This sandwich is so pretty that I would almost feel bad eating it. I love the idea of incorporating edible flowers into simple meals, and lately I've been trying my hand at growing some of my own.
Bottom left: You might have to do a double-take with this one — it's not just a glass, it's an edible glass! Better yet, it's made with ingredients that complement the drink itself.
Center: Some excellent advice to keep in mind each day. If I've learned one thing from being in business for 15+ years, it's that things don't happen if you sit around and wait for them.
Top right: I am so in love with this awesome rainbow soap by Amathia Soapworks. The soap in the front left was made with a cool leopard spot technique, and I tried my hand at it for week four of the Great Cakes Soapworks Challenge.
Center right: So letting a two year old go wild with finger paints may not be the best idea, but this touch painting project still looks like so much fun. It could be something fun to try on a sunny weekend afternoon (out in the garage, with plenty of newspaper down, as far away from the kitchen as possible, of course!).
Bottom right: Who doesn't love a bit of gold glitter to spice things up? I love mixing a bit of gold glitter with a clear nail polish base for a little pop of color.
Instagram:

Believe it or not, we're already thinking about Halloween. We worked on a very spooky eyeball-inspired soap this week.
More Soap Crafting awesome-ness! This is the Neon Swirl.
Even though it was sad to realize Fall is approaching, we got some much need rain in the Pacific Northwest this week. Jamisen couldn't wait to play outside in it!
Tweets: