Ever wanted some delicious and mouth-watering cookies but didn't want to feel unhealthy for eating half a dozen (or dread the inevitable sugar crash)? It's no secret that I love (love!) quinoa, so when trolling around on Healthy Blender Recipes I had to try the Chocolate Quinoa Cookies. These yummy little guys are stock full of delicious and healthy ingredients that are great for a late-afternoon power-snack, with just enough sweet goodness to place them square in the "treat" category. Plus, they're vegan and gluten free and work for a wide range of dietary lifestyles.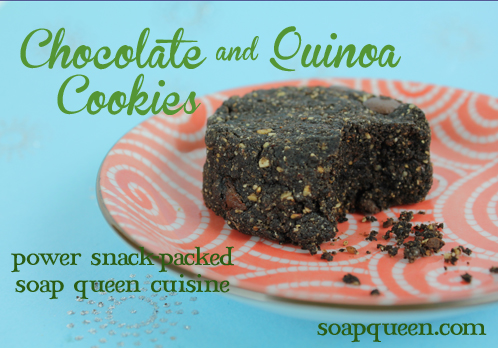 Ingredients:
2 flax/chia eggs (1 T flax meal + 1 T chia seeds + 6 T warm water)
1 cup blanched almonds (see note)
1 cup cooked quinoa
¾ tsp baking soda
¾ tsp salt
1/3 cup almond butter
1 Tbsp coconut oil
¼ cup apple sauce
¼ cup maple syrup
1 tsp vanilla
¾ cup vegan chocolate chips
Prep
Preheat oven to 350 degrees.
Line a baking sheet with parchment paper.
ONE:  In a small bowl combine flax meal (or ground flax seeds), chia seed and warm water. Whisk well and set aside.
In your food processor combine almonds and quinoa. Process for 1 minute, or until you have a fine meal. Add baking soda and salt and process until blended.
TWO: Heat a small saucepan to medium low and add almond butter and coconut oil. Cook until coconut oil and almond butter are melted, whisking occasionally. Add in apple sauce and maple syrup and whisk until heated through. Remove from heat and stir in vanilla and flax/chia egg.
THREE: Add the warm almond butter mixture to your food processor and process until a dough has formed.
Immediately add in the chocolate chips and process until chocolate is melted and blended, stopping to scrape down the sides as necessary.
FOUR: A this point, you can add a couple extra goodies if you'd like. I tossed in an additional mini-handful of vegan chocolate chips for just a bit more crunch (and double chocolate flavor, bonus!) but you could also try ½ cup chopped macadamia nuts or ½ cup dried unsweetened cherries for some variation.
FIVE: Roll the dough into small balls and flatten with your fingers. (You could also use a fork.) Bake for 12 to 15 minutes. Allow to cool for 5 minutes in the pan and then transfer to a wire rack to cool completely.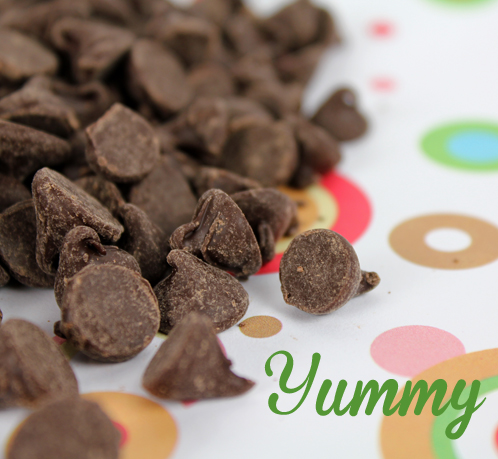 Note: To blanch whole almonds, boil water in a medium saucepan. Add almonds and cook for one minute. Drain and allow to cool slightly. Peel almonds. You may skip this step if desired.