I am obsessed (obsessed!) with Quinoa (pronouned "Keen-Wah"). It is a complete protein (amino score o 106), gluten-free, low-glycemic load (18) seed. One cup has 8 grams of protein. I use it in place of rice in many dishes and try to sneak it into a lot of other dishes, including pancakes! It's become a Faiola-Renoud family household tradition to cook up a huge batch of these on Sunday with a variety of fruits tossed in (tip: if you refrigerate your fruit, you can cut it finely using a food processor so you don't get fruit lumps in your pancakes). We're obsessed with blueberry-banana right now.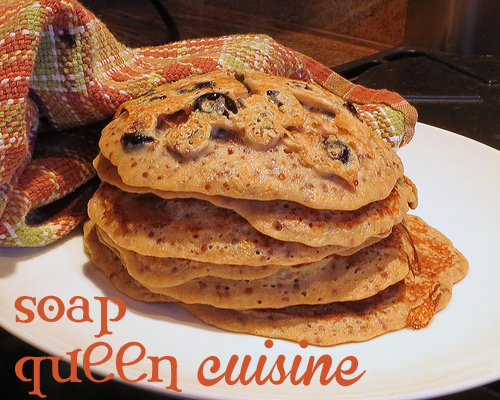 Banana Quinoa Spelt-Whole Wheat Pancakes
~inspired by Parents Magazine recipe Banana-Quinoa Waffles, June 2012 issue
1/2 cup water
1/4 cup quinoa
1 2/3 cup whole-wheat spelt flour (regular whole-wheat flour works if you can't find spelt flour)
1 tsp baking powder
1/4 tsp salt
2 mashed bananas
3 eggs, seperated
3 Tbs unsalted butter, melted
1 1/2 cups fat free milk, or almond or hemp milk (they all work)
(1) In a small saucepan, add the quinoa and water. Bring to a boil. Cover and reduce heat and simmer for 10 minutes until all the water is absorbed. Remove from heat and chill overnight (pssst: it's okay if you don't. The pancakes turn out if the quinoa has been cooled to room temp).
(2) In a large bowl, combine flour, baking powder, and salt. In a medium bowl, combine quinoa, banana, egg yolks (separate those egg whites now, peeps!), butter and milk. Stir in flour mixture.
(3) In another bowl, beat egg whites until stiff. Fold them into batter. This adds to the fluffiness of the final pancakes. If you're adding additional fruits, this is the time to do it.
(4) Turn on your stovetop burners. Ladle out a 3/4 full ladle of the batter. When the outsides of the pancake start to bubble and you see the bubbles start heading towards the middle, flip the pancake. They don't take long to cook.
(5) Cover the growing pancakes with a towel to keep them warm while you're baking the whole batch.
These taste delicious with absolutely NO syrup or jam (really, truly!). I eat them plain for breakfast on the go several times a week.
Someone is a fan! And with 176 calories and 7 grams of protein and 5 grams of fat per 2 small-medium pancakes, he should be. Healthy, delicious and full of fiber, this recipe is a win in our household. I hope it is in yours as well.