For every year we have been in business, Bramble Berry has donated a portion of our profits to local charitable organizations and non-profits (see our Social Responsibility Statement here). Last year for the first time ever we decided to bring our friends, blog readers and customers, in on the charitable contribution action with the start of Bramble Berry Athletic Club. 2012 was super fun (and successful) so a new team was an easy decision. We recently we announced BBAC's Sponsored Athletes for 2013. If you missed the announcement, check it out here.  Today we have an interview with one of last years team members, Patty Staniewicz, who ran a half marathon at Disney World (how fun!). You can also check out Patty's teammates' stories here: Andrea Edgar, Bonnie Garrity, Harmony Davis, and Kerri Kretzmeier.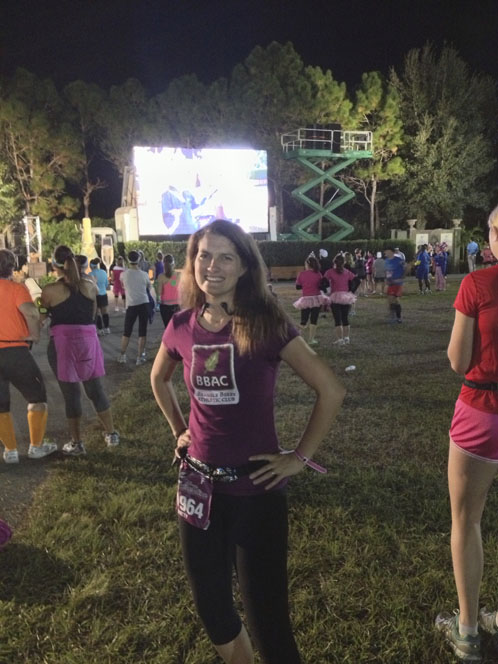 Soap Queen: What lead you to join the BBAC?
For starters you should know I don't consider myself a runner.  At this point you are probably wondering why I signed up for a half marathon.  Why not a 5K or a Sprint Triathlon?  For me completing a half marathon has been a bucket list item of mine for a number of years. It would probably still be on the list but this year was a bit different.  I turned 40, and  I also made this decision towards the end of my husband's year end deployment.  After a year of chasing the kids around it was time for me to find something that was just for me, something that was a luxury that benefited only me.  When you are young and free of responsibilities you have the time to accomplish these type of things, but for those of you with young children or frequently absent spouses you understand that often your dreams take a back seat for a few years.
With six months lead time and as a natural planner I was able to research training schedules and to schedule time to complete these runs in my calendar.  Unfortunately, I was only able to go for two 5K runs before the big event.  One of these was on a treadmill at our base gym and had at least a dozen interruptions for snack and bathroom breaks.  Going into this without preparation was probably not a good idea.  I had a few things going for me that made me comfortable to make the plunge.  The first is that I just really wanted to do this, even if it meant that I had to walk the last half, although I'd have to keep a 15 minute pace or risk getting escorted to the finish line.  The second item that gave me confidence is that I do a lot of cardio.  As a Zumba instructor I lead two classes a week of cardio dance for 60 minute intervals, and although it may use different muscles I felt confident that my heart and lungs would be strong enough to run.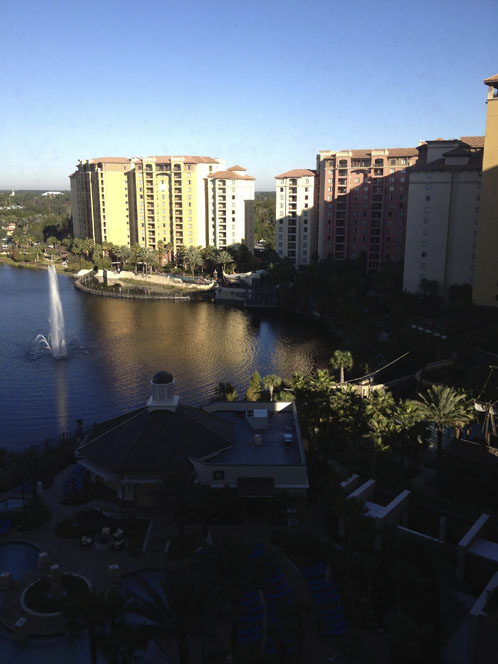 Soap Queen: Tell us about your event!
I've done a couple dozen fun runs through the years but nothing prepared me for a Run Disney event. As annual pass-holders to Disney World we are very fortunate to experience their customer service and showmanship on a regular basis.  As a regular to all four theme parks I've pushed a stroller along every pathway and seen every corner of every park. This event started at the ESPN Sports Complex. Similar to the Nike Campus in Portland, it has a collegiate feel and is a bit intimidating to walk through as everything is so big and amazing.  Picking up my bib and goodie bag at the race expo the morning of the race left me excited as it was a teaser for what was to come –an extremely well organized, friendly, and fun event with an after party in Epcot that went on until dawn. Disney runs apparently attract regulars. Those that like to dress up in character and that know how to have fun. You can sign up for the next race at a significant discount at the pre-race expo and all the vendors offer generous discounts on their products. Even some of the stores in the local Orlando outlets were offering discounts to those in town for the race event.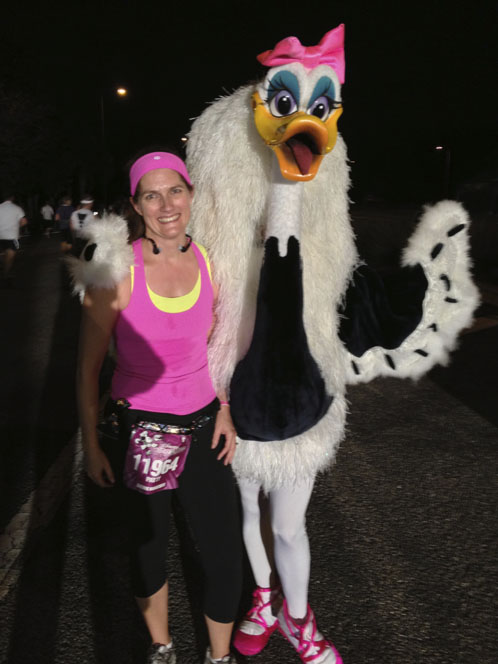 Along the race there was a band at each mile marker. Between mile markers were floats, music, and photo opportunities to pose with all your favorite characters. Running through the parks you were able to go behind the scenes. We ran through areas where the costumes are sewn and where the employees eat lunch. We saw the out of this world Philips light display in Hollywood Studios a few weeks before I expected to see Christmas decorations. This truly took my breath away. All around me everyone stopped running and talking and just stared. Cameras came out and we walked through the city backdrops in awe of the lights around us. It may sound impractical to fly to another city for an event but I would highly recommend a Run Disney event to anyone to experience at least once. Employees and volunteers who are all strangers were giving high fives and hugs. Their "go get em's" smiles and claps were genuine and made you feel like you were important and not just one of thousands.
This event was quite a bit different from any race I've been involved with. For starters it didn't start until 10:00 PM at night.  I've done some night bike rides in Portland but these were short and didn't take a lot of physical stamina. Completing a 13.1 mile run takes a bit more discipline.  Early on I realized a big issue for me was going to be pacing. I'd hoped to see individuals with signs saying "10" or "9" indicating they would be setting a pace for a 10 minute mile but after running a couple miles I realized I was on my own. And I forgot to wear a watch. At the event expo that morning there were hundreds of vendors.  Many selling handcrafted running accessories such as bib belts and skirts. I found a man who was wearing a green camouflage running skirt, who looked like an athlete. He stood out in the crowd even though the crowd was full of Christmas angels, fairies, Mickey's and Minnie's. Without having this man to chase I would not have made the time I made.  I started in the back 500 of a pack of 14,000 and somehow managed to pass 10,000 people. We never talked but played chase all night long. Now and then we'd lose each other after bathroom breaks but somehow I'd always find him again. As we reached the end of the race he came from behind and literally flew by me at a crazy fast sprint but he was a gentleman and found me after the race to shake my hand and to thank me for the good race.
On a side note I almost didn't make it to Orlando. Whether due to own personal shortcomings in my discipline in the training department or due to my husband's travel schedule. He travels quite frequently and I don't have anyone to leave the kids with overnight. After seven years of marriage I've learned to not buy concert tickets or plan anything more than 72 hours in advance. For this race I left a couple days early to enjoy Orlando and wasn't confident he'd even be back in town for the race. I hope for the best and usually things work out. A few hours before I was due to check-in for the event he arrived in Orlando and we were able to enjoy a nice dinner.  My six year old, Ava, tells me he fell asleep within minutes but she had the remote to the TV in the hotel and the snacks so the kids had a great time.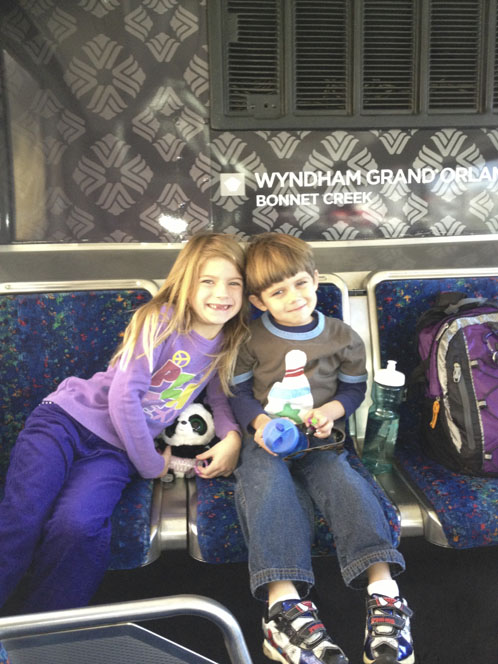 Soap Queen: Tell us a little bit more about your soaping!
I'm not a  big customer. I'm just a 40 year old Mom who prefers homemade beauty and cleaning products. Creating something amazing from scratch is something I've been able to do with my daughter. The lessons she is learning as we measure and mix, package, and ship are just as important as the lessons she is learning in first grade. She gets to use her creative side while also growing her reading, math, and science skills along the way.
Thank you for being a part of our BBAC team this last year, Patti! We enjoyed having you and were so happy you were able to reach your goal of running this marathon. A-M