I hope everyone had a fantastic Fourth of July with lots of friends, food and of course, fireworks. We just wrapped up our 4th of July Make It challenge, and we received a number of fantastic entries. The variety was incredible! We saw lip balms, bath fizzies, all kinds of soaps and even some patriotic nail polish. You can check out the winners here.
We've also added a new social media outlet to our quickly growing roster. Bramble Berry is now on Wanelo (which is a combination of "want," "need," love," — cute!) You can search for products, stores and even key words, and Wanelo aggregates results from all across the web. It's a great place for one stop shopping.
Here is the Soapy Social Media Roundup for this week.
Pins: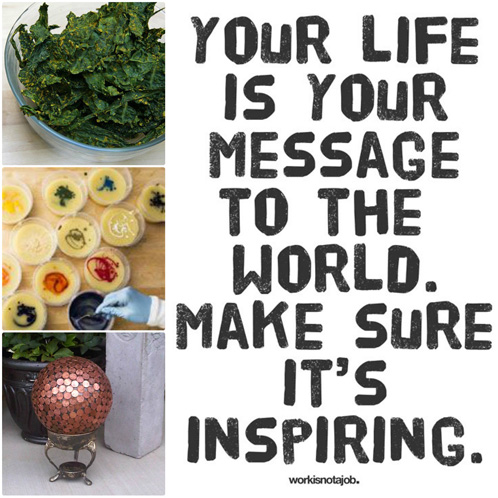 Top left: How awesome do these Curry Vegan Kale Chips look? They're the perfect alternative to regular potato chips at summer backyard barbecues.
Center: It's here it's here, it's finally here! If you couldn't tell, I am elated about the arrival of the advance copy of Soap Crafting. The book won't ship out until August, but you can pre-order a copy here. Our international friends can email sma(at)brambleberry(dot)com to request their copy.  Each pre-order comes with some awesome extras (two exclusive videos, two never-before-seen recipes and a complete guide to colorants — hint hint!), so don't miss out.
Bottom: This elegant penny ball serves two purposes — it looks great in your garden, and it also (supposedly, at least according to Pinterest) keeps slugs away. Whereas salt only dehydrates slugs,  the tiny amounts of copper in pennies repels them completely. It's a great way to keep those summer strawberries safe and sound.
Right: Something to keep in mind each and every day!
Vines and Instagrams:
Making the Mantra Swirl for the Great Cakes Soapworks Challenge club. We decided to go with high contrasting colors — black oxide, titanium dioxide and Fizzy Lemonade! The best part? It's scented with our brand new Cucumber Oak Fragrance Oil =)
And then everyone's favorite part, the reveal! I love the way this turned out.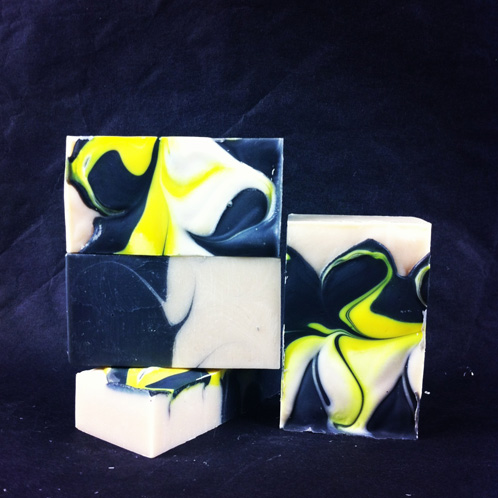 This is one we're calling the "Hawaiian Shirt" soap. Even if you can't take a Hawaiian summer vacation this year, you can still dream about a tropical paradise. Keep your eyes peeled for a tutorial on this one coming up soon. (Tip: this video doesn't play automatically, so be sure to click the start arrow!)

Looking for more Bramble Berry videos? Check out Vine and Instagram online. If you have the apps on your phone, my username is @BrambleBerry!
This is a thought-provoking blog post on how the age-old phrase "boys will be boys," can be problematic. Sometimes it takes a group of preschoolers to teach us all a valuable lesson about respect and compassion.
We all know exercise is important, but this article emphasizes how the type of exercise you do should be tailored to your health goals. Looking to control your weight? Go for a run. Trying to stave off heart disease? Walking reduces the risk of heart disease by nearly 9 percent!
If you have to give a big presentation at work, consider these tips to help hammer home your message. How you frame a topic can make it or break it.
With temperatures pushing 90 in Washington this week, these adorable ice eggs  were just the thing to cool off and have a little fun.
Our warehouse was closed yesterday and we have a skeleton staff today, but we'll be back running at full capacity catching up and fulfilling orders on Monday. I hope everyone enjoys the rest of the holiday weekend!