A Happy Fourth of July weekend to all! I hope that you are enjoyed a day full of beautiful sunshine,  healthy food and lots of fun with your family and friends. We had so much fun in the sun on the Fourth but alas, Jamisen did not see any of the fireworks since our tired little toddler was asleep by 8 p.m. (unlike his sister who stayed up until 1 a.m. crying). In the spirit of Independence Day, it is time to announce the winners of our Fourth of July Challenge. To see all the entries in this challenge, take a look at Bramble Berry's Make It: #4thofJuly Facebook album. Are you ready to find out who won? Let's have a soapy drum roll of excitement…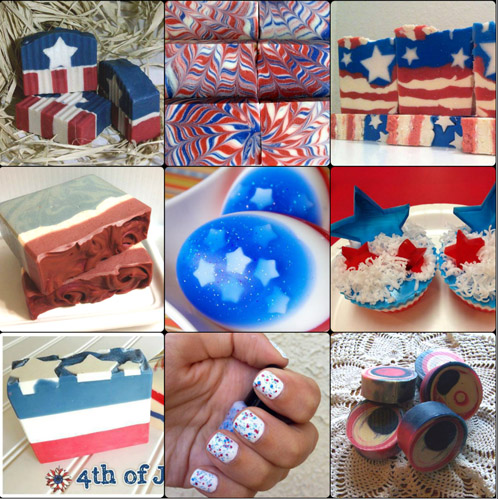 Top Row: Jill Cooper, Catherine Witt,  Tanya from Baby Duck Soap Co.
Middle Row: Timmy from Ivy Coreen, Ada from SoapMuchLove, Wendy LaJoy
Bottom Row: Holly from Missouri River Soap, Tina from TrueSkin, Janet Schreiner
Many thanks to all the incredible soapers who joined in on the Fourth of July Challenge. It was so inspiring to see all your entries (from nail polish to bath fizzies, soap and more!) and to see the creativity that you put into your creations.  Be sure to keep your eyes on the Soap Queen blog for new and exciting challenges. Do you have a full tutorial (+ pictures) to go with your entry? Submit your recipe to teachsoap(at)brambleberry(dot)com for a chance to win a $10 Bramble Berry Gift Certificate, click here for more details!