This week was yellow week for #SoaptheRainbow. Yellow is one of my favorite colors, it's so cheery and happy! Love yellow as much as I do? Check out the #SoaptheRainbow Yellow Week Inspiration post for project ideas.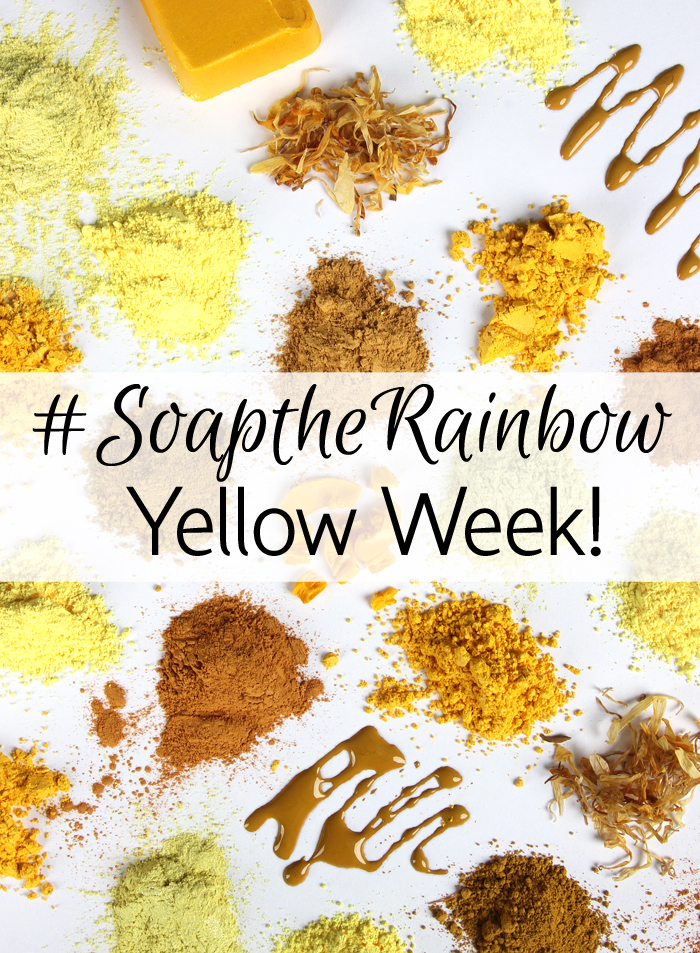 If you haven't heard of the #SoaptheRainbow series, each week represents a color. Starting tomorrow, we are focusing on green. Share your green photos on Instagram, Twitter and Facebook with the tag #SoaptheRainbow for a chance to win a $10 Bramble Berry gift certificate. In addition, a variety of colorants and fragrance oils are 25% off with the code: RAINSOAP. See the sale items here.
The first yellow project this week was the Sunshine Lotion Tutorial. Made with argan oil and sweet almond oil, the lotion is thick but feels light on the skin. Canary LabColor gives the lotion a light yellow color, while Sunflower Fragrance Oil and Southern Peach Fragrance Oil create a sunny scent. If you've never made lotion before and would like to learn the basics, check out this post.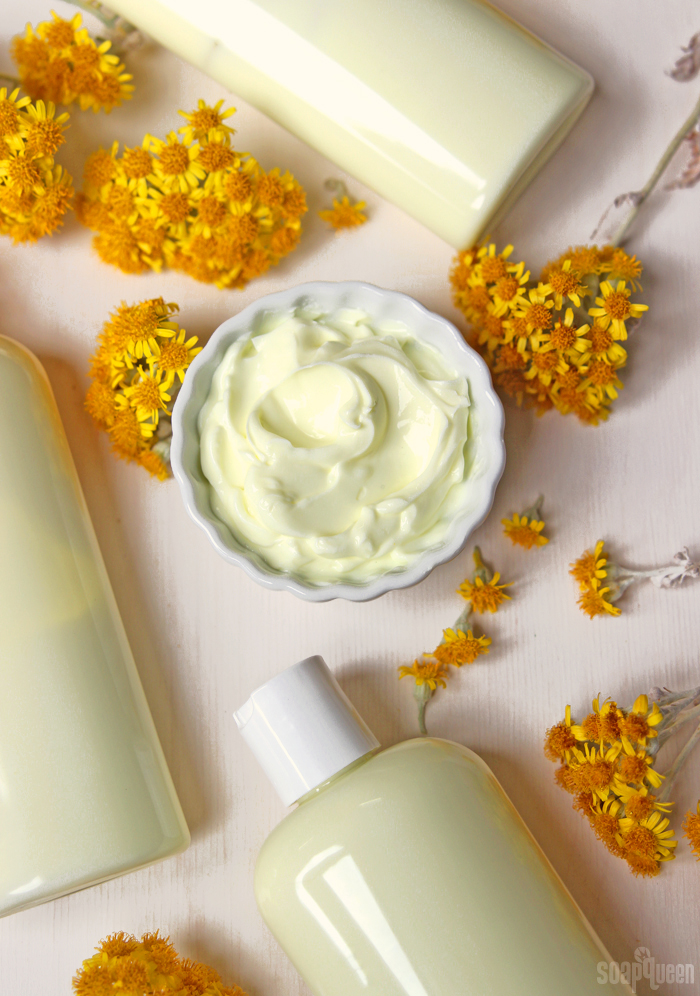 Amanda of Lovin Soap created two beautiful cold process soaps for yellow week. The first was a Natural Calendula and Yellow Brazilian Clay Soap. The Yellow Brazilian Clay gives the bottom layer a beautiful marigold hue. Amanda also created Lemon Verbena Yellow Plop Cold Process Soap, made with layers of Fizzy Lemonade Colorant, Yellow Oxide and Kings Gold Mica. I love how all these colors look together! See both tutorials on Amanda's blog.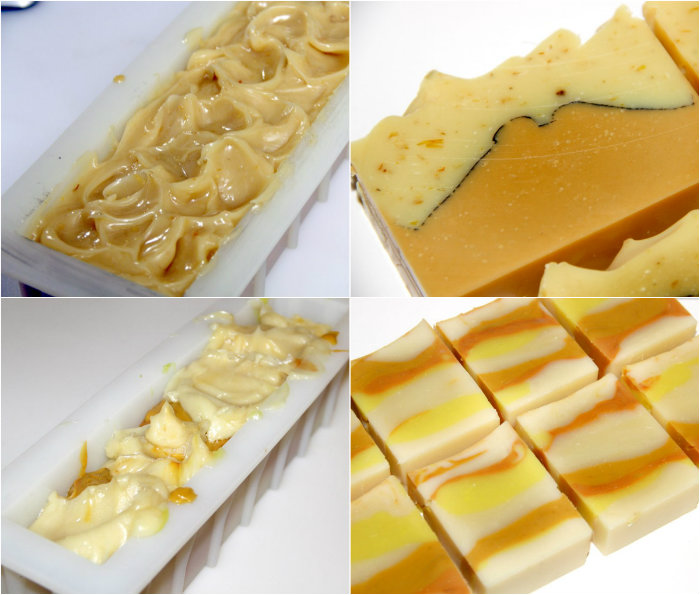 Top row: Natural Calendula and Yellow Brazilian Clay Soap. Bottom row: Lemon Verbena Yellow Plop Cold Process Soap.
Lemon is one of my favorite scents for yellow soap. A few years ago, I created Luscious Lemon Melt and Pour Cupcakes. They were such a hit, I created a cold process version. The Lemon Cold Process Soap Cupcakes feature a cold process soap base, cold process soap frosting, and melt and pour lemon embeds. It's scented with Lemon Verbena Yankee Type Fragrance Oil for a sweet and tart lemon scent.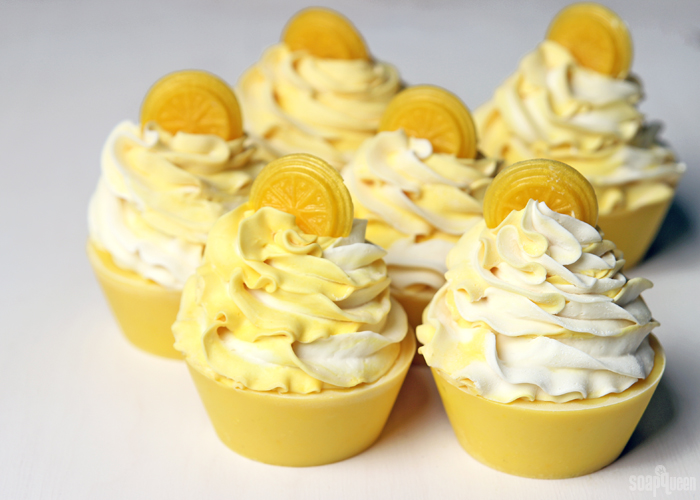 While this week focused on yellow, we took a break from the bright and cheery color to test black bath bombs. We tested two versions of bath bombs, one made with activated charcoal and one made with Liquid Black Iron Oxide. Curious about the results? Spoiler alert: they were messy! Click here to see how they behaved in the tub. To avoid the mess in the tub, crafters are using black gel food coloring. If you use this type of colorant, make sure it's safe for cosmetic use.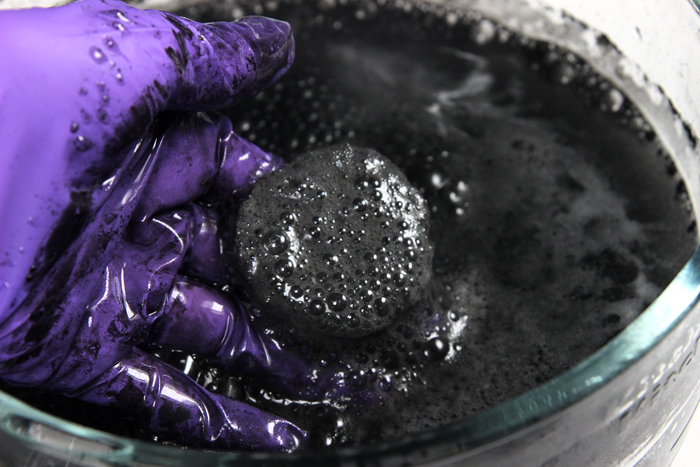 This week's Facebook Photo of the Week is this amazing Here Comes The Sun Soap by Roxane C. The sunshine embed is created with melt and pour, and the soap is scented with Sweet Meyer Lemon Fragrance Oil. I absolutely love the combinations of colors, it looks just like a sunset. Amazing job Roxane!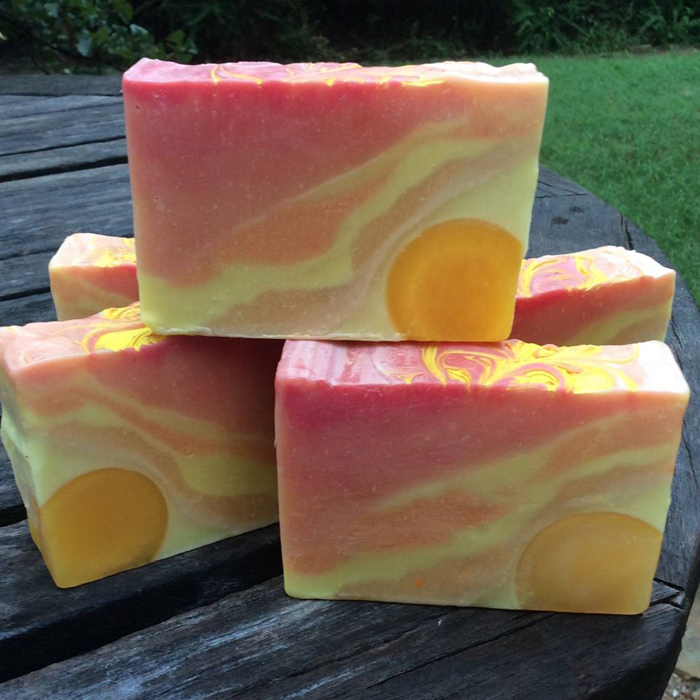 If you'd like to create your own sun inspired soap, check out the Sahara Sunset Cold Process Soap. When embedding melt and pour soap into cold process, I recommend using an LCP base. LCP stands for "Like Cold Process." LCP soap has little to no sweating, which makes it perfect for embeds.
This week's #SoaptheRainbow yellow winners are, top left clockwise: Lemon Poppy Soap by @batheingrace, Plantation Pineapple & Mint Soap by @begreatfulhandmade, The Bee's Knees Soap by @fierce_and_fancy_soap, Lemon Second Chance Soap by @honusharp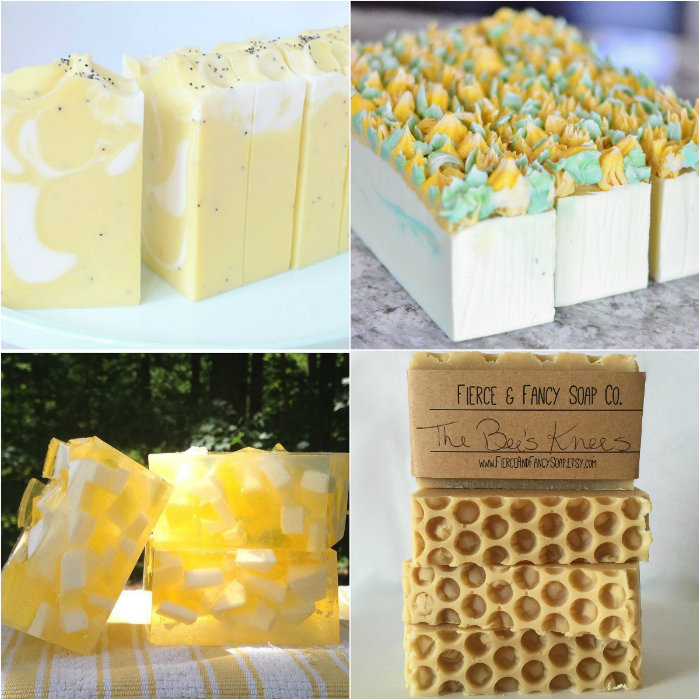 As part of our #SoaptheRainbow series, we are having a Grand Prize giveaway for a Soapmaker Super Sampler Business Kit worth more than $250! Read more about the #SoaptheRainbow series here. For a chance to win, all you have to do is join the Bramble Berry Newsletter via the Rafflecopter widget below. To sign up for the newsletter, you can sign in using your Facebook account, or you can manually enter the email address you'd like to use. If you're already signed into your Facebook account, the widget may automatically use the email associated with your account. If the widget didn't ask for your email, it's because you're already signed into Facebook. =)
After you sign up, you can earn extra bonus entries by completing tasks within the widget. These are completely optional, but the more you complete the better chances you have to win! The contest ends on August 9th at noon PST. The winner will be chosen randomly by the widget.
Post pictures of your crafty creations on the Facebook page each week for a chance to be featured on the Soap Queen blog and receive a sweet soapy package from Bramble Berry. Photos are chosen based on consensus from the Bramble Berry staff, so the best way to increase your chances of winning is to show us lots of photos!
For those of you who have been featured on the blog, we now have an official "Featured on the Soap Queen" badge! You can include that badge on your website, blog, pictures, etc. To save the badge, click here. =)