It's been more than a year since our last business post mash-up (wow, time sure does fly!) and over that year we have amassed a whole collection of business tips, inspirational ideas and insightful interviews with fellow soapers. We hope that this post will serve as a comprehensive resource of soapy inspiration to help power you through this busy craft season.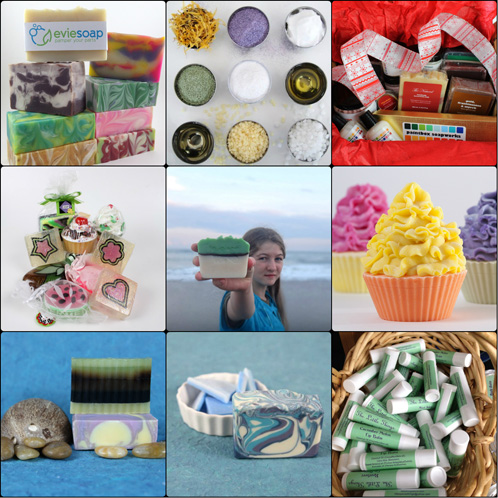 I love chatting with fellow business owners, and we had the opportunity to interview nine talented soapers this year. From cold process soapers to melt and pour experts to seasoned business owners to those who are just starting out, with these interviews you'll get a range of perspectives from soapers across the business spectrum.
Top Row: EvieSoap, Realize Beauty, & Paintbox Soapworks
Middle Row: Kokolele Soaps, Suds by the Sea, & Jennifer's Handmade Soaps
Bottom Row: Shaka Soap, Missouri River Soap & Little Things Store

Have you ever thought about starting a business or need help with some aspects of your social media plan? Check out the Bramble Business Series posts. You can learn about to Set up an Etsy Shop, Use A Twitter Handle, How to set up a WordPress Blog and How to Set Up A Facebook Business Page. Don't forget to check out the  Best Business Practices: Facebook post to learn more about the do's and don'ts of social media.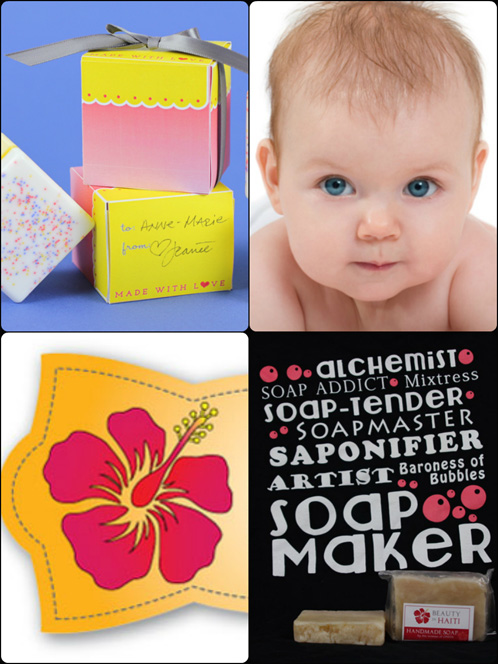 Top Row:  Finding your Niche & On Babies and Business
Bottom Row: Beauty in Haiti  & Thank you from Haiti
We've also had a few guest posts from soapers such as Amanda Griffin from Lovin' Soap about her trip to Haiti and her amazing new non-profit; Donna Maria from the Indie Business Network; and Jeanee Duval from Dirty Laundry. Jeanee was also our guest for two Soap Queen TV videos which you can watch here and here.
I've also been busy keeping up on some of the legal issues in the handmade industry and discussed the Product Labeling Change: Physical Address Petition that was filed earlier this year by the Handcrafted Soap & Cosmetic Guild. California also got a bit of press with a proposed Safer Consumer Product regulations, and Etsy updated their policies on cosmetics making claims.
Be sure to also check out these general business posts on everything from Bramble Berry's Palm Oil to How to Photograph Products and more.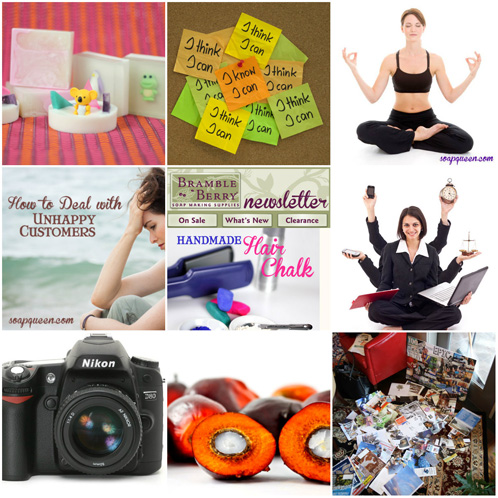 Top Row: Craft Show Tips Galore, Does It Get Easier?, Go with the Flow
Middle Row: Dealing with Unhappy Customers, Why a Newsletter is a Must, Switchtasking,
Bottom Row: How To Photograph Products, On Palm Oil, Visualizing Success
Want more business inspiration? Check out our previous business compilation posts: Business Management, Interviews & Inspiration and Marketing.
Do you have pressing business-related question? Let us know below!