Now that Anne-Marie has delivered her second child (congrats!), it's the perfect time to share some of my best tips to help you successfully combine motherhood and business.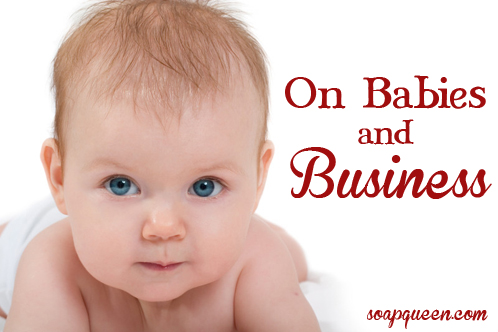 After 13 years in business, a husband and two children, I have learned a lot about this topic. I have done some things right and a lot of things wrong. I love coaching other moms to successfully integrate motherhood and business, without compromising either. Here are some tips to help you do that:
1. Get ready
OK, I'm going to hit hard on this first one, so get ready.
Like cancer, business is unforgiving. It does not care that you are a wife, a mother, a laid off worker, or a quadriplegic. Sure, you can leverage those things with your target customers. But generally, you don't get a break one way or the other because you are any of those things. The business you run is either profitable or not, and your task is to make sure it is the former. You have to work at least as hard as everyone else. You don't get a pass because you're a mom. I'm not saying these things to startle you. I'm saying them because they are true, and I want you to be prepared. Get ready to work harder than you ever imagined. if you do, it will be one of the greatest experiences of your life.
2. Get help
You are not superwoman. (Darnit!) You may be good at this or that, but you are not good at everything — and even if you are, you don't have time to do everything. Do the things you do best and in the least amount of time, and do them consistently. For everything else, get help.
It's important to be honest with yourself here. If you hate washing clothes, and when you do, you make yourself and everyone around you miserable, then find someone else to wash clothes. From the teen down the street to the partner you live with, someone else can wash the clothes so you can do things you enjoy (or at least don't hate as much), and which help you maintain the frame of mind you need to make your products and lead a profitable business.
3. Be honest with your children
Don't sugar coat having to work. Let your children know that you work, and tell them why you work. Help them understand that you enjoy what you do, and you have a life outside of them. Encourage them to embrace the fact that you are helping to support your family.
Let's face it, our children are not growing up in a world where traditional jobs will be plentiful. Use your business as an opportunity to teach them the tools they will need to own and manage a business so they don't have to rely on a traditional job to sustain them.
4. Rally non-business support
Make sure you have friends in your life who know next to nothing about your business. These people will help you remain well-rounded, and take breaks from the stress of entrepreneurship.
5. Rally business support
Make sure you have friends in your life who know a lot about your business. These people will help you do things like wrapping soap for the holiday rush, and fleshing out your next product line idea. Choose people you can trust, from industries inside and outside of your own.
6. Partner wisely
Select your spouse or life partner wisely. This is serious business for entrepreneurial ladies. If your partner does not understand the kind of late night hours and distracted business dream stares he or she will have to endure, you are heading for a difficult time. Among the things to look for are: (1) someone who has a life of his or her own, so they are vocationally fulfilled apart from you; and (2) someone who is not threatened by your success — big or small — and by the fact that you are creating income from an asset that you own and control. If your partner is threatened or intimated by your success, as sometimes happens, both of you will have to overcome some significant challenges. Keep a check on this one from the beginning.
7. Create convenience
Surround yourself with things that make your life easier. For example, don't grocery shop on a whim. Instead, shop once or twice a week, with a list. Plan meals in advance so you have everything you need to prepare them as quickly as possible. If you really want to go for convenience, hire a personal chef to prepare meals a few times a week. There are personal chefs in most areas these days, and their prices are often surprisingly reasonable.
8. Enjoy mini getaways
Take mini-breaks as often as you can. Mini-getaways can last anywhere from an afternoon to a day or two. Use them as times to refresh yourself and keep your creative juices flowing. Learn how to paint, take a cooking class, etc.
9. Enjoy major getaways
If you can, take some sort of vacation at least once a year, where you unplug as much as possible.
10. Build your platform
As you grow your business, remember that you can only see so far into the future. If you plan to have a business for most or all of your adult life, build a solid platform that will support you no matter what you decide to do in the future.
For example, my friend, Kayla Fioravanti, co-owned a cosmetics business with her husband for several years. Together, they grew it into a multi-million dollar empire. During this time, Kayla set up the company's blog and used it as a way to promote the business as she explored her passion for writing. By the time they sold the business, Kayla had honed her writing skills so well that she was able to transfer seamlessly from the cosmetics business to a business as an author.
Are you a mom considering starting a business of your own? Are you a mom who already has a business? Either way, we'd love to hear from you! What tips can you share? What do you think of the ones here?