Earlier this year we featured a guest post by Amanda Griffin about her trip to Haiti. Amanda runs the Lovin' Soap Blog, and it was inspiring to read about how she taught Haitian women to make soap and start the road to financial self-sufficiency.  We've been waiting to hear more and are delighted to get more inspiration from Amanda. Beauty in Haiti, the name of her original project, has grown into the Lovin' Soap Project, which is focused on creating female business leaders, educating girls and saving children's' lives from preventable diseases by making soap more available in their communities. The Lovin' Soap Project is currently working on receiving 501(c)(3) status.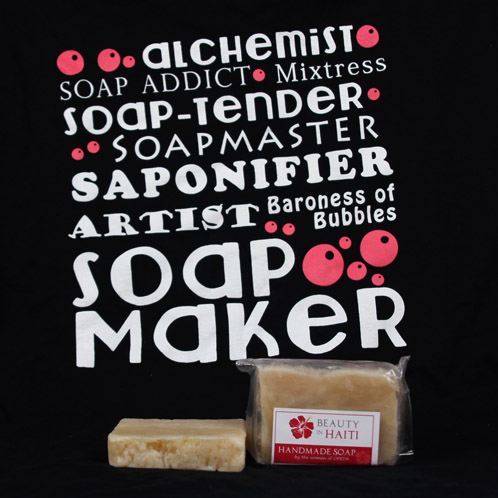 The Lovin' Soap Project's project mission is simple: empower women by giving them the tools to earn their own income. The journey began for Amanda in January 2013, when she took her first trip to Haiti and taught 30 women how make soap. When Amanda realized that soapmaking was a viable way for the women to make money to support themselves and their families, the project took off. Since the first trip, Amanda has returned to Haiti several times to teach more workshops and lead more women out of poverty and into running their own self-sustaining business.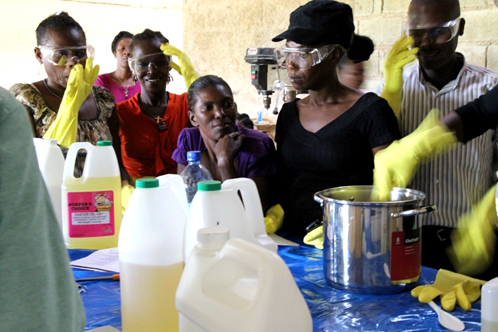 The project is built on the Buy One Teach One model. With this model, every bar of soap purchased means the organization teaches a woman how to make soap and build a micro-business (similar to the Kiva model–  which happens to be one of my favorite micro-lending organizations). Each one of these workshops comes with enough soap supplies to learn and begin producing. Bramble Berry is proud to have sponsored multiple workshops, providing most of the ingredients and tools (you can see our silicone molds below!) to get started.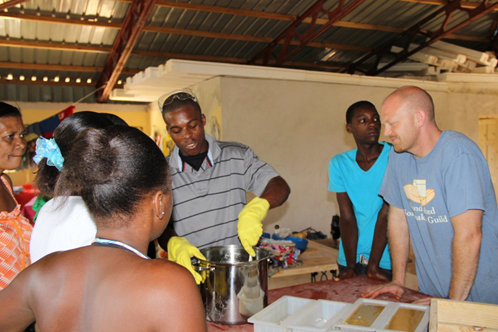 In addition, Lovin' Soap provides follow up and support until the business is handed-off to the women who then run the business independently.  This model follows the logic of giving women a hand up instead of a hand out, and encourages independence, fosters a sense of dignity, creates a legacy mothers can pass onto their children and best of all, offers families a way out of poverty.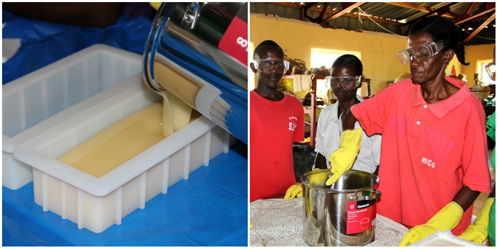 The Lovin' Soap Project is not in this journey alone. They work closely with the OFEDA (Organisation des Femmes Devouees en Action) and HAPI – (Haitian Artisans for Peace International), two co-operative groups of women based in Haiti. OFEDA was founded after Haiti's devastating earthquake in January 2010 by a group of Haitian women. However instead of using soapmaking as a way out of poverty, OFEDA group focuses on creating beautiful, handmade greeting cards. You can learn more about their organization here.
HAPI is a group of artisans working towards earning a just and fair wage. A majority of them have no regular incomes because jobs are not available in a region where bartering is the major form of commerce. This group helps to provide safe, healthy and fair working conditions for artisans, and you can learn more about them here.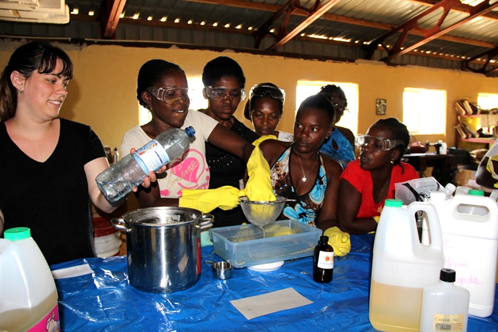 As an independent business woman, I fully believe that self-employment is the way to go for a lifetime of rewards (not just financial). Amanda's group combines my love of teaching and soap in a way that everyone can participate. I highly suggest clicking on the links to help support this group as they continue to teach women and girls around the world. To get involved with Lovin' Soap or learn more about the project, visit their website.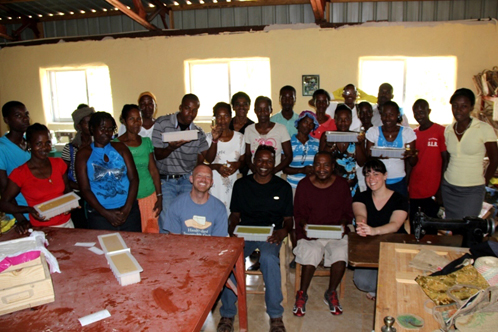 All photos courtesy of Amanda Griffin/Lovin' Soap Project.