I recently got an email from a long time customer. After I answered it, I realized that many more people would have the same question so I'm answering it for everyone below:
Lately my business has really exploded. I am nearing a thousand orders this month alone. With that amount of orders being turned around in a short time, and it being just myself, and my husband when he can, processing these orders, there have been a few mistakes. We check and double check, but it does happen. There have also been a few people not happy with what they receive.
I always bend over backwards to fix the issue, but it feels sometimes like I am being taken advantage of. If I missed something in the order, I send out a replacement, if I sent the wrong product, they keep it and I send out the correct one. If they have been unhappy due to a perceived problem, I replace, exchange, or refund. I don't accept returns in general as I don't want products coming back when people don't like scent, color, etc. Who knows if they are used and I don't want to take chances returns being mixed up with new products.
How do you deal with unhappy customers? Especially when it feels like you (or your product, or your business methods, etc) are being attacked. Right now everything feels so personal, and that is hard to deal with.
So, I really could use some advice as I am felling pretty down right now.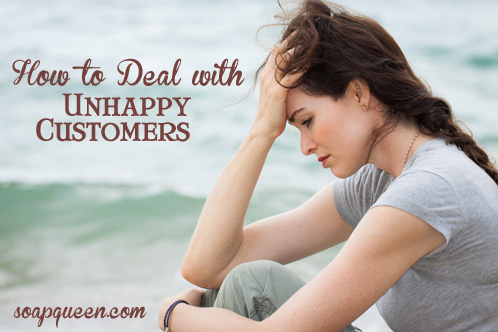 Well, first of all, I'm not surprised you're feeling badly because it IS personal. After all, if you're a one or two person shop, your business is your baby. You've designed every aspect of it. You packed the order that's being complained about. You took the order. You made the products. You stayed up late multiple nights in a row to try to meet everyones' needs. And you're probably pretty overworked and feeling the stress and strain of a growing business. Late nights, cash flow stress, and confronting new situations does not make for very rational, non-emotional thinking. Don't worry; I've been there. I'm there more often than I care to admit. And, like you, I've been there, done that. I've grown a business from my kitchen, bootstrapped it on credit cards to where Bramble Berry is today with over 50 employees – and even with that growth, complaints do still feel personal. After all, you know you're working as hard as you can to help out, do the right thing and take care of your customers.
So, why don't your customers see that? Why do they callously say things like (just a couple of the written complaints in the last month to me) "You should take some of those profits from all that extra business and just hire more workers?" or "You don't deserve a day off until you're caught up with orders?"  Why don't they thank you for working so dang hard and giving up so dang much to be self employed, trying to serve their needs? The reality is, those customers are having their own stresses and their own situations to deal with. They're stressed about their jobs, their kids, their car, their bills and any number of things so when your order arrives and it's wrong, it's the last straw. They're probably getting it at the end of their workday, they're tired, they have to deal with dinner and on top of that, they have to deal with contacting you about a problem with their order. It's enough to make anyone angry – or at least, certainly peeved enough to toss off a mean email or two to you before they start dinner.
How to cope:
(1) Breathe. Take a deep breath. If need be, take a short walk around the block.
(2) Look at your policies. What? You don't have policies yet? This is precisely the reason to have them – so you can look at the situation and calmly point to the correct response (because, it's been thought out ahead of time, without rancor, malice or emotion). But say you do have policies, did you follow them? Was there anything else you needed to do? If the customer is angry, obviously something isn't working about the policy. Are they simply being over the top or do your policies need adjusting?
(3) Talk it out. Call your friend. Call your husband. Post to a forum (SoapDishForum or TeachSoap.com/Forum) and get feedback.
(4) Write your basic response to the customer. DO NOT send it. You will be sitting on this response for a few hours. Ensure it includes the following:
(a) I'm sorry. (Saying 'I'm sorry' is free.)
(b) Acknowledge their pain, your mistake.
(c) Explain what you CAN do. Do not focus on what you cannot do.
(d) Use the word 'fair.' Example: Does this seem fair to you? What seems fair to you? What would be fair in this situation? (You will never get someone that asks for their entire order for free. Okay, that's a lie. We do get that but it's rare.)
(e) End with an acknowledgement (again) of their feelings, your mistake and your sincere apology.
(f) Add a PS that says something like "Even with my mistake, I hope you loved your products. Thank you so much for ordering from us. It means the world to our small company." Or, something along those lines.
(5) Go do something else, preferably working out, or packing boxes with a great book on tape from Audible.com on there, or your favorite upbeat music. Anything that keeps your hands busy and your subconscious processing your feelings.
(6) After an hour or two, re-read your note. Is it genuine? Is it sincere? It is? Good! Hit 'Send.' Try not to hit 'Send/Receive' compulsively until the response comes back.
The reality is that you will not please 100% of the people you ship to 100% of the time. You are human. I am human. We make mistakes. The key is in the recovery. Can you salvage the situation with the customer without losing your soul and your sanity? And keeping your sanity involves letting go of always being perfect, remembering the 'why' you're in business for yourself and moving on. It's a hard pill to swallow – recognizing that some people will not be happy with you no matter what – and it's necessary for you to do to maintain your equilibrium.
Now, go pour yourself a bath, grab a great book and relax for 30 minutes. You deserve it.