It's a very special Facebook Photo of the Week because today we're celebrating one year of featuring your Facebook photos on the Soap Queen Blog. We're delighted each week by the dozens of photos we see, and I'm so happy to be surrounded by such creative soapers and crafters. We wanted to take a chance to look back at some of our favorite Photos of the Week and share them with you.
Do you have any favorites from this past year? Be sure to leave a comment below with one that has inspired your soapmaking! If you have missed some of the past photos, you can see them all in the archives here. Scroll on to see 12 months of incredible photos!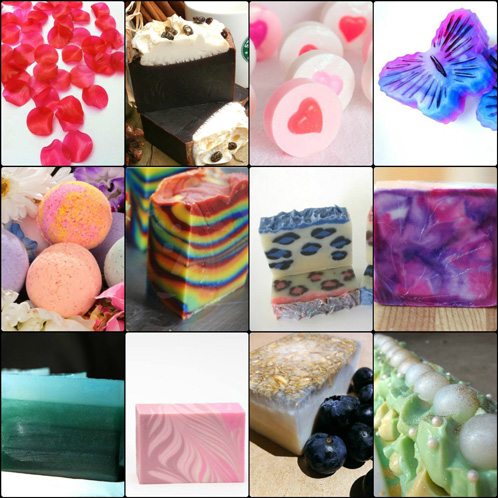 Top Row: Kiku's Creations (November 2012), The Enchanted Bath (December 2012), Monument Soapworks (January 2013), Bubblina's Soap Boutique (February 2013)
Middle Row: Simply Sisters (March 2013), Amathia Soapworks (April 2013), Bearprint Soaps (May 2013), Lainie's Menagerie (June 2013)
Bottom Row: Green Apple Soaps & Sundries (July 2013), Backwater Beauty (August 2013), London Suds (September 2013), Royalty Soaps (October 2013)
As an added bonus, this we're choosing not one but three Facebook Photo of the Week winners. Each of these soapers brings their amazing talents and soapy skills to our community on Bramble Berry's Facebook, and we wanted to share some of their fun soaps with you. Take a look below to see who we are featuring this week.
Feature #1: Cheery Cherry Blossoms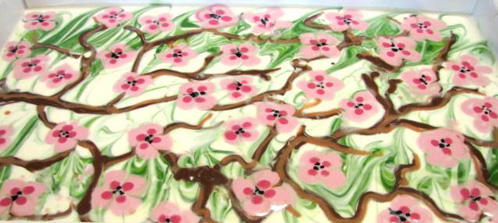 This week's photo comes to us from Vickie at Udder Indulegences. I've been a huge fan of Vicki's work ever since she started posting on Bramble Berry's Facebook page. Her floral designs caught my eye and this winning photo paired well with the Cherry Blossom Fragrance Oil she used. Be sure to check her other soaps out below, including the cut version of the soap above!
Vickie's Website: Udder Indulegences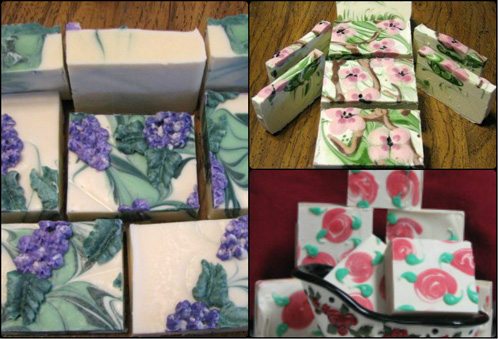 Feature #2: Vibrant Rainbow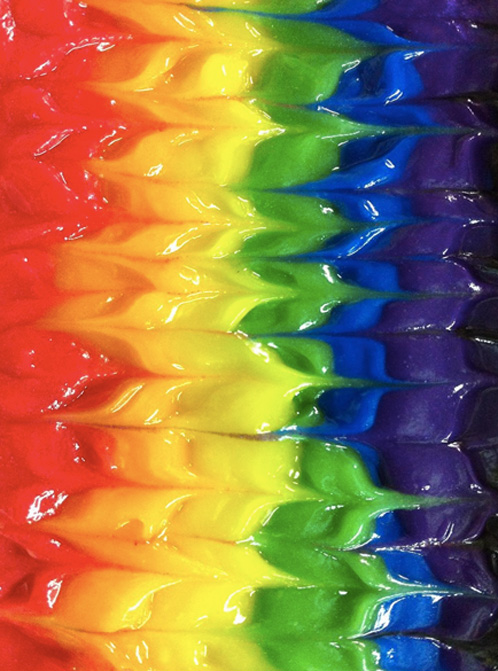 Our next winner comes from Tonya at Soap Cafe.  I can't get enough of the bright colors and eye-popping design. She told us that it was an In-The-Pot-Swirl using Lavender and Smoky Patchouli Fragrance Oils. Be sure to check out her fun soaps and nail polish below.
Tonya's Website: Soap Cafe
Tonya's Blog: Soap Cafe
Tonya's Facebook Page: Soap Cafe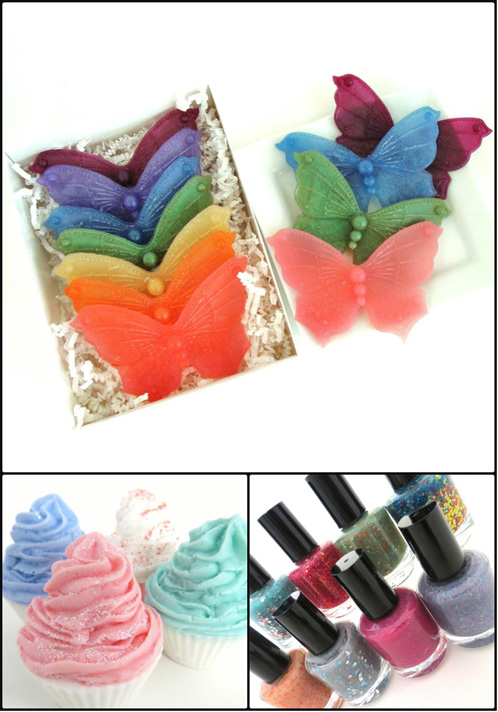 Feature #3: Unicorn Magic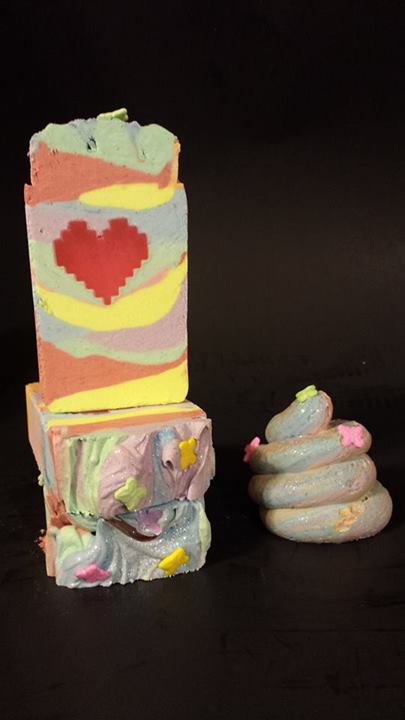 The last soapy winner comes to us from Sabine Milby, owner of Soap Star. Sabine has been a part of our Facebook community for more than a year, and I am always so excited to see her stellar creations. This is her whipped soap as well as her version of the ever popular Unicorn Poop soap scented in Mango and Kumquat (a fabulous blend!).
Sabine's Facebook Page: Soap Star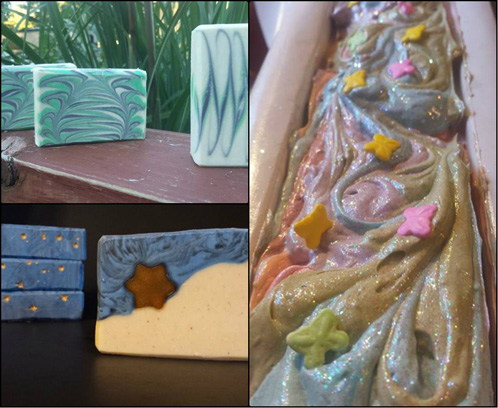 Thank you to everyone who continues to be a part of our amazing and supportive part of soap making community. I look to seeing your designs everyday. To have a chance of yours being featured on the Soap Queen blog, be sure to share your photos of your bath & body products with us on Bramble Berry's Facebook page. Have a wonderful weekend everyone! =)