It's a fabulous Friday again and that can only mean one thing — Facebook Photo of the Week. There were so many creative bath and body creations that were shared on Bramble Berry's Facebook page this week that it was hard to choose a favorite. I loved seeing all the different interpretations of the Leopard Print soaps and if you missed the quick Vine Videos I did, you can check them out here and here. Are you ready for the winner for this week? Check out the beautiful soap below!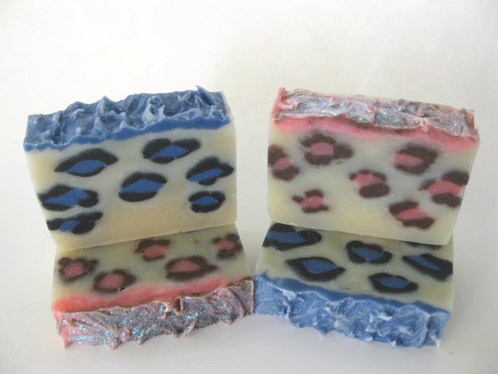 This week's beautiful Facebook Photo of the Week comes to us from Margo of Bearprint Soaps. This little gem was one that Margo created for the Leopard Print Cold Process challenge at Great Cakes Soapworks  (I'm inspired by all the designs coming out of these challenges; thanks Amy!).  She told us that the beautiful blue one was for the boys and the pretty pink one was for the girls, and that the blend of Bramble Berry's Ginger Ale and Lime Fragrance Oils smell absolutely fabulous in this soap. The colors Margo chose were perfect. And, side note, I've decided that I'm going to be doing a tutorial for this type of design (Leopard Print) in the future, so keep your eyes on the blog! Thank you so much to Margo for being such an active part of our Facebook soapmaking community — a special little box is being sent your way!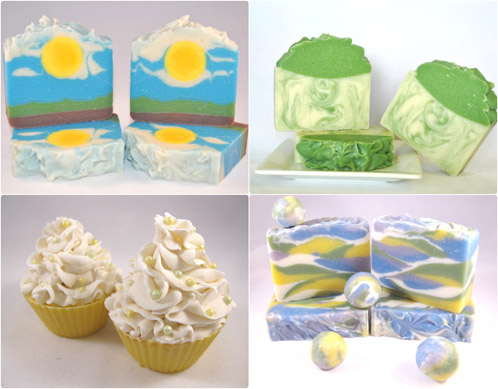 Margo's Blog: Bearprint Soaps
Would you like your photo or project to be featured on the blog? Come join us for soap talk, contests and lots of crafty inspiration on Bramble Berry's Facebook page and share a photo of your latest project. Your handmade soap might be next week's feature! Do you have a full tutorial to go with your soapy project? Submit your recipe to teachsoap(at)brambleberry(dot)com to get have a chance of winning a $10 Bramble Berry Gift Certificate, click here for more details!